Top 10 Most Influential Designers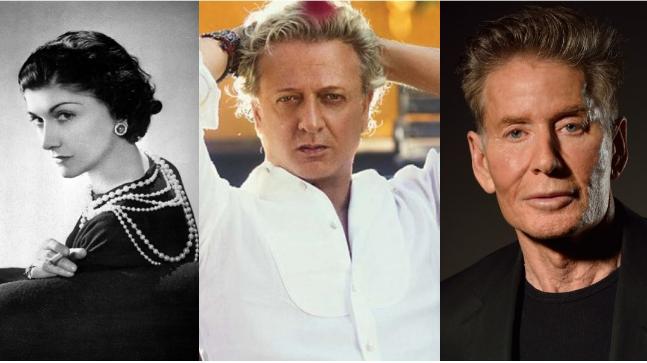 Top 10 Most Influential Designers
Remaining at the top in the fashion industry has always been a difficult challenge, thus making the achievements of the most influential designers all the more impressive. And if they happen to court controversy, the ensuing media buzz only helps them build their brand.
To acknowledge the accomplishments of fashion's change agents, 24/7 Wall St. has selected who they consider the 10 most vital fashion designer of all time .
Top 10 Most Influential Designers
1. Alexander McQueen (1969-2010)
> Birthplace: London, England
McQueen was a bit of an agitator before his incredibly sad passing in 2010. After tailoring suits for Mikhail Gorbachev and Prince Charles at the London tailors Anderson & Sheppard, McQueen went out on his own in the 1990s. Among his creations were the "bumster" trousers — pants cut so low that they exposed cleavage of the backside. He was also known for his controversial catwalks that depicted blood-spattered, brutalised models.
2. Betsey Johnson (b. 1942)
> Birthplace: Wethersfield, Connecticut
Betsey Johnson was drawn to the arts already in her childhood, favoring drawing and dance. Her love for sketching flashy, elaborate costumes that she wore during dance recitals spearheaded her career as a fashion designer. Johnson is known for her quirky, out-of-the box aesthetic and is dubbed as a pioneer of New York City street fashion during the late '70s. Johnson is also famous for doing a cartwheel at the end of every New York Fashion Week.
 3. Calvin Klein (b. 1942)
> Birthplace: New York City, New York
The American designer was known as much for his brand's controversial ads as for the apparel line. Klein's clothes were simple, comfortable, and relatively expensive, and American consumers responded favorably to his collections. Ads featuring a teenaged Brooke Shields wearing Calvin Klein jeans ("Nothing comes between me and my Calvins") was pilloried in some circles as objectifying young girls.
4. Carolina Herrera (b. 1939)
> Birthplace: Caracas, Venezuela
Carolina Herrera is perhaps best coined as a woman of elegance. She was often seen wearing a taffeta skirt with a white button down shirt, a look that has become a model for evening wear to women worldwide. Herrera made her debut on International Best Dressed List in 1972, and she was inducted into the Best Dressed Hall of Fame by 1980. Herrera's work has been sported by A-list celebrities and even former presidents.
5. Christian Dior (1905-1957)
> Birthplace: Granville, France
Few designers dominated the fashion industry as Christian Dior did after World War II. Dior's creations featured a lower hemline on dresses, small shoulders, and fuller skirts, a contrast to the padded shoulders and shorter skirts look from years past. Dior is credited with restoring French clothiers to the exalted status they enjoyed before the war.
6. Christian Lacroix (b. 1951)
> Birthplace: Arles, France
Christian Lacroix is known for his colorful, theatrical collections. He grabbed the attention of many with his first fashion house in 1987, showcasing clothes with unique combinations of colors and patterns. Legendary editor at "Vogue" magazine Anna Wintour chose a Christian Lacroix Haute Couture jacket to be modeled on her first American "Vogue" cover in 1988. This look challenged high fashion rules formerly in place and spearheaded a more youthful, vibrant movement in fashion.
7. Coco Chanel (1883-1971)
> Birthplace: Saumur, France
Coco Chanel held sway over haute couture for six decades. Chanel's collections were casual clothes that were elegantly styled. In 1954 she introduced the collarless cardigan jacket and bell-bottom pants. Chanel was famous for her quilted purses, the "little black dress," and her perfume — Chanel No. 5 — possibly the most famous fragrance of all time.
8. Diane Von Fürstenberg (b. 1946)
> Birthplace: Brussels, Belgium
Diane von Fürstenberg made her name by designing the wrap dress for the working woman. She got her inspiration from Julie Nixon Eisenhower, when she saw her on television wearing a wrap top with a skirt. Fürstenberg combined the look into one piece in 1972 and her design took the world by storm. Three years later, she was making 15,000 wrap dresses a week, and the design remains popular today. 
9. Domenico Dolce (b. 1958) and Stefano Gabbana (b. 1962)
> Birthplace: Dolce (Palermo, Italy), Gabbana (Milan, Italy)
The Italian pair announced themselves a force to be reckoned with at the Milan fashion week in 1985 with their "Sicilian widow" look that featured black lace. From there they expanded into knitwear and accessories. They also gained notice when Madonna wore their bejeweled corset to the Cannes Film Festival. Later, Dolce and Gabbana would be known for their reimagining of intimate apparel for outerwear and their use of animal prints and colorful apparel.
10. Donatella Versace (b. 1955) and Gianni Versace (b.1946-1997)
> Birthplace: Reggio Calabria, Italy
Renowned Italian fashion designer Gianni Versace was murdered 20 years ago in his mansion in Miami Beach, Florida. His sister, Donatella, also a well-regarded fashion designer, took over the creative side of production after his passing. Gianni goes down in history for introducing the fashion industry to modern street culture. He was the designer to iconic public figures, celebrities, and even royalty, most notably Princess Diana. Donatella began working for her brother in the 1970s and now runs the show. Currently, as chief designer and vice president of the Versace Group, Donatella is worth $200 million.