Last update on: 5:20 am August 22, 2022 by fashionabc
At one of the last costume balls in Europe before the outbreak of World War II, Gabrielle Chanel 'accidentally' set Elsa Schiaparelli's dress on fire. It was the culmination of years of bitter blows dealt between the French designer and the Italian surrealist, who had continually mocked one another's styles and jostled for stardom in a male-dominated industry.
The Chanel-Schiaparelli feud is a cautionary tale – and one the fashion community has yet to glean wisdom from. Though less literally incendiary, the catfights that succeeded Chanel and Schiparelli's have fed the public impression of fashion as a mean and bitchy milieu. From the legendary rivalry between Giorgio Armani and Gianni Versace, to Alexander McQueen's conflict with Hubert de Givenchy, fashion emperors seem to yearn for confrontation. Honourable mentions go to Karl Lagerfeld and Yves Saint Laurent for their mythical squabbling – over men as well as clothes – and to Italian duo Dolce and Gabbana who apparently have bones to pick with everyone, from Valentino to Kate Moss.
This squabbling, of course, is an inevitable part of an industry that thrives off competition: you can be hot one second, and not the next. Fashion is constantly evolving – and those who can't keep up with transience will always seek to disparage those who can. 
Nowadays, disparagement often takes more subtle forms than clickbait scraps. But they are no less significant, from poaching creative directors to hiring the same models. Head designers don't dabble in brand loyalty where money or the opportunity for artistic advancement are at stake, hence Hedi Slimane's departure from Saint Laurent to Celine or Raf Simons' from Calvin Klein to Prada.
The flipside, of course, is the flurry of collaborations witnessed in the last twelve months, from American sportswear giants and Italian high fashion labels (Gucci X Nike), or between couture houses like Versace and Fendi. On the one hand, these are statements of support and admiration from maisons typically viewed as competitors. On the other hand, it's just another opportunity to make money. The results of such collaborations are mixed at best, and meretricious at worst: "Fendace" will do little for the usual patron of either maison, no doubt more eager to own a powerful statement piece than one that has a similar price tag but looks like a misspelt knockoff one could find in Barbès.
Other brands have been more discerning, aware that refining their own identity is key to increasing scarcity in an oversaturated post-COVID market where shoppers prize authenticity and distinction. Under the careful creative direction of Pierpaolo Piccioli, Valentino has, once again, become a firm favourite of the creative set and fashion intelligentsia. The same for Schiaparelli under Daniel Roseberry. Bottega Veneta, for its part, has deleted its Instagram account to create suspense and desirability. And Balenciaga has triumphed thanks to the unapologetically avant-garde ideas of creative director Demna Gvasalia.
Yes, fashion is constantly evolving, and so are the names (and criteria) that round up the top ten most powerful brands in the world. Midway through 2022, we ask: who are they?
Balenciaga
Its revenue may pale in comparison to giants like Chanel or Louis Vuitton, but as far as creative clout and cultural relevance go, there is no brand quite so dominant than the freshly revamped House of Balenciaga. The Parisian maison is riding high on the avant garde aesthetic of creative director and Vetements founder, Demna Gvasalia – a man obsessed with the polarising dynamic of celebrity and anonymity and a knack for marketing like no other in his position. 
Though some of cristóbal balenciaga designs would have the maison's founder, a master of couture, roll over in his grave, that is not Gvasalia's concern. He knows that Balenciaga has to move with the times. And considering how powerful the label has become, it sometimes feels like the times move with Balenciaga.
Louis Vuitton
Helmed by former Balenciaga frontman, Nicolas Ghesquière, Louis Vuitton has experienced continued growth post-pandemic, with the largest revenue of any high fashion firm (no doubt thanks to the careful executive management of longtime CEO Bernard Arnault). But besides the LV-emblazoned accessories, what is there to Louis Vuitton beyond its name? Would a bag by any other monogram smell as sweet? 
It's a debatable proposition, as the uber-talented Ghesquière attempts to ramp up the artistry of a brand known less for its groundbreaking ready-to-wear than for its status symbol luggage. In a post-pandemic era concerned with sustainability and individuality, and where authenticity and singularity are more highly sought after than before, will Louis Vuitton have to forge a more distinctive sartorial identity to retain its place of prestige? 
Valentino
The resurrection of Valentino under the sole creative direction of Pierpaolo Piccioli (who used to share the role with Maria Grazia Chiuri before she departed for Dior) has been nothing short of meteoric. Though the brand never fell out of favour in the same way that Burberry did in the 00s, or Dolce & Gabbana more recently, its glory days as the label most symbolic of Italian chic and high society had, it seemed, come to pass.
Under Piccioli, however, the Roman luxury house is experiencing a second coming. His close bond with Valentino and Giancarlo Giametti, the founder's right hand and romantic partner since 1960, has galvanised one of fashion's most compelling triple acts. Valentino's legacy, Giametti's business acumen and Piccioli's appetite for the fantastic have inspired some of the most stunning shows of the last five years. 
Couture, in particular, has proven to be Piccioli's calling card. In February 2019, he selected the first ever all-black cast for a couture show – including Valentino's muse, Naomi Campbell. In February 2022, his show was lauded as one of the couture season's most accomplished and, once again, inclusive: the diversity of body types and age groups, in particular, garnered praise. 
Valentino is known for being a brand that values beauty above all else. Piccioli has broadened the brand's definition of the beautiful while staying true to the maison's roots. His commitment to lifting and sublimating women is not only commendable, but lucrative. After growth slowed due to Valentino's retirement in 2008 and creative struggles between Chiuri and Piccioli in the decade that followed, the luxury house's revenue surged to €1.22 billion in 2019. Though the pandemic slammed the brakes on progress, Valentino generated a revenue of €1.231 billion in 2021, equivalent to a hefty 39.5% increase over 2020. 
At the 2022 Met Gala, no fewer than seven guests (including the uber high profile Glenn Close) wore Valentino. The glorious couture show set on Rome's Spanish Steps only two weeks ago is still circulating around the internet like no other collection from Couture Week. Praise be: the empire is back.
Dior
Maison Dior has gone through more creative iterations than any other legacy brand: from the New Look of its original founder to the refined opulence of Gianfranco Ferré, the extravagant theatricality of John Galliano, and the modernity and intellectualism of Raf Simons, to name only its most iconic. Under Maria Grazia Chiuri, who has been at the helm of the brand since 2016, Dior has taken a more neoclassical direction, with clothes more adept to the female form and a merchandising strategy that emphasises the unparalleled savoir-faire of the atelier. 
Holding 42.36% shares of and 59.01% voting rights within LVMH, Dior is a commercial powerhouse like no other. But is it still 'it'? Maria Grazia Chiuri took only four guests to the Met Gala this year: Elizabeth Debicki, Cara Delevigne, Maye Musk and (the sole fashionable name on the list) Camille Cottin. A brand like Valentino, whose revenue Dior dwarfs, had as many as seven: a proportional overrepresentation. While Chiuri's clothes are sleek, elegant, and romantic, they are neither particularly hot nor trendy. Nonetheless, CEO Pietro Beccari has upped the glamour on catwalk collections, staging a show at the Acropolis in Athens and in Piazza del Duomo in Lecce in Italy – an approach that reaped its rewards when pandemic restrictions eased.
Moreover, the Dior business model is booming. According to Morgan Stanley analyst Edouard Aubin, "Dior has been the fastest growing fashion and leather goods brand over the past two years, with accumulated sales growing about 50 per cent between 2019 and 2021." HSBC has projected Dior's annual total in generated sales to be worth €9.3 in 2022; by comparison, Louis Vuitton's is expected at €16.7 billion, Chanel's at €11 billion, Gucci's at €9.4 billion and Hermès' at €8.8 billion. Things are looking good for 30 Avenue Montaigne as Dior continues to edge closer to the top. 
Gucci
In 2019, Gucci was at a peak it hadn't experienced since the legendary Tom Ford years. After years of blockbuster growth, however, the Italian monolith struggled to bounce back from the pandemic due to a disconnect between Michele's maximalist vision and the typical Gucci brand client. After seducing a younger coterie of shoppers thanks to kitsch and playful merchandising in the latter half of the 2010s, the novelty wore off – and, with it, the loyalty of the seasoned Gucci patron with significant disposable income.
In early 2021, Gucci's sales fell as much as 22%, to €7.4 billion. By the end of the year, however, the Florentine label had closed the gap with its higher performing competitors. Michele swapped baroque clutter for more streamlined designs à la Tom Ford, fitting for a market yearning for more simplicity post-COVID. The debut of Gucci's Aria collection in September followed by the buzzy release of the 'House of Gucci' film in November also helped fuel performance in the fourth quarter of 2021, which saw a 32% rise year over year. 
In 2022, Gucci brand welcomed renewed interest in both present and archival collections, with Bella Hadid wearing a look from the AW 1996 collection by Tom Ford at the Cannes Film Festival. At a corporate level, however, changes are still happening to return Gucci, Kering's biggest brand, to a position where it might rival LVMH's gold medallist, Louis Vuitton. While Alessandro Michele remains Gucci's sole creative director, a longtime deputy is now dedicated to the development of the brand's commercial collections in the newly created role of design studio director. Meanwhile, Maria Cristina Lomanto has been recruited to oversee merchandising and brand elevation as executive vice president. 
Prada
Prada brand continues to record success after success, with a strong start to 2022 off the back of its 41% increase in revenue from 2020 to 2021. Since head designer and CEO Miuccia Prada recruited the idiosyncratic Raf Simons to be co-creative director, the Milanese brand has gained favour among a broader (read: younger) fan base. Whereas this formula may have been a red herring for Gucci, it seems to be standing the test of time better for Prada. The brand's heady embrace of sustainability – with staple nylon bags now being made from upcycled fabrics – has ensured further longevity for itself among a younger generation of shoppers eager to look the part (Prada has always been synonymous with cool) without compromising on their ethics.
The ever shifting brand aesthetic is not a problem like at other houses; Mrs Prada has, literally, built an empire by confounding expectations every fashion season. From '90s experiments in fabric layering to the metallic minimalism of the 2010s, the Prada brand look is always in flux, enjoying a pliability envied by other brands and allowing the namesake designer and Simons to break new ground while always sticking to their guiding principles. 
Hermès
Like Louis Vuitton, Hermès gets its renown and recognition from accessories more than clothes. But whilst LV accessories are firmly fashion-focused, Hermès have branched out into homewear more successfully than any other label, becoming a true lifestyle brand.
Whereas other labels reinvent themselves in order to stay relevant, Hermès has avoided such changes to its identity, preferring to embrace its equestrian roots and noble reputation as the outfitter of the French upper class. Fittingly, Hermès is not showy, and its presence on the red carpet is famously weak. Fortunately, that doesn't seem to affect sales. For Hermès, luxury is about sobriety and restraint.
The ever-covetable Birkin bag continues to uphold the brand's status as an exclusive purveyor of top quality fabrics which crafty artisans spin into Veblen goods. But does the actual fashion get lost in translation? Twenty years ago, Hermès' head designer was the luminary deconstructionist Martin Margiela. He was succeeded by Jean Paul Gaultier, fashion's enfant terrible, who harnessed Hermès' horsey heritage to deliver risqué designs involving leather and whips. It may have lacked the elegance and refinement of contemporary Hermès womenswear, designed by Nadège Vanhee-Cybulski. But it had an edgy, experimental nous which made it more relevant. 
Schiaparelli
Chanel has some 20,000 employees. Dior has 156,000. Schiaparelli has fourteen.
Much like Balenciaga, Schiaparelli's success lies not in its monolithic numbers, but in its crafty avant-gardism and showmanship. Like founder Elsa Schiaparelli nearly a century ago, current artistic director Daniel Roseberry eschews the classic dressmarking process, choosing to drape fabrics directly over bodies rather than work with more constricting textiles or tailored structures. The result is a dazzling mix of materials and positively magical couture creations: bold, sensual and surrealist.
In 2022, Schiaparelli was the toast of couture week both in February and in June: a triumph of embroidery, femininity and romance. The brand has found consequent champions and apologists in the sartorially groundbreaking Lady Gaga and Carey Mulligan, who wore a dress from the SS 2022 collection to Met Gala in Spring.
A house of pure couture, Schiaparelli is said to be exploring ways of diversifying into luxury ready-to-wear. With prestigious premises on the Place Vendôme and a glorious past — Elsa Schiaparelli was the toast of her day, mingling with elite artistic circles including Salvador Dali in the 1930s, and was once the employer of 700 people across a multitude of ateliers — the current iteration of the Parisian maison seems poised for continued success. 
Chanel
Interlocking Cs. An award-winning biopic. The Number 5. Karl Lagerfeld. 
Chanel is inarguably the most famous and recognisable brand in the world. But since the death of the Kaiser in 2019, it has struggled to maintain its creative panache and flair for drama. While sales continue to climb (particularly in the Asian market), the brand has fallen out of favour with a set once enamoured with its chic ruffles and tweed suits, who viewed Chanel as a handle for French sophistication and international taste. Even Anna Wintour, who historically has always worn Chanel to the Met Gala, opted out of doing so in 2021 (though she admittedly donned a customised Chanel couture gown for the 2022 edition). 
Virginie Viard, who worked with Lagerfeld for close to 30 years, has proven a lacklustre creative director, with none of her predecessor's predilection for capturing the zeitgeist and distilling contemporary sensitivities into poppy items for a client who is, chiefly, after relevance. On the other hand, tailoring and savoir-faire at Maison Chanel is at an all-time high, as attested to by the superior quality of the couture collections, handmade with the utmost care and dexterity. It's to the credit of the atelier (and, admittedly, to Viard, who controls and benchmarks their output according to the collections she wishes to design and show). 
But the magic is flagging, and top quality alone cannot rescue it. Sales aren't the only criteria for power in an industry as cutting as fashion. Chanel numbers may be up, but its clout is down.
Versace
Whereas Virginie Viard erroneously eschews the zeitgeisty approach of her former mentor, Donatella Versace champions her late brother's love of the present, always with her finger on the pulse and embracing the symbiosis between the fashion and music industries which Gianni helped to forge. Casting Dua Lipa to front her SS 2022 campaign (and to open and close the show for the collection in Milan in October 2021), Ms Versace continues to uphold a legacy of glitz, glamour and sizzling hot dressing for the shiny, spotlight-loving set.
Though not an empire remotely as large as Chanel, Dior or Louis Vuitton, Versace has an unparalleled knack for making an art form out of loud marketing and over-commercialisation – Hermès' antithesis (or antidote, depending on perspectives). As the brand that galvanised the supermodel movement (with that ever emblematic picture of Linda, Cindy, Naomi and Christy lip-synching to George Michael's Freedom at the AW 1991 show), it has continued to worship the cult of celebrity. And, in turn, celebrities worship Versace. But they do so in a way that does not feel like contrived brand ambassadorship, but a genuinely reciprocal adoration of a label that consecrates their stardom — and a creative director who is very much a star in her own right. 
Versace's power is always most clear on the first Monday in May, when it consistently invites a legion of high profile guests to the Met Gala (this year's included co-host Blake Lively, Cardi B, and Donatella herself, whose birthday fell on the night). But it's also clear each fashion week, when crowds of nostalgics yearning for a return to the decadent, maximalist, supermodel years take to social media to glorify a show uniquely unafraid of embracing the kitsch.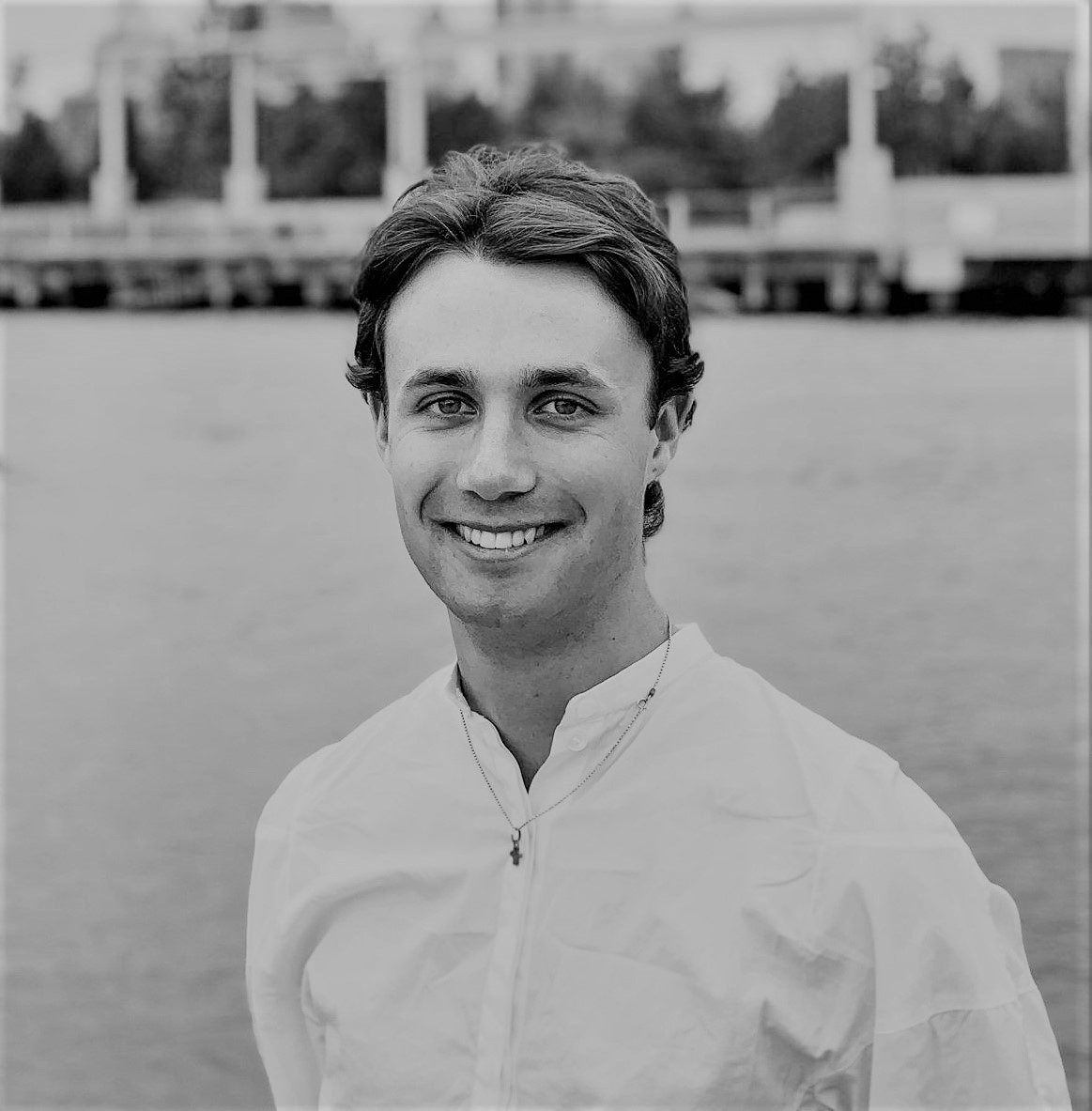 William Hosie is a writer and editor with a keen interest in fashion, design and art, earning a Double First from Magdalen College, Oxford in 2020.