Summary
Gabrielle Bonheur Chanel ruled Parisian haute couture for almost six decades. She championed minimalism and the austere. Her simple elegant designs inspired by menswear, active wear and a country in mourning rewrote the maxim of Fashion — particularly the skirt suit, the little black dress and No. 5. Today Chanel is a privately held company owned by Alain and Gerard Wertheimer, grandchildren of Pierre Wertheimer, an early business partner of Coco Chanel. 
History
Gabrielle Bonheur Chanel (1883–1971) was raised in an orphanage where she learnt sewing. It's believed she had a coquettish charm from a young age, which lured powerful men throughout her life. Chanel began her professional career as a seamstress at Moulins and sang in a bar, where she was nicknamed Coco. Rumoured to be mistress of businessman Étienne Balsan, she opened a millinery at 160 Boulevard Malesherbes, Paris with his financial help; here, she designed and sold straw boaters devoid of embellishment — a stark contrast to embellished hats of the time. Since the area was also a salon for the élite, she had opportunities to meet stylish women and sold them hats. In time, Chanel dated polo player Arthur Capel who financed her first independent millinery, Chanel Modes, and she later expanded to Deauville and Biarritz. With Capel she learnt how aristocrats dressed. Cringing at the fussy pre-WWI look, she began designing elegant comfortable womenswear which became a rage. The timing contributed to the success time. WWI was not a time for extravagance and made women receptive to discreet elegance. Chanel remained faithful to her values that "luxury must be comfortable, otherwise it is not luxury"; the design aesthetic focused on simplicity, elegance and comfort — and revolutionised Fashion. Particularly the Chanel suit, with its slim skirt and collarless jacket trimmed in braid, with gold buttons, patch pockets and a chain sewn into the hem so that it hung properly. Coco Chanel freed women from corsets with sports-inspired jersey silhouettes, pioneering a versatility that womenswear hadn't seen before. And, of course, made the little black dress a rage. Black was an unorthodox colour in the Twenties, the reserve of widows, but Chanel transformed it into the it colour for eveningwear. The straight-line skirts, the sailor blouses, the long sweaters, the beaded dresses, the little black dress and the skirt suit made Coco Chanel iconic and Harper's Bazaar acknowledged that La Maison Chanel was "on the list of every buyer". By the end of the war, she had established a thriving business, with a couture house in rue Cambon and a 'pour le sport' in Biarritz. Both mirrored the principles that characterised Coco Chanel's design: the luxury of simplicity and the focus on workmanship and quality of materials.
In 1921, Coco Chanel commissioned former parfumier to the tsars, Ernest Beaux to create her debut fragrance. The success of No.5, named after the number of the sample vial she liked, encouraged her to expand perfume retail beyond Europe. By 1929, No. 5 had become a best-seller worldwide, and is till date, one of the most timeless fragrances. Théophile Bader, founder of Galeries Lafayette, introduced her to venture capitalist Pierre Wertheimer, and their business collaboration established Parfums Chanel — a parfumerie where Wertheimer owned seventy per cent, Bader owned twenty per cent and Chanel owned ten per cent. Chanel also debuted a line of costume jewellery in the Twenties. with jewellery handmade with chains, beads and glass, which Harpers Bazaar described as "the most revolutionary designs of our time." And her first handbag in 1929, which was a sensation when she added a shoulder strap, considered improper at the time. She later redesigned her iconic quilted chain-strap bag in February 1955. Hence its name, 2.55. In the Thirties, Chanel evolved her design aesthetic to feminine eveningwear; summer dresses had silver eyelets and shoulder straps were embellished with rhinestones. In 1932, Chanel presented an exhibit of jewellery dedicated to the diamond as a fashion accessory. During WWII, Chanel closed Maison Chanel with only jewellery and parfumerie remaining and moved to Hôtel Ritz Paris.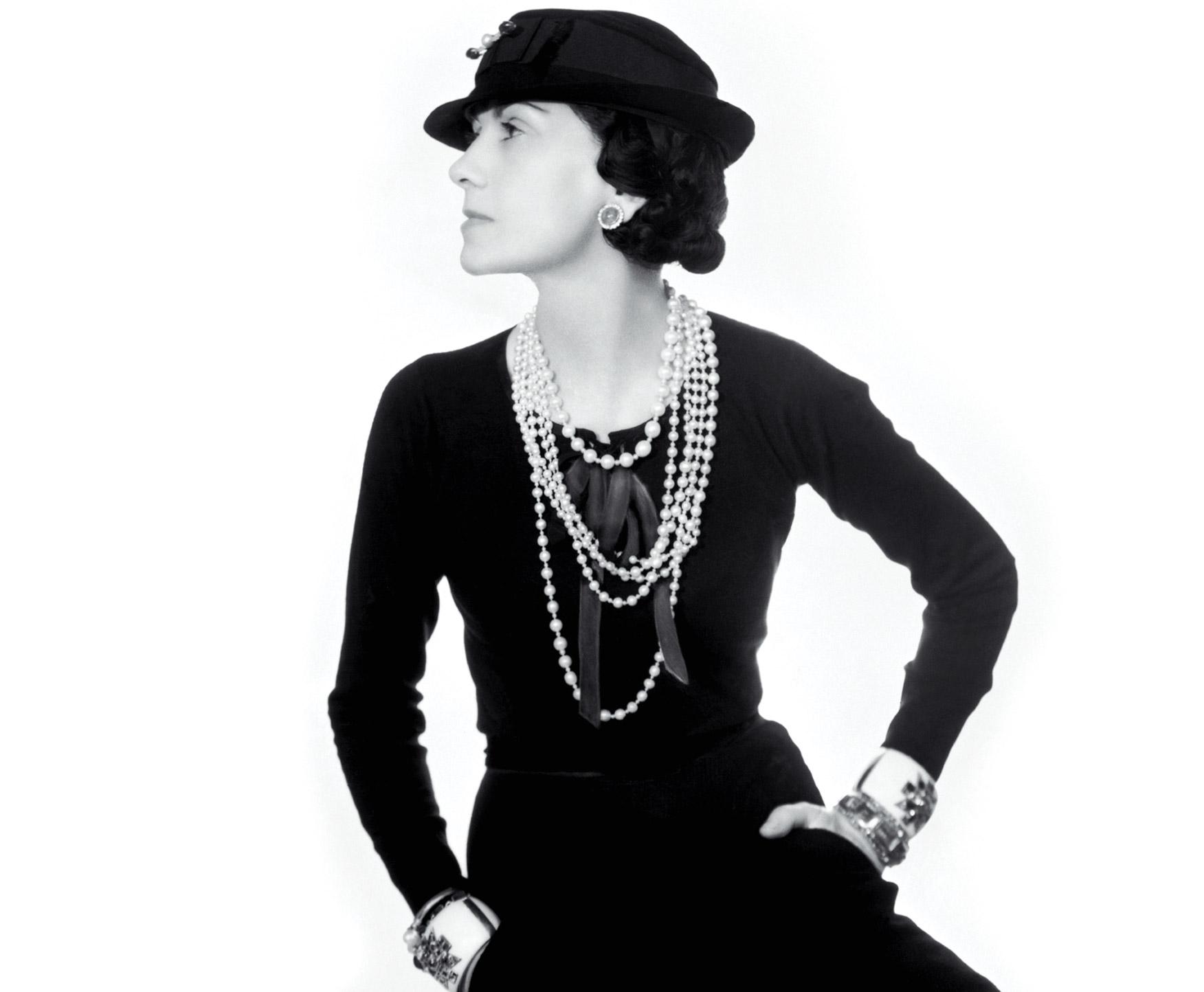 After Capel passed away in a car crash Chanel reportedly had affairs with the Grand Duke Dimitri of Russia and the Duke of Westminster and, during WWII, Nazi officer Hans Günther von Dincklage. Chanel spent WWII shacked in The Ritz, having shut shop in 1939, and France was rife with rumours that she was an intelligence operative for the Nazis. Following the cessation of war, Chanel was arrested. However, without documentary evidence of or witnesses to her collaboration with the Nazis, she was released and fled to Switzerland for eight years. In this post–war period, Wertheimer returned to Paris to regain control of Parfums Chanel. The news motivated Chanel to establish a parfumerie in Switzerland to create, produce and sell "Chanel perfumes". Prudently, Wertheimer renegotiated the contract that had formed Parfums Chanel; she was paid $400,000; assigned two per cent running royalty from sales of No. 5; limited commercial rights to sell "Chanel perfumes" in Switzerland; and a monthly stipend. For this, Chanel closed her Swiss parfumerie and sold the full rights to the name, "Coco Chanel," to Parfums Chanel.
In 1947, Wertheimer funded the revival of House of Chanel, granting him commercial rights to all Chanel products. In 1953, Coco Chanel collaborated with Robert Goossens to design jewellery for House of Chanel; notably, long-strand necklaces of black pearls and white pearls, which softened the austere Chanel Suit. Coco Chanel decided to reopen the couture house in 1954, and remained loyal to the simple classic look of the Twenties. The French, unforgiving of her behaviour during the war, gave her new collections a tepid response, but the global press viewed her soft suits as chic, fresh and youthful. The Chanel suit, till date, is worn by teenagers and their grandmothers. The coup? She was seventy-one when she made a comeback. Pierre Wertheimer bought Bader's twenty per cent share of Parfums Chanel, which increased the Wertheimer percentage to ninety per cent. Later, in 1965, Pierre's son, Jacques, assumed his father's management of the parfumerie. Coco Chanel died on 10 January 1971. After her death, Jacques Wertheimer bought the controlling interest of House of Chanel. His son, Alain Wertheimer, assumed control of Chanel S.A. in a few years. He increased Chanel No.5 sales, used famous people to endorse the perfume and persuaded Karl Lagerfeld to end his contract with fashion house Chloé. In 1983 Karl Lagerfeld took over as chief designer of Chanel with respect for the traditions Coco Chanel, incorporating the signature tweed, gold accents and chains. In later collections, he redefined the house codes with his own take on her legendary designs. His cult designs include the bouclé tweed, the dual-toned footwear and the interlocking Cs.
In 1987, House of Chanel debuted the first Chanel watch. In 1994, Chanel reportedly had a net profit of €67 million in ready-to-wear and was the most profitable French fashion house. In 1996, Chanel bought gunmakers Holland and Holland but failed in its attempt to revive the brand. Swimwear brand Eres was purchased the same year and Chanel launched perfumes, Allure and Allure Homme. The House of Chanel then debuted its skin care line, Précision, in 1999. That year, the brand also launched a travel line, and in alliance with with Luxottica, debuted sunglasses and eyeglass frames. In 2001, watchmaker Bell and Ross was acquired. The following year, Chanel launched Chance perfume and Paraffection, a subsidiary company that supported artisanal production with workshops including Desrues for ornamentation and buttons, Lemarié for feathers, Lesage for embroidery, Massaro for shoemaking and Michel for millinery.
In sync with the times, Chanel introduced Coco Mademoiselle and an "In-Between Wear" in 2003, targeting younger women. In 2007, Maureen Chiquet was appointed CEO until her termination in 2016. In 2018, Chanel announced that it would be moving its global headquarters to London and it would ban fur and exotic skins from its collections. In February 2019, Lagerfeld died at 85. Virginie Viard, who had worked with Lagerfeld for over thirty years, was named Creative Director.
Vision
To reinvent fashion by transcending its conventions and creating an uncomplicated luxury that changed women's lives forever by epitomising the modern values of freedom, passion and feminine elegance.
Mission 
To be the Ultimate House of Luxury, defining style and creating desire, now and forever.
The Team
CEO: Alain Wertheimer
Executive Vice President of Fragrance and Beauty: Barbara Menarguez
Creative Director: Virginie Viard
References