Last update on: 11:40 am July 13, 2022 by fashionabc
Following up from 'In America: A Lexicon of Fashion', the Met's new exhibition, 'An Anthology of Fashion', is an exercise in sartorial historicism.
It's opening day for 'An Anthology of Fashion' on Saturday 7 May, 2022 – and the queue is long. Too long. We decide to return later, off peak, and take a detour via the Costume Institute, where the previous fashion exhibition, 'A Lexicon', continues to confuse and inspire eight months after its launch. Following the organising principle of a patchwork coverlet, the exhibition opens with a signature quilt (c. 1865) borrowed from the Met's American Wing collection, which "serves as a metaphor for the United States and its varied cultural identities," the blurb on the website says.
As we walk down into the Lizzie and Jonathan Tisch Gallery, where over a hundred sartorial relics of American fashion are assembled by theme (read: colour and cut), we are instantly struck by a flippant, postmodern, faux-wedding dress designed by the late Virgil Abloh for Off White. It's similar to the divisive dress worn by Kylie Jenner to the Met Gala last Monday, and immerses us into a collection that is at times frightful, at others entertaining, and occasionally wonderful. The patchwork quilt is an apt metaphor not only for the cultural métissage of American fashion, but also for its correspondingly varied aesthetics: some good, some bad, and, of course, some ugly.

To each ensemble is attributed a single word, supposedly to encapsulate the mindset in which it was created, along with the energy which it projects. The results are often pretentious and unconvincing, with such obtuse abstractions as 'precociousness' for Anna Sui's babydoll dress from SS 1994, and 'naivety' for Vaquera's Boa from SS 2021. It's a glitch in an otherwise well matrixed exhibition. Andrew Bolton and his curatorial team show off their deft understanding of colour, lining items in aesthetically pleasing strips of black, white, beige, and pink. Dulcet tones rub shoulders with starker designs without ever feeling mismatched. If the projected themes of the clothes feel incongruous and discrepant, the ensembles themselves certainly do not.

The black ensembles are the clear highlight. At once the most simple and significant of colours, black forces a designer to find freedom within constraint. And it shows. The undulating seams of a black dress designed by Italian-born Giorgio di Sant'Angelo, c. 1991, flow so freely and liberally you might mistake the mannequin for a living statue, while Mônot's black, arachnean gown from Autumn 2021 is one of the few ensembles that pairs well with its assigned theme: magnetism.

The more patently simple designs feel the most classically American, with ensembles by Halston, Calvin Klein, Yeohlee Teng, Perry Ellis, Frankie Welch, and Diane von Furstenberg taking the crown for their minimalist palette and elegant restraint. But Americanism is, by definition, plural, and other ensembles stand out for their wackier tone and more extravagant style. These include an embroidered, Matisse-inspired suit by Colm Dillane, founder of the art and design collective KidSuper; a dress by Brandon Maxwell that uses a cummerbund as a bodice; an American South-inspired gown by Christopher John Rogers, who designed Sarah Jessica Parker's gown for this year's Met Gala; and Dapper Dan of Harlem, whose logo-excessive riffs on European fashion are still felt today in the works of Demna Gvasalia for Balenciaga and Kim Jones for Fendi. 

By then fully immersed in the nebulous-but-not-indefinable complexity of American fashion, we rejoice as we rejoin a much shortened queue for 'An Anthology', riding high on the illusion of newfound sartorial knowledge. Knowledge that the second exhibition would swiftly dispel.
'An Anthology of Fashion' is a celebration of the unsung heroes: the overlooked backbone of American style. Canonical names like Charles James, Brooks Brothers, Ann Lowe and Claire McCardell are featured in conversation with those on the fringe like Marguery Bolhagen, Josephine H. Egan, Franziska Noll Gross, and Native American designer Lloyd Kiva New. Whatever your idea of American fashion may be when entering the Met's American wing, safe to say it probably won't last beyond period room two, where director Regina King recasts forgotten African-American dressmaker Fannie Criss Payne as a fashion muse and matriarch. King places Criss at the centre of a prosperous working environment, during a sitting for client Ellen Clark Wallace. Alongside Wallace is a seamstress, highlighting Criss' employment of other Black women and serving as a metaphor for future Black success. Criss' stance commands power and control as she requests her payment from Wallace's husband and beams in a dress of her own making.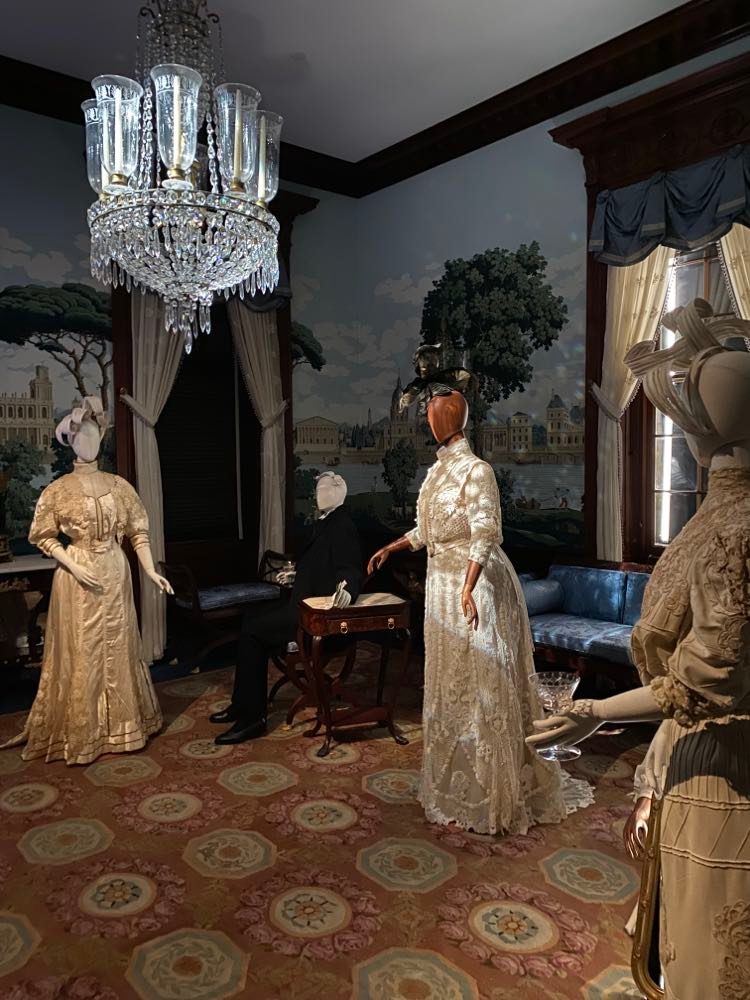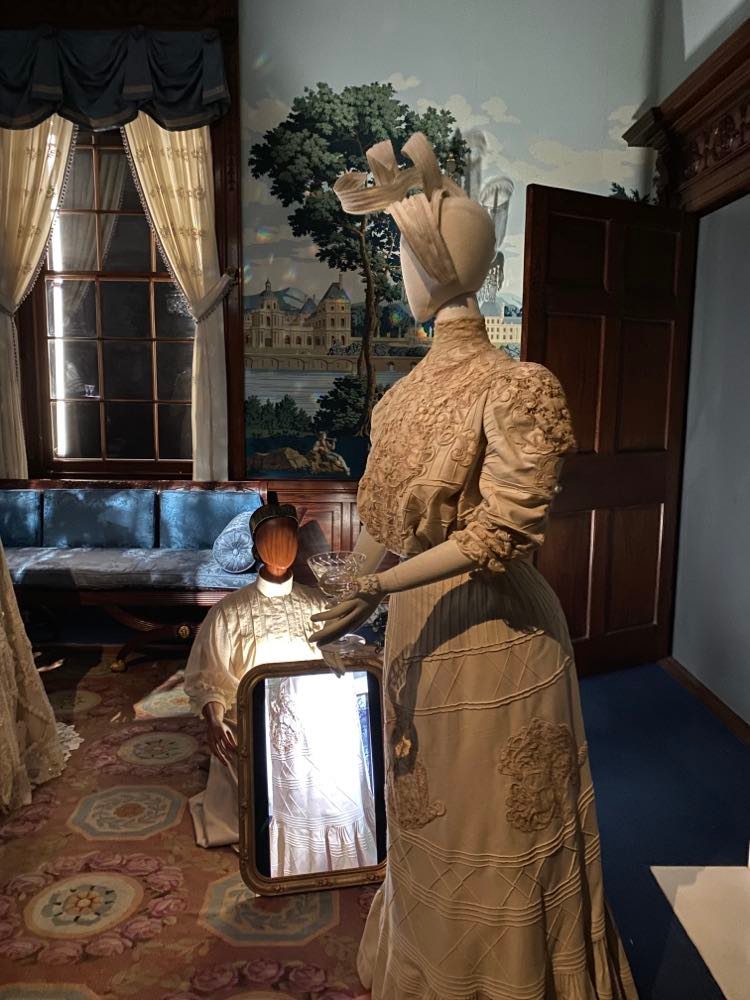 The exhibition curates a series of stories which contextualise the development of American fashion within historical domestic locales. We move from a Shaker Retiring room from the 1830s to the Richmond Room, a Rococo Revival parlour from early 19th-century Virginia; then to a Gothic Revival library, through the Worsham-Rockefeller Dressing Room, and finally to a 20th-century sitting room designed by Frank Lloyd Wright. These stories, put together by film directors including Martin Scorsese and Sofia Coppola, bring the clothes to life and explore their interactions with their wearers as well as the surrounding interiors. Like other historical objects, the clothes are presented as artefacts.

As we journey from 1805 to 1915, we take in settings that reveal as much about the history of American fashion as they do about the historicist approach of their curators. Per Tatler, 
Autumn de Wilde […] has staged her mise-en-scène, featuring two romantic early 19th-century dresses, within the Baltimore Dining Room – dating back to the same period as Jane Austen's Emma, which De Wilde adapted for the big screen in 2020. Meanwhile Julie Dash, who made her directorial debut with 1991's Daughters of the Dust, has shone a light on the work of early-20th-century designer Ann Lowe in her opulent reimagining of the American Wing's Renaissance Revival Room.
But the prize for best room in the exhibition goes to Tom Ford. He deploys John Vanderlyn's panoramic 1819 mural of Versailles as a backdrop for a sartorial (and somewhat violent) rendition of the Battle of Versailles (1973), when Stephen Burrows, Oscar de la Renta, Halston, Anne Klein and Bill Blass took on Yves Saint Laurent, Marc Bohan, Hubert de Givenchy, Pierre Cardin and Emmanuel Ungaro in a legendary competition designed to raise funds for the renovation of the French Palace. It was the night when American fashion established itself as a force to be reckoned with, and an equal contender to French couture on the international market. The mannequins in Ford's room – draped in archived looks from that fêted night – are works of art in themselves, their form at once static and dynamic, elegant and athletic, caught somewhere between fencing and Matrix-inspired martial arts. Besides Vanderlyn's mural, they are surrounded above and below by mirrors, aggravating the chaos of the sartorial battle by recalling the Palace of Versailles' very own Galerie des Glaces.

It's a fitting metonym for the rest of the exhibition. In an effort to contextualise and historicise fashion, the Met reminds us how much of a role clothes have played not only in our private lives, but in our civilisational development more widely. Clothes are neither works of Art with a capital A, nor are they ever purely utilitarian. Their stories inform and intertwine with ours. And as far as cultural symbols go, they are, 'An Anthology' shows, some of our most potent.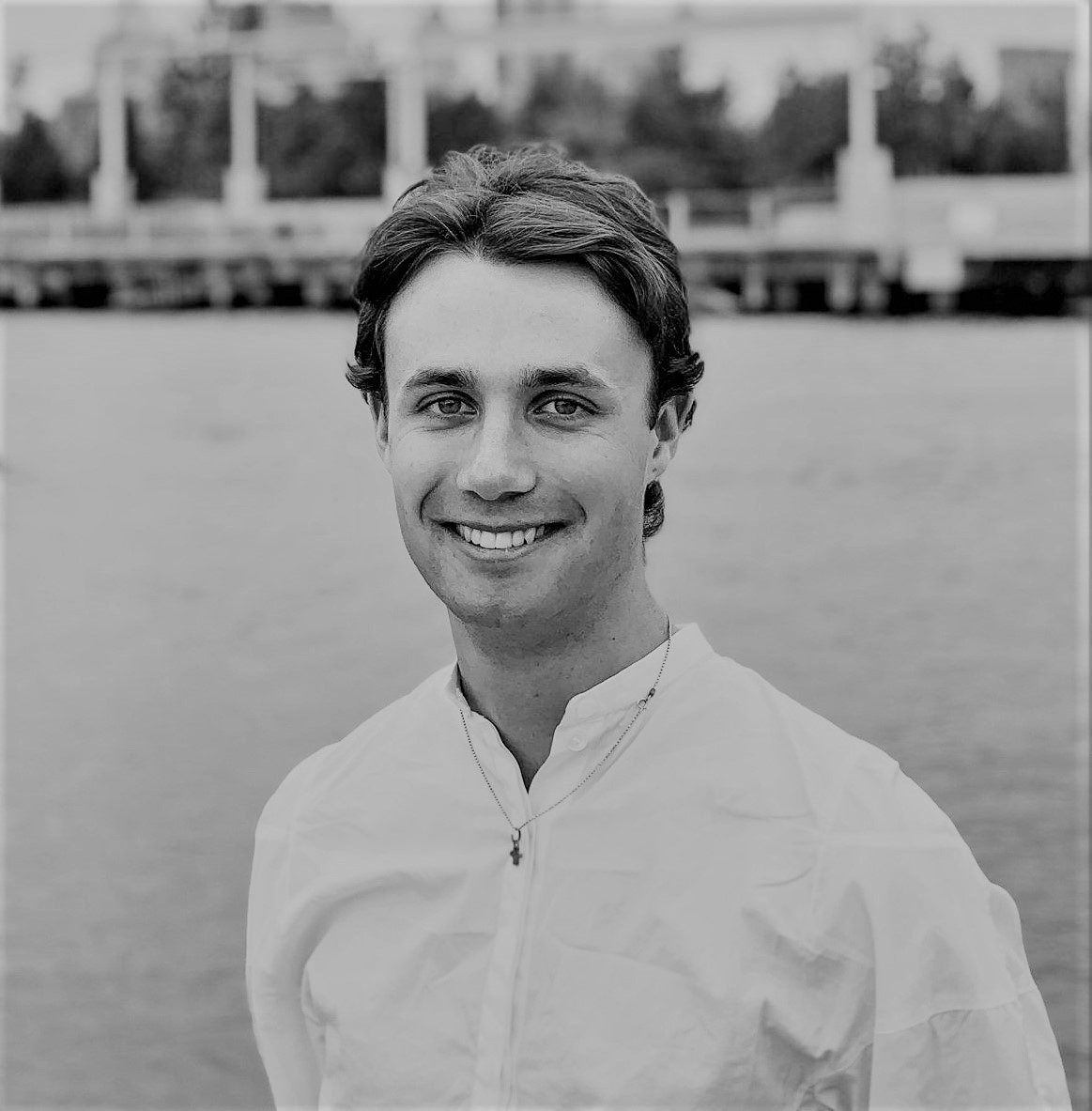 William Hosie is a writer and editor with a keen interest in fashion, design and art, earning a Double First from Magdalen College, Oxford in 2020.