Summary
Uniqlo Co., Ltd. is a Japanese clothing apparel company. It is focused on designing, manufacturing and retailing casual wear.  It was originally founded in Yamaguchi, Japan in 1949 as a textiles manufacturer.
With presence in more than 23 countries worldwide, now it is a global brand with over 1000 stores around the world. which makes it one of the biggest fashion retailers. The company is a wholly owned subsidiary of Fast Retailing Co., Ltd.
History
Uniqlo's origins go back in time to 1949, with a Yamaguchi-based company, Ogori Shōji (which, until then, had been operating men's clothing shops called "Men's Shop OS") existed in Ube, Yamaguchi.
But it wasn't until May 1984, when the brand really took off. The founder opened a unisex casual wear store in Fukuro-machi, Naka-ku, Hiroshima under the name "Unique Clothing Warehouse". Initially, the brand was going to be registered as a shortened contraction of "unique clothing". However, in 1988, during administration work between Hong Kong in relation to the brand, staff in charge of registration misread the "C" as "Q", and that is how the brand name was born. From then, Tadashi Yanai changed the store name to "Uniqlo" across Japan. In September 1991, the name of the company was changed from "Ogori Shōji" to "Fast Retailing", and by April 1994, there were over 100 Uniqlo stores operating throughout Japan.
In 1997, Fast Retailing adopted a set of strategies from American retailer The Gap, known as "SPA" (for specialty-store/retailer of private-label apparel), meaning that they would produce their own clothing and sell it exclusively.They engaged the retail brand consultancy, CIA, Inc. / The Brand Architect Group, to guide the company through the realization of this strategy, including consulting on merchandise, visual merchandising and display, store design and a new logo designed by Richard Seireeni and Sy Chen of The Brand Architect Group's Los Angeles office. Uniqlo had begun outsourcing their clothing manufacturing to factories in China where labour was cheap, a well-established corporate practice. Japan was in the depths of a recession at the time, and the low-cost goods proved popular. Their advertising campaigns, clothing quality and new retail layouts also proved fruitful.
In November 1998, they opened their first urban Uniqlo store in Tokyo's trendy Harajuku district, and outlets soon spread to major cities throughout Japan. In 2001, sales turnover and gross profit reached a new peak, with over 500 retail stores in Japan. When Uniqlo decided to expand overseas, it separated Uniqlo from the parent company, and established Fast Retailing (Jiangsu) Apparel Co., Ltd. in China. In 2002 their first Chinese Uniqlo outlet was opened in Shanghai along with four overseas outlets in London, England.
2005 saw more overseas expansion, with stores opening in the United States (New York City), Hong Kong (Tsim Sha Tsui) and South Korea (Seoul).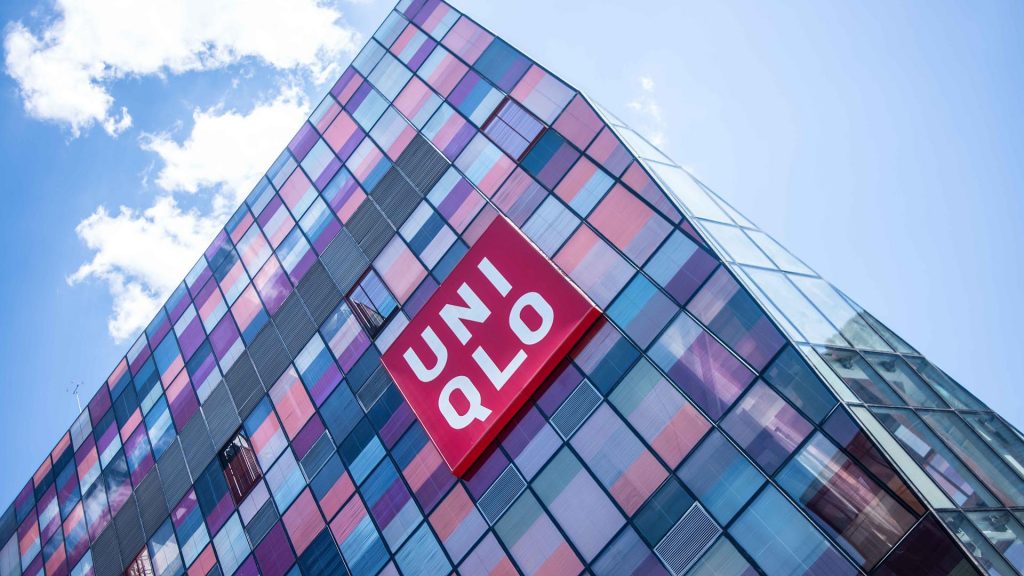 By 2006 sales were $4 billion. By April 2007, the company had set a global sales goal of $10 billion and a ranking among the top five global retailers, joining what at the time was Gap, H&M, Inditex, and Limited Brands. Furthermore, on 2 September 2009, Fast Retailing announced that the company would target annual group sales of 5 trillion yen (approx. US$61.2 billion) and pretax profit from operations of 1 trillion yen (approx. US$12.2 billion) by 2020. This means that the company is aiming to become the world's biggest specialty retailer of private label apparel with a continuous growth rate of 20% per year
Uniqlo has established collaborations with some well-known designers like Jil Sander in March 2009, Shiatzy Chen in 2010 and Alexander Wang in October 2018 to create a line of Heattech layerable basics including tank tops, leggings, underwear and bodysuits.
Business Model
Uniqlo is able to produce such a number of unique products because their business model unifies the entire clothes-making process: from planning and design through production, distribution, and retail. Uniqlo's market share is expanding worldwide as it develops radical new materials together with the world's best fabric technology innovators and creates basic designs using superior natural materials.
Uniqlo's flagship is LifeWear. A high-quality, innovative clothing that is universal in design and comfort. Uniqlo leverages today's increasingly digital world to communicate directly with customers and quickly transform their desires into actual products.
Sustainability Vision
Uniqlo (Fast Retailing Group) has adopted a new sustainability mission statement, "Unlocking the Power of Clothing". With a focus on products, supply chain, employees, stores and communities, they aim to change the world for the better through their business.
Uniqlo believes they can turn the power of clothing into a force for good by designing, making and selling good clothing. Good clothing means simple clothing, high in quality, and built to last. It's clothing that enriches the lives of people who wear it by giving them comfort, protection and pleasure.
It is produced in a way that is harmonious with nature, without excessive burden on the environment. Good clothing is made by people of diverse backgrounds working with energy and enthusiasm, under conditions where their health, safety and human rights are respected and upheld.
And they aim to extend this same spirit to their customers and all our stakeholders, working with them to aspire to a better society. This is their promise: to always work toward a better, more sustainable society.
Sustainable Initiatives
Store and communities: They give back to communities through their All-Product Recycling Initiative, in which they collect articles of clothing in their stores. Other efforts by their stories include educational programs and initiatives to reduce environmental impacts.
Products: They are committed to creating functional and high quality clothing, selecting the best materials, while considering the environment.
Supply Chain: They will build strong ties with business partners and factories, eliminate all waste in manufacturing, and minimize their environmental impact.
Employees: They respect the human rights of employees working at their group, advance their careers and abilities, and create a company with diversity and rich talent.
References
https://www.uniqlo.com/eu/en/info/about-uniqlo.html
https://martinroll.com/resources/articles/strategy/uniqlo-the-strategy-behind-the-global-japanese-fast-fashion-retail-brand/
https://www.uniqlo.com/en/sustainability/mission/
https://www.fastretailing.com/eng/group/strategy/uniqlobusiness.html
https://www.crunchbase.com/organization/uniqlo-co#section-overview