Summary
Founded in 1969 as a modest store that stocked Levi's, Gap Inc. now owns Gap, Banana Republic, Old Navy, Athleta and Intermix and operates in more than ninety countries.
History
In 1969, Donald Fisher, friend of Walter "Wally" Haas Jr, President of Levi Strauss and Co., was impressed with the success of 'The Tower of Shoes' in Sacramento, California. The modest store drew crowds by advertising that no matter what brand, style or size of shoes a woman desired, she would find it. Aware that Macy's, the biggest Levi's stockist, was continually running out of best-sellers, Fisher requested Haas to let him stock Levi's and mimic The Tower of Shoes' business model. They worked out a plan that ensured Gap — named by Fisher's wife, Dorothy — would never be out of stock by overnight replenishment. It was a hit. 
Fisher opened Gap stores in San Francisco and San Jose, stocking only Levi's and LP records, and within two years established its corporate headquarters in Burlingame, California. By 1973, the company had over twenty-five stores and had expanded into the East Coast with a store in Voorhees, New Jersey. In 1976, The Gap Stores, Inc. went public with an initial offering of 1.2 million shares of stock at $18 per share. The following year, it opened two new chains: Logo, targeting a fashion conscious customer and Brands, offering value-priced products. 1978 witnessed Gap's label of denim and corduroys.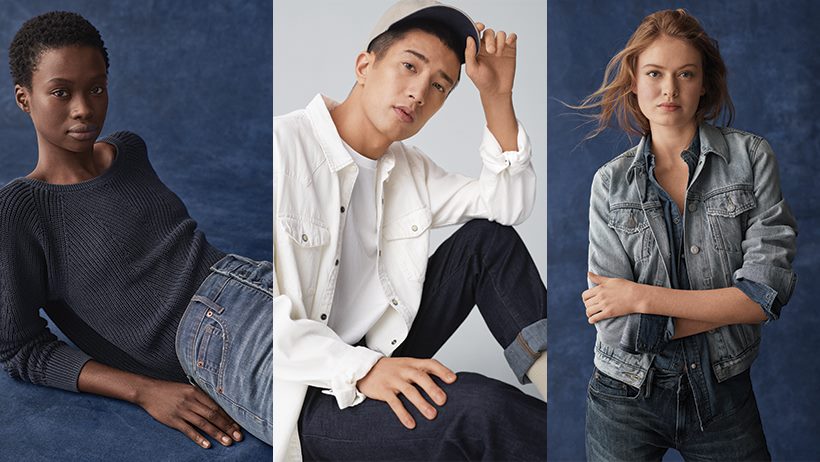 In the Eighties, Gap Inc. purchased Banana Republic, a safari-themed retail chain and catalog business founded in Mill Valley, California and began expanding overseas. In 1986, GapKids opened in San Mateo, California. In the Nineties, Levi's was no longer sold in Gap and the company revamped its inventory under the direction of Millard Drexler. He resigned in 2002 after a slump in sales and was replaced by Paul Pressler who is credited with closing under-performing stores and clearing debt. However, he failed to recover the company's market leadership and was replaced by Robert J. Fisher on interim until Glenn Murphy took over the reins. Gap subsidiary Old Navy opened in Colma, California, based on the successful prototype, Gap Warehouse. New lead designers were also brought on board to give the brand a fashionable image, including Patrick Robinson for Gap Adult, Simon Kneen for Banana Republic, and Todd Oldham for Old Navy.
In 2003, Madonna and Missy Elliot starred in a Gap commercial to promote corduroys and blue jeans. In 2013, Gap Inc. acquired Intermix, a chain of luxury boutiques across North America, founded in 1993 by Khajak and Haro Keledijan. In 2019, Janie and Jack, a high-end children's store, was acquired. In recent times, Gap Inch allied with financial technology company Afterpay to improve its e-commerce business. Per Forbes, Gap Inc. stocks "increased by almost 63% from the beginning of 2021 (at $20) to $33 per share currently." [June 2021]

Vision
To democratise fashion and make shopping fun again.
Mission
To create emotional connections with customers around the world through inspiring product design, unique store experiences, and competitive marketing.
The Team
CEO: Sonia Syngal
Executive Chairman: Bob Martin
References
https://www.forbes.com/sites/larrylight/2020/09/17/gap-democratization-is-a-powerful-marketing-idea/
https://www.retail-week.com/News/2008/01/gap_signs_greek_franchise_partner.html
https://www.independent.co.uk/news/shirts-fashionable-price-paid-human-misery-us-soil-gap-workers-are-forced-have-abortions-1121362.html