Summary
Italian luxury fashion brand Marni, founded in 1994 by Consuelo Castiglioni, is acclaimed worldwide for its women's, men's and kids' ready-to-wear and accessories. In 2012, Marni was acquired by OTB Group, owned by Italian entrepreneur Renzo Rosso.
Vision
An experimental approach to materials and colors combined with the juxtapositions of prints and shapes.
Mission Statement
Elegance, through a constant creative dialogue with the world of art.
History
Founded in Milan in 1994 by Swiss designer Consuelo Castiglioni, in collaboration with her business partner and husband Gianni Castiglioni, Marni has become internationally renowned for its experimental collections. Per BOF, Consuelo Castiglioni won praise for her sophisticated and forward-thinking designs that boasted a cult global following and admiration from influential industry insiders. Despite no formal education in fashion design, her sharp silhouettes with its bold prints and textures made her one of the most creative designers in Fashion.
Initially a side business of the Castiglioni's fur business, the label became independent of the family business in 1999, and Consuelo Castiglioni developed a fashion-forward, experimental design aesthetic. While fur continued to feature in Marni collections, the brand was widely popular for its original prints designed in alliance with artists such as photographer Richard Prince, pop artist Sir Peter Blake and musician Kim Gordon. In 2000, the brand expanded into key markets, opening near hundred standalone stores and consolidating its presence in luxury department stores. During this time, Marni forayed into e-retail with the launch of an online store, which not only offered e-commerce but also presented the world of Marni through dedicated sections on its artistic collaborations and key projects.
In 2012, Consuelo Castiglioni inked a creative collaboration with H&M, and the result was a sellout capsule collection. Although Marni remained a family owned business for over fifteen years, in 2012 it was acquired by Renzo Rosso's OTB Group, whose brands include Diesel, Maison Margiela, Viktor and Rolf, Paula Cademartori, Staff International and Brave Kid. In October 2016, Consuelo Castiglioni stepped down from Marni. That year, the company appointed Francesco Risso, alumnus of FIT New York and Central St. Martins, London and former designer at Prada, as Creative Director. Per Harvey Nichols' portal, he said, "I'm driven by a concept I call 'retrovolution' — taking everything you have learned in the past, all the traditions, and moving beyond by challenging it. Routes have no borders, and every collection is an exercise in bringing thoughts and ideas to life through form. Marni has always been recognised for its bold patterns and upbeat silhouettes, but ultimately, we want to create a synthesis of colour and shape." In 2018, Stefano Biondo was appointed CEO.
Marni continues to be bold, experimental and fashion forward. Per Vogue, for autumn winter 2021, "…the tongue-in-cheek transformation of the sportswear and loungewear codes of lockdown into real dressmaking, expressed in jaunty shapes clearly informed by the classic silhouettes of haute couture. Inevitably, it generated a ladylike romanticism conveyed through Risso's countercultural lens: a chic wrap was abstracted into a puffer cape, but retained its neat little plume trim…"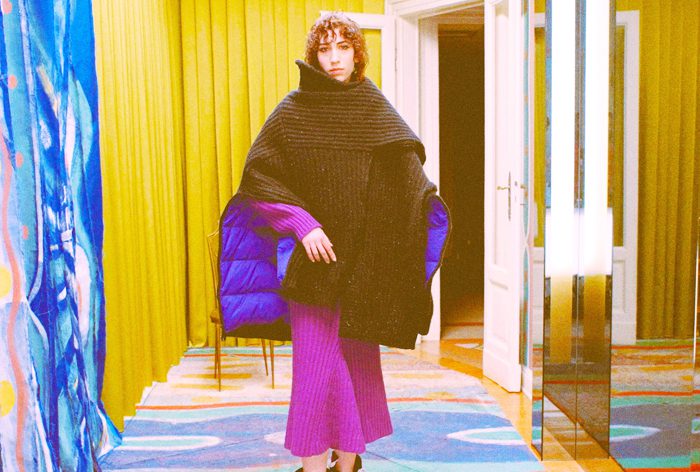 References
https://en.wikipedia.org/wiki/Marni_(fashion_house)
https://www.harveynichols.com/news/features/meet-marnis-main-man/
https://www.vogue.in/fashion/content/if-fashion-doesnt-bring-joy-then-whats-the-point-marnis-francesco-risso-on-fostering-a-global-community-in-a-time-of-crisis