Summary
H & M Hennes & Mauritz AB (H&M) is a Swedish multinational retail-clothing company, known for its fast-fashion clothing for men, women, teenagers, and children.
H & M Hennes & Mauritz AB comprises six independent brands: H&M, COS, Monki, Weekday, Cheap Monday and & Other Stories.
Founded in 1947, H&M's design team creates sustainable fashion following a low-cost principle. The collections include everything from dazzling party collections to quintessential basics and functional sportswear – for women, men, teenagers and children, and for every season or occasion. In addition to clothes, shoes, bags, jewelry, makeup, and underwear there is also H&M Home – fashionable interiors for children and adults.
History
In the year of 1946 the 30-year-old Swedish entrepreneur Erling Persson goes on a road trip through the USA. In New York, the idea of selling women's fashion in a new way is born.
The following year, 1947, Persson opens a new womenswear store in Västerås, Sweden. He calls it Hennes, Swedish for "Hers".
The soon-to-be-famous Hennes logotype is designed by the founder himself. A first store in Sweden's capital, Stockholm, opens in 1952. When a second Stockholm store opens in 1954, the popularity is already at fever pitch.
That same year, Hennes takes out a full-page colour ad in Sweden's largest daily; a pioneering belief in the power of marketing.
The 1950s closes with the opening of a flagship store in the first of five skyscrapers built in the Hötorget area in central Stockholm.
In 1968, Hennes acquires the Stockholm-based hunting apparel and fishing equipment retailer Mauritz Widforss, and the name is changed to Hennes & Mauritz. This is the start of offering of men's and also children's clothing, leading to H&M offering clothes for the entire family.
The expansion is rapid: by 1969, Hennes & Mauritz has 42 stores. During these decades, the international growth begins. Norway comes first, followed by Denmark, U.K., and Switzerland.
In 1973, Hennes & Mauritz starts selling underwear. The same year, ABBA-member Anni-Frid Lyngstad becomes the first "supermodel" to be photographed for the company, wearing make-up from the new cosmetics range.
The growth pace increases even further, with five or six new stores opening every year.
In 1974, Hennes & Mauritz is listed on the Stockholm Stock Exchange. The same year, the stores are rebranded with the abbreviation "H&M".
In the late 1970s, modern teenagers get their own version of H&M as the Impuls concept is launched, inspired by U.S. denim stores.
In the 1980s, the foundation is laid for the upcoming global expansion. New openings include the first H&M stores in Germany and Netherlands.
Long before the term e-commerce was even born, sale of H&M fashion move into the customer's homes through the acquisition of Swedish mail order company Rowells in 1980.
In 1982 – 35 years after the start in Västerås, Sweden, the company gets its second-ever CEO, as Erling Persson steps aside to make room for his son, Stefan Persson.
In the 1990s, traditional newspaper advertising is largely replaced by large city billboards. The choice of models signals that H&M has become a truly international brand. Super models are used next to famous actors and artists wearing H&M clothes. The fashion speaks for itself.
The famous annual Christmas underwear campaigns are launched in 1990, featuring super model Elle Macpherson. The campaigns gain a lot of media attention.
Throughout the 1990s, models from "The Big Six" – Elle Macpherson, Cindy Crawford, Naomi Campbell, Claudia Schiffer, Christy Turlington and Linda Evangelista – are used in H&M's campaigns.
In 1998, H&M starts offering online shopping. The first online market is Sweden.
The expansion of H&M in Europe continues. By the end of the decade there are H&M stores in several European countries including France, where the first H&M store opens 1998 in Paris.
In 2000, a major H&M flagship store opens on Fifth Avenue in New York. The opening of the first store in the U.S. marks the start of the expansion outside Europe.
H&M and Karl Lagerfeld take the world of fashion by surprise in 2004, teaming up to show that design isn't a question of price.
Since this first designer collaboration fashion giants like Versace, Roberto Cavalli, Alexander Wang and Stella McCartney have been invited to make their design accessible to fashion fans globally.
The expansion of online sales continues, initially to European countries.
H&M goes far east, opening the first stores in Shanghai and Hong Kong in 2007.
2007, marking 60 years after the first Hennes store opened, COS is born. The honour of hosting the first store goes to London, UK.
Weekday, Monki, and Cheap Monday are welcomed to the H&M group through the purchase of FaBric Scandinavien AB.
Home styling becomes more fun thanks to the launch of H&M Home in 2009.
In 2000 Rolf Eriksen is appointed CEO. Karl-Johan Persson takes over as CEO in 2009.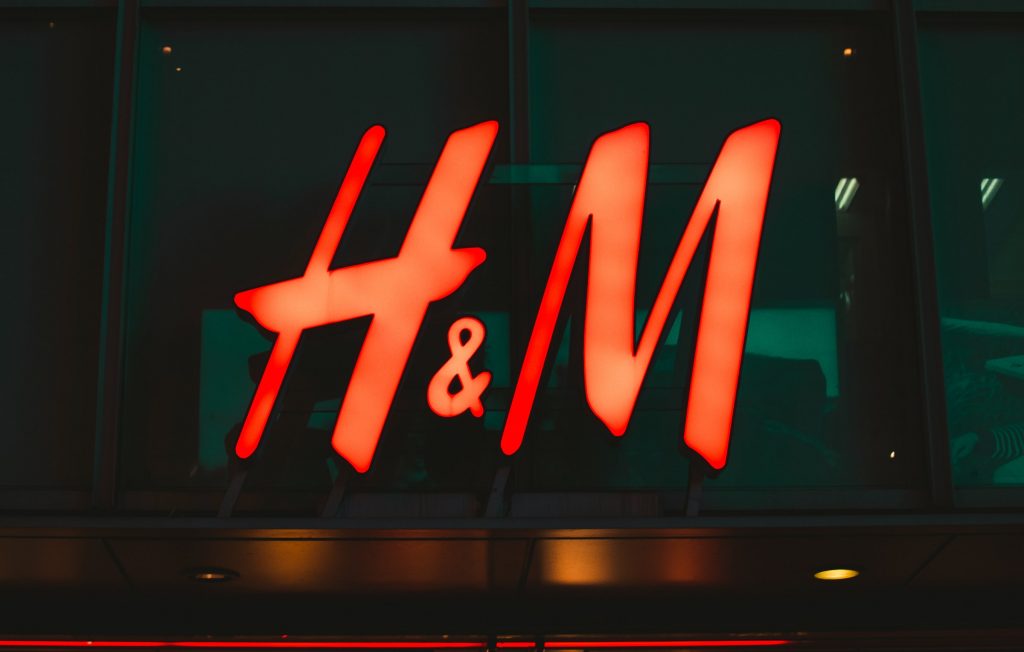 Modern Days
In 2010, H&M for the first time launches a full fashion collection made from sustainable materials.
The H&M Incentive Program for all H&M group employees is launched in 2011.
Garment collecting is introduced worldwide in 2013. Since the start, more than 50,000 tonnes of old textiles have been brought by customers into the H&M stores for reuse and recycling. Long live fashion!
Yet another member is added to the H&M family: & Other Stories. An independent brand created within the H&M group, with design studios in Paris and Stockholm. Launch: 2013.
The rapid expansion continues: there are now H&M stores in Europe, North America, Asia, the Middle East, Africa, South America, and Australia.
In 2014, the new H&M Sport is launched with fashionable sportswear in functional fabrics for the entire family. The same year, H&M's shoe concept is extended and updated.
H&M Beauty is on everybody's lips, as a full range of specially designed makeup, body care and hair styling products enters the scene in 2015.
To accelerate the development of bold and disruptive ideas that can help close the loop for fashion, The Global Change Award is launched in 2015 by the H&M Foundation. The Global Change Award is a challenge designed to spur early innovations that can accelerate the shift from a linear to a circular fashion industry, with the aim of protecting the planet and our living conditions.
The new brand ARKET is created as a modern-day market offering a broad yet selected range of essentials for men, women and children, and a smaller assortment for the home. Launched in 2017, ARKET has its roots in the functional and timeless design of the Nordic tradition. The first store opens on Regent Street in London as well as online at arket.com in 18 European markets.
Afound was launched in 2018 with the first stores in Sweden and online. Afound is a new marketplace selling discounted fashion and lifestyle products, with both external and the H&M group's own brands, offering a wide range of well-known, popular brands for both women and men.
In April 2019 H&M became the first big fashion brand in the world to provide detailed information about the factory and material for individual garments in-store and online.
H&M Brands
ARKET 
Arket is a modern-day market offering essential products for men, women, children and the home. ARKET's mission is to democratise quality through widely accessible, well-made, durable products, designed to be used and loved for a long time. ARKET opened its first store on Regent Street, London in August 2017 as well as online in 18 European markets. Today ARKET has 16 stores in the UK, Sweden, Germany, Denmark, Belgium and Netherlands. The head office and design studio are located at Maria Skolgata 83 in Stockholm.
Weekday
Weekday is a Swedish denim and fashion brand influenced by youth culture and street style. Founded in 2002, Weekday currently ships to 18 markets and has 38 stores in 10 countries, offering a unique retail experience and a curated mix of women's and men's assortments as well as a small selection of external brands. Weekday has been part of the H&M Group since 2008.
COS
COS offers reinvented classics and wardrobe essentials for women, men and children. Designed to live beyond the season, the collections merge lasting quality with timeless design. Committed to supporting the world of art and design through collaboration, COS partners with established and emerging artists, studios and galleries globally, creating unique brand projects alongside the seasonal fashion collections. In 2018, COS presented Soma, a seasonless capsule menswear collection, through choreography by Wayne McGregor during the Pitti Uomo event in Florence. COS' expansion continued in 2018, with its first stores in Russia and, via franchise, in Thailand, Lebanon and Saudi Arabia. COS also opened online in China, where the brand was very well received on the e-commerce platform Tmall. COS is offered online in 21 markets globally and in 270 stores in 41 markets.
Monki
Monki is a storytelling brand that offers great fashion at competitive prices, aiming to be kind to the world and the people in it. The brand mixes Scandinavian cool with creative street style and is all about being brave, friendly and fun while empowering young women to stand up for themselves — and others. Besides shopping online in 19 markets, customers can experience Monki in 127 stores in 16 markets.
H&M HOME
H&M HOME is a design-driven interior brand, offering fashion-forward decor and accessories for every room and style. The assortment ranges from high-quality bed linen and timeless dinnerware to stylish textiles, furniture and lamps; with contemporary style and attention to detail at its core. By merging modern design and quality with affordable prices, H&M HOME enables interior lovers across the world to create their dream homes. H&M HOME was launched online as a home textile concept in 2009. The assortment has been extended throughout the years and rolled out in many markets. Today, H&M HOME is available mainly in shop-in-shops in H&M stores and online, and is also expanding through standalone H&M HOME stores.
& Other Stories
& Other Stories offers a wide range of shoes, bags, accessories, beauty products, stationery and ready-to-wear for women. In design ateliers in Paris, Stockholm and Los Angeles, & Other Stories creates collections with great attention to detail and quality. Successfully launched in 2013, & Other Stories is present with 70 stores in 17 markets in Europe, the US and Asia along with an online store at stories.com in 15 markets. In 2018 & Other Stories launched a new product category – haircare, inspired by Los Angeles. New markets were Kuwait via franchise and Austria.
Afound
Afound is a new type of outlet that offers hundreds of well-known fashion and lifestyle brands for women, men and kids — always at a reduced price. With physical stores and a digital marketplace, Afound presents a hand-picked and curated assortment in many price segments to suit your personal style. Afoundwas launched in June 2018, with its first store in Stockholm and online in Sweden. During the year four more stores opened, in a total of four Swedish cities.
Sustainability Goals and Strategy
H&M's vision is to lead the change towards a circular and renewable fashion industry while being a fair and equal company. Using their size and scale, they are working to catalyse systemic changes across their own operations, their entire value chain and the wider industry. In this way, H&M can continue to engage their customers and provide great fashion and design choices — today, and into the future. They actually focus on circular economy, responsible use of water and climate change.
"Big change requires bold actions and the courage to aim high. At the same time, we have to be humble to the challenges our planet is facing. So if we want to make real change we have to be brave, push the boundaries and not be afraid to fail" Anna Gedda, Head of Sustainability, H&M Group
H&M vision and strategy apply to all their brands while allowing each of them to maintain their own brand identity. While their business has a long and well- established history in sustainability, projected population growth figures and natural resource levels make it clear that a more focused approach to sustainable fashion is needed. Their role, as leaders in the industry, is to innovate, influence, collaborate and lead the way towards a truly sustainable fashion future. This vision is not only necessary from a social and environmental perspective, but it also makes good business sense. Long-term investments in sustainability provide us with long-term business opportunities that will keep H&M Group relevant and successful in the rapidly changing world.
Frequently Asked Questions
What is the history of H&M brand?
H&M or Hennes & Mauritz AB (H&M) is a Swedish multinational retail-clothing company and founded in 1947, known for its fast-fashion clothing for men, women, teenagers, and children.
What is H&M's vision and goal for future?
H&M's vision is to lead the change towards a circular and renewable fashion industry while being a fair and equal company. Using their size and scale, they are working to catalyse systemic changes across their own operations, their entire value chain and the wider industry.
Who are H&M's biggest competitors?
Biggest competitors of H&M brand are Zara and Uniqlo, they are international clothing retailers with over 2,000 stores each worldwide. The competitive companies focus on comparable markets but use different strategies in their business models and marketing.
References
https://www2.hm.com/en_gb/index.html
https://hmgroup.com/about-us.html
https://en.wikipedia.org/wiki/H%26M
https://www.crunchbase.com/organization/h-m-clothing-company#section-overview
https://www.insider.com/surprising-fun-facts-about-hm-clothing-store-2018-6
https://www.globalblue.com/destinations/sweden/history-of-hm/
https://about.hm.com/content/dam/hmgroup/groupsite/documents/masterlanguage/CSR/reports/2018_Sustainability_report/HM_Group_SustainabilityReport_2018_%20FullReport.pdf