Last update on: 7:47 am March 7, 2022 by fashionabc
Top Shows At Milan Fashion Week
Milan Fashion Week is back with a bang for autumn winter 2022 with a packed schedule of sixty-seven runway shows including a number of top fashion brands and debut designers, keeping the fashion editors and connoisseurs riveted. From a silent protest against the Russian invasion to championing diversity and body positivity, here are a few of our top picks.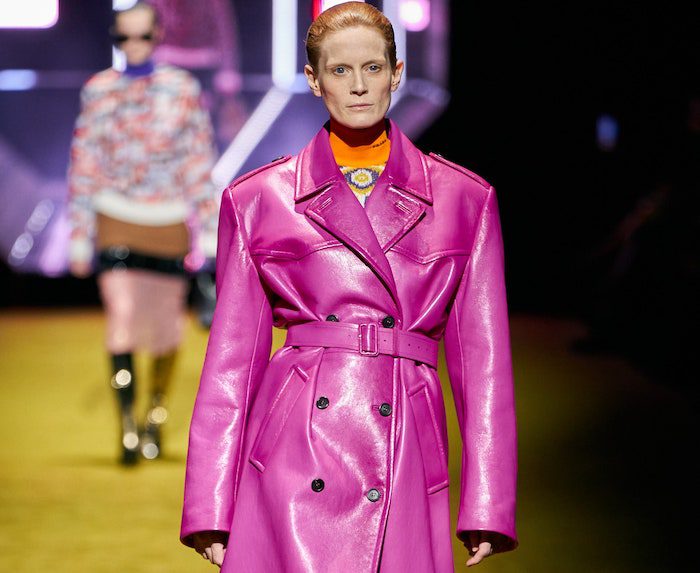 Top Shows At Milan Fashion Week
Giorgio Armani
Giorgio Armani autumn winter 2022 opened with a voiceover: 'My decision not to use any music in the show was made as a sign of respect to the people affected by the evolving tragedy.' The reference, of course, was to demonstrators waving Ukrainian flags and anti-Putin signs outside Milan Fashion Week show venues, to utilise the worldwide exposure to protest against the Russian invasion. Armani was the first designer to use the widespread coverage of his show to protest against the war. Perhaps, because he has experienced Second World War as a child. 
"'What could I do?" he wrote in an email to Vogue. "I could only signal my heartbeat for the tragedy through the silence. I didn't want show music. The best thing is to give a signal that we're not happy, to recognize [that] something disturbing is happening."'
The collection a study in discreet elegance. Per Vogue, 'Languid silver tailoring oscillated with mercurial grey flou in garments accentuated only by the subtle twinkling of crystals…the lapels of a super light women's tuxedo constructed so it looked like they were sliding off her shoulders, or the faint laser-cut patterns of soft faux shearling coat. In fabrication, it took shape in icy velvet men's tailoring and in enveloping cuddly outerwear, like an ivory robe quilted like rope and a plush velvet men's robe with a pinstriped back panel.'
Bottega Veneta
Matthieu Blazy's debut for Bottega Veneta was one of the hot tickets at Milan Fashion Week. Artistic and commercial. One of the most seemingly simple yet brilliant looks kickstarted the show — what appeared to be a white tank top and straight-leg blue jeans was actually handcrafted from supple nubuck and engineered to look like denim!! This creative brilliance extended to oversized shirts handcrafted from the thinnest, supple nubuck and worn just with thigh-high leather boots. Simple and a statement look!
'Bottega Veneta is in essence pragmatic because it is a leather goods company. Because it specialises in bags, it is about movement, going somewhere; there is fundamentally an idea of craft in motion. It is style over fashion in its timelessness. That is part of its quiet power,' Matthieu Blazy told Wallpaper.
The head-turner accessories would surely be in demand this season, particularly The Kalimero sling bag and the pillow clutches. Per Vogue, 'Bottega Veneta started as a handbag business and woven leather intrecciato is the house specialty, but the sublime nubuck of that tank top and jeans was a surprise—and a showcase for the thoughtfulness of the house's new designer… With accessories, too, the emphasis was on the artisanal. The new Kalimero bag was woven in one piece with no seams, and the same goes for the thigh-high boots.'
Gucci
Gucci creative director Alessandro Michele's show notes read: 'I use the metaphor of the magical mirror to approach the phantasmagorical power of fashion. A sacred power that radiates from the surface of the fabrics. And there I work, on this tactile surface, through cross references, alterations, loopholes and grafts. Juxtaposing worlds and meanings. Altering the stability of perception. Manipulating and magnifying the existing.'
Well, the one thing that everyone waited for with bated breath was the looks that were crafted as a result of the groundbreaking collaboration between the luxury house and sportswear brand Adidas. Per Elle, 'Michele teased the collab by sending the first models out in classic Adidas trainers, before giving us the goods we'd been waiting for: exquisitely cut, modern suiting featuring the lateral three stripes, adidas-embroidered knitwear, sporty-chic dresses and ultra-covetable accessories including hats, bags, gloves and shoes.'
Versace
One thing is sure after viewing Versace Autumn Winter 2022 — the suit will be a hot ticket, but only if styled in a way that flatters a woman's body. This was clear right from the opening look — a slim black pantsuit worn with a boned corset.
Per Vogue, 'Corsets shaped micro dresses and three-quarter length sheaths in lustrous satin, second-skin knits, and even glossy puffers. But most of the time they performed the role of layering piece under boxy jackets in blown-up checks and pied-de-poule, a fall 2022 replacement for the bra tops that young women have adopted in lieu of the T-shirts and tank tops of eras gone, Covid having loosened long-held dress codes… The contrast invigorated her, like "an elastic band pulled tight and about to snap back with a build-up of energy," she said.'
It was an accurate depiction of how the glamorous clientele Donatella Versace designs for desires after a long period of social distancing, no parties and no travel. This collection of sexy, powerful looks was the remedy: a tailored, corseted, powerful yet oh-so-sexy looks that would surely be at the forefront of her post-pandemic wardrobe. What made it even more appealing? The models that championed diversity and body positivity, which Donatella emphasised to Vogue, 'Girls like Avanti, Anyier and Tilly perfectly represent a Versace with new generation attitude and they champion diversity.'