Last update on: 3:47 am March 1, 2023 by fashionabc
Milan Fashion Week – established in 1958 and partially organised by non-profit association Camera Nazionale della Moda Italiana – is back with a bang for Autumn Winter 2023 with a packed schedule of runway shows, including a number of powerhouse luxury fashion brands, keeping the fashion editors and connoisseurs riveted. On the whole, Autumn/Winter 2023 in Milan was an exercise in safe, stylish wearable apparel. Here are a few of our top picks.
Diesel
Italian fashion brand Diesel sure lived up to its brand mission statement, "To create an apparel line perfect for individual people who follow their own unique path in life and for those style-makers who express their individuality by the way they dress." For Fall Winter 2023 at Milan Fashion Week, condoms were sent out with the invitations and the showing opened with a huge stack of 200,000 Durex condom boxes in the backdrop as a nod to responsible sex and an upcoming partnership with the contraceptive brand. "Sex positivity is something amazing. We like to play at Diesel, and we are serious about it," creative director Glenn Martens said in a press statement. "Have fun, respect each other, be safe." Indeed, models showcased low-rise jeans with most of the legs exposed, smocked glazed coats, denim apparel with sheer mesh panels and silk dresses barely held together by chains. We loved how Martens 'experimented with devoré – a burn out effect – bonding denim with sheer tulle on to create a flesh-bearing distressed effect on,' per the brand's official Instagram. Most looks were carefully curated to appear as though they were on the verge of falling apart. Towards the end of the risqué showing, Diesel sent out a line of suggestive lip and teeth prints. That said, the show wasn't all about sex! Per Vogue, "it continued the demonstration of techniques and intricacy Martens has been exploring since taking the reins of the brand in 2020. They range from ripping to glazing but all have the same effects in common: degeneration, deterioration and erosion…" The showing also turned our attention to up-cycling, with the fashion brand's use of leftover nylon, deadstock faux fur and biker jackets blow-torched and transformed into structural pieces. Whoa!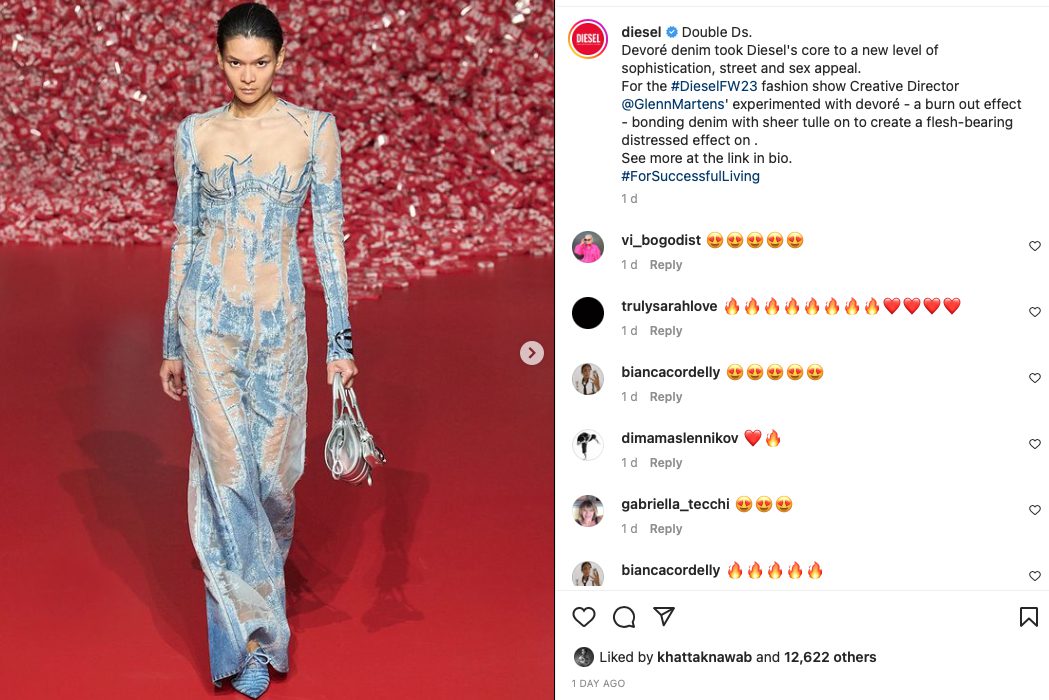 Prada
"The Prada Fall Winter 2023 collection by Miuccia Prada and Raf Simons reconceptualizes, reconsiders and ultimately rediscovers ideas of beauty. Beauty here is determined not by aesthetic, but by action – garments are signs, representations of the beauty of care, of love, of reality," per a note on Prada's Instagram. Indeed, it appeared as though Raf Simons and Miuccia Prada translated this vision as seemingly simple styles accented by the finest techniques and embellishment. So, wool skirts enhanced with dainty flowers were worn with jumpers, voluminous jackets with slim pants and shirt dresses with trains. These everyday looks were celebrated on the runway to highlight the importance of its wearers and their lives. "What I'm fixated on is giving respect to working people – and not superficiality," Prada told Vogue. "There is the notion in fashion that only glamour is important. I hate that; I have always fought against that. This collection is about finding beauty everywhere, beauty of different kinds… What's important now is the value of jobs: to give importance to simple jobs." The showing drove home how to make ordinary pieces look and feel desirable; for example, the short olive green button-down jacket with exaggerated collars. And, skirts were accentuated with origami fabric flowers immediately brought to mind bridal wear. Worn with neutral-hued sweaters they drove home the point of making the extraordinary, ordinary and desirable.
Fendi
With Fendi scion Delfina Delettrez as the muse for Autumn/Winter 2023, the luxury brand explores classic elegance through her wardrobe and how she wears her Fendi apparel and accessories, with her own individual style. "I was looking at the sophisticated Fendi woman in quite a simple way," Fendi Artistic Director of Couture and Womenswear Kim Jones told Vogue. The bold designs, with fine detailing and unique combinations of fabrics were quite interesting as Jones combined masculine tailoring and traditional fabrics to form modern feminine silhouettes. In the words on their Instagram, "Classicism and subversion, sophistication and fetishism…" Another significant moment in the showing was the launch of a new handbag, Fendi Multi. As the show drew to an end, it was obvious that Jones had toned his sexy streetwear vibe for stylish, commercial clothing.