View this post on Instagram
Few brands are quite so synonymous with fashion royalty as Prada. Since the luxury goods firm was founded in Milan in 1913, it has grown from a favourite of the Italian nobility to a global empire worth €5.8 billion in January 2022.
How did it all start? Under founder Mario Prada's tenure, the brand became the official supplier for the Italian Royal House before the Republic was proclaimed in 1946. Mario's daughter Luisa took over the business after his death, running it successfully for twenty years. But faced with growing competition from expanding fashion conglomerates and a more globalised approach to luxury among press and buyers, the future of the brand seemed uncertain.
Or so it did before Luisa's daughter, Miuccia, took over in 1978, joined by her entrepreneurial husband-to-be, Patrizio Bertelli. With new creative blood, "Prada quietly became the go-to brand for the creative class and fashion intelligentsia", writes Vogue archive editor Laird Borelli-Person. Miuccia's first hit as a designer was a departure from her house's leathered past: a backpack made of industrial nylon as used by the military for tents and parachutes. It became a status symbol of late century fashion, now reselling online for thousands of dollars.
Miuccia would turn to nylon again as her brand gained popularity. After launching legendary lines for womenswear in 1988 and menswear in 1993, she reapplied the utilitarian fabric to deconstruct traditional lingerie in Spring '94, and to revitalise the classic sheath dress in Spring '95. Though nylon has a rather nefarious environmental impact, the development of its biodegradable alternative in recent years has been championed by Prada, which has converted all production of virgin nylon into regenerated nylon.
Though tempting to pigeonhole Miuccia's style as minimalist, her continuous boundary pushing has allowed her to resist straightjackets. Edging away from the more muted palettes of her early work in womenswear, she shifted gears for what would come to be known as her most seminal collection: Spring '96. Mid length skirts, striped shirts and clumpy sandals, all in unflattering shades of brown, green, purple and blue, were carried down the runway by the boyish, waifish figures of Kristen McMenamy, Stella Tennant, Shalom Harlow and Amber Valletta. Kate Moss' closing look was a white, short-sleeved shirt and semi-transparent brown skirt that stopped right before her knees: sexy, but in a gawky, geeky, schoolgirl way. Perhaps that was the point.
View this post on Instagram
The fashion press termed Mrs Prada's new aesthetic 'ugly chic', hailing it as a button-pushing riff on good taste and a fashion-forward reinterpretation of proportion and assemblage. Colours that hadn't been deemed attractive since the '70s were suddenly front and centre, combined to create outfits as edgy as they were cool: both intelligent and wearable; at once subversive and timeless. This has remained Mrs Prada's M.O. and winning formula. In 2020, she welcomed cutting edge Belgian designer Raf Simons as her right hand man and co-creative director, keen to push the envelope for men's and womenswear further still.
Parallel to Miuccia's paradigm-shifting collections are their accompanying campaigns. Like Miuccia's clothes, these are true artistic statements, acclimatised to trends and tendencies without ever fully subscribing to them. Borrowing from the tropes and techniques of the fashion editorial, Prada campaigns continue to be an exercise in visual storytelling. A far cry from those of rival luxury brands, Prada's have always been about selling a vision rather than a product: an image of weird glamour for those smart enough to get it.
Today, we look back on the most stunning and enticing campaigns of the most elegant brand in fashion history.
Glen Luchford, 1997


View this post on Instagram
Prada's Spring 1997 campaigns for both men's and womenswear are legendary. Miuccia's sensual clothing is in perfect symbiosis with British photographer Glen Luchford's ethereal eye. The featured ensembles play off preppy clichés, juxtaposing austere minimalism and disco chic. A brooding Joachim Phoenix is captured in a crimson suit against a saturated backdrop of minimalist architecture: a clear nod to Tom Ford's Autumn 1996 Gucci suit. 
View this post on Instagram
But unlike Gucci, Prada is less interested in sex and power than in risk and vulnerability.  For the parallel womenswear campaign, Amber Valletta seduces viewers with her feline gaze from a sinking rowboat in Rome's river Tiber. "I'd seen two films growing up that influenced this shot: one was Andrei Rublev, by Tarkovsky, and Time of the Gypsies by Emir Kusturica," Luchford told The Guardian. "Both have religious scenes of people floating down the river in the mist. I decided to do an homage to both films."
In another shot, Valletta wears a diaphanous brown dress and black shirt while floating serenely in a pool of water, surrounded by fog "like a kind of grungy Ophelia," per Vogue's Liam Freeman. The mood and tones of the womenswear campaign are noticeably darker and more menacing than those for menswear, hinting at tragedy and danger with colder colours and cinematic mist.
View this post on Instagram
Luchford's campaign for Autumn 1997 is equally haunting and hypnotic, Valletta once again proving the perfect choice to sell the Prada vision. Staying true to his deliberately underexposed, muted and sombre aesthetic, the photographer titillates viewers with hints of violence and voyeurism. Playing the femme fatale and something of a precusor to Angelina Jolie's Mrs Smith, Valletta tilts a heeled boot at the perfect angle so it resembles a gun. In another image, she peeks through a keyhole à la Helmut Newton, her scintillating dress taking a back seat as the visual narrative takes centre stage. Luchford's work for Prada is a perfect synthesis of the house's commercial strategy: selling clothes through stories.
View this post on Instagram
Helmut Newton, 1986
Violence was more than just a hint in king of kink Helmut Newton's 1986 Prada campaign, shot in Monte Carlo. It captures a black crocodile skin bag dropped on what appears to be the floor of a parking lot. Its contents has spilled out: bank notes aplenty in currencies ranging from the now disused Monegasque franc to the equally antiquated Deutsche mark (a nod to Newton's German heritage), along with a passport, a tissue with red lipstick marks (or is it blood?), and a compact powder mirror. A body lies behind, hidden but for its stiletto-clad feet. The overexposed, oversaturated film highlights harsh, Matrix green tones: a suitably sinister vibe for a what's-in-my-bag gone wrong.
View this post on Instagram
Even before turning her attention to clothing, Miuccia was already harnessing the power of visual storytelling for campaigns advertising Prada's accessories, collaborating with the best in the business to create images so provocative and artistically significant that they totally transcended their commercial purpose.
Peter Lindbergh, 1994
If there's anything Prada isn't, it's maximalist. The only thing opulent about Miuccia's clothes are their price tag. This seems standard today: but in the early '90s, rejecting the obviously expensive was a risk. Designers either sold haute simplicity (Giorgio Armani and Ralph Lauren) or glitzy excess (Gianni Versace and Gianfranco Ferré). Prada was different.
Though resisting -isms is as integral to Prada as Miuccia herself, it would be wrong to deny the brand's role in deconstructionism: a late '90s phenomenon championed by names such as Helmut Lang and Ann Demeulemeester who sought to pick apart the fabric and foundations of fashion to interrogate its roots and unhinge its boundaries.
By 1994, however, few but Mrs Prada had advanced in such a direction, as she cast the classically beautiful Christy Turlington to model distinctly unconventional looks for the label's Spring and Autumn '94 collections, shot by Peter Lindbergh. The German photographer's penchant for grit over glamour pleased Mrs Prada and her subversive agenda; together, they paired grey, grainy film with the collection's fluid silhouettes and mediaeval atmosphere, conjured by velvets, leathers, shearlings, and romantic ruffles.
View this post on Instagram
Caught somewhere between a Russian woodland nymph and an Amish peasant, Turlington had her hair cut into a short, blunt bob to reframe her impossibly perfect features as sharp facial inflections. Lindbergh's images take viewers into the Pradasphere, where the archetypes of couture are debunked and dismantled to retell the story of high fashion from a postmodern perspective.
Norbert Schoerner, 1988
View this post on Instagram
The German photographer and filmmaker earned a two-year contract with Prada in 1998, tapping Angela Lindvall to model the Autumn '98 collection in a surreal desert landscape. The campaign is noted for its pioneering use of multiple digital layers. Teasing the indoor-outdoor boundary with classic studio lighting and scrims hoisted by metal bars, spaced out to resemble passageways, Schoerner explores the theme of escapism. The artificial quality of the make-believe desert is only heightened by the juxtaposition of studio props with a decor designed to transport viewers into another world.
View this post on Instagram
Hailing in the new millennium, Schoerner's Prada campaigns are like time capsules for a period in history where qualms and concerns about the future were high; a source of both anxiety and inspiration. This duality is beautifully rendered in Schoerner's stylistics which, like Luchford's, are perfectly suited to the delicate sensuality and deconstructionist aesthetic of Mrs Prada's clothes.
Steven Meisel, 2020
Shot in the style of a film noir, Meisel's campaign for Prada's 2020 Holiday collection was multi formatted: one part video, one part photo series. Cinematic references have become a trope for Prada and its sister brand, Miu Miu, Miuccia's own obsession with cinema providing the inspiration for photographers. 
View this post on Instagram
A cast of five take up their roles in an imaginary film set in the Villa Gnutti. Bringing to life the original short story A Stranger Calls, written for Prada by author Candice Carty-Williams, each frame is meant to present a clue to an unfolding narrative. The quality of the acting in the film leaves much to be desired; but the photo series is one of Meisel's best to date. Unafraid to ape canonical photographic styles, Meisel shows off his knack as a "re-photographer" with "canny, postmodern samplings," writes journalist Michael Gross. The Helmut Newton influence, in particular, transpires through both lighting and locale: stark black and white tones pair with glamorous art deco interiors to complement impeccably tailored clothes.
View this post on Instagram
The purposefully fragmented visual narrative is far more convincing as a photo series, Meisel allowing stills to speak for themselves and become metonyms for a wider story. But it is also a fitting tribute to the brand's campaign history, inviting viewers to consider outfits in a narrative and identitarian context rather than as symbols of material wealth. Prada is about the person underneath the clothes, rather than the clothes themselves. The Devil wears Prada; not the other way around.
Cao Fei, 2019
For its Autumn 2019 campaign featuring Chinese singer Cai Xukun, also known as Kun, Prada collaborated with Chinese multimedia artist Cao Fei. The science fiction-themed advert is entitled 'Code Human' and explores idol culture from a futuristic standpoint. Kun visits the fictional 'Museum of Mankind' in which he finds a specimen exposed to visitors in a cabinet that looks exactly like him. "Who is imitating who? In the future, this is the ethical question facing the idea of man-made men. Like clones, it will result in a conflict between the species," Fei explains.
View this post on Instagram
One of Prada's more dystopian campaigns, it presents ensembles that are technologically astute and equipped for a complex and multifarious future. Like the original nylon bag, these are clothes which are, above all, practical and resistant. The plasticity of Fei's aesthetic is a neat contrast to the strength and tenacity of the clothes, which take on a life of their own as the boundaries between man and machine – reality and artifice – become blurred.
View this post on Instagram
Albert Watson, 1988
It seems only fair to end on Prada's first ever womenswear campaign, shot by Scottish fine art photographer Albert Watson, which explores the theme of absence. Model Jensen Tully is never fully shown, her face either tilted sideways to avoid the glare of the camera or placed beyond the frame. The coyness and discretion of the subject contrast with the sensual folds of her undulating clothes, with loosely fitted shirts and dresses preempting a new, grungier decade. Gently positioned feet and hands add to the finesse and eroticism of the photographs: Tully is presented as both delicate and statuesque, like a classical sculpture.
View this post on Instagram
In the throes of '80s hypervisibility, the sensual sobriety and dissimulation of beauty as pioneered by Watson for Prada stands out. It explores a different, more tentative approach to seduction and elegance, identifying the Prada woman as more ethereal, more mysterious – nay, more forbidden – than other high fashion archetypes. The Prada woman, like the campaign in which she stars, is not a pin-up advert, but a work of art that defies genre and expectations.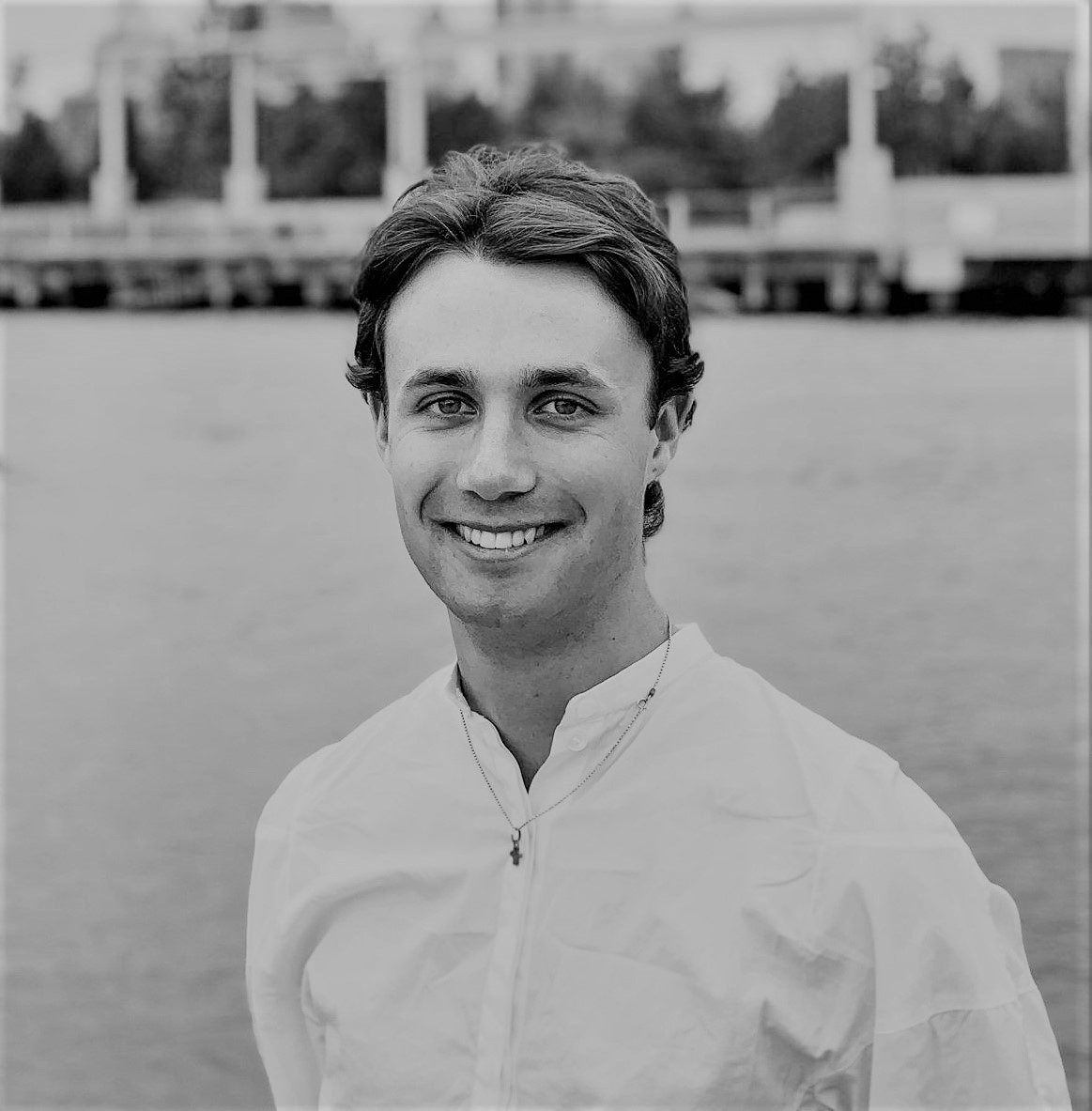 William Hosie is a writer and editor with a keen interest in fashion, design and art, earning a Double First from Magdalen College, Oxford in 2020.