Last update on: 10:56 am September 28, 2023 by fashionabc
You don't have to be attending a prestigious Ivy League school to get that preppy, iconic style that so many people wear. All you need are a few of the essential pieces. In this article, we'll give you tips to achieve this fashionable look!
What Is The Ivy League Look?
The Ivy League look is a style of dress associated with the Ivy League, a group of eight prestigious colleges in the Northeastern United States. The style is characterized by its preppy aesthetic and its focus on classic clothing items such as button-down shirts, sweaters, and khaki pants.
The Ivy League look can be traced back to the late 19th century when Ivy League schools began to adopt a more formal approach to dress. This was in contrast to the more casual style of dress that was popular at other colleges at the time. The Ivy League look gained further popularity in the 1920s and 1930s when it became associated with the "preppy" subculture.
While the Ivy League look has undergone some changes over the years, it remains a popular style among those who want to achieve a classic and sophisticated look. To get this attainable look, we've gathered the key clothing articles you'll need to incorporate into your look.
Button-Down Shirts
Button-down shirts are a wardrobe staple for any preppy girl. They can be dressed up or down, and they always look polished. The key to nailing the Ivy League look with a button-down shirt is to make sure it fits well. 
It should be tailored to your body and hit at the hipbone. The shirt should also have a nice, stiff collar that stands up on its own.
Blazers
When looking for this essential piece of clothing, the key is to find a fitted blazer that flatters your shape. For a more tailored look, go for a blazer with structured shoulders and a nipped-in waist. If you want something a little more relaxed, look for a boyfriend blazer or one with slightly oversized sleeves.
When it comes to choosing the right blazer, there are a few things to keep in mind. First, think about the color and fabric of your preppy clothes. A classic navy blazer is always a good option, but you can also experiment with different colors and patterns. Just make sure the fabric is high quality, as it should have a nice drape and feel smooth to the touch.
Next, consider the fit. As we mentioned above, you want to find a blazer that flatters your shape. If you're not sure what size to get, it's always better to stay on the side of too large rather than too small. You can always have a tailor take in the sides if it's too big, but it's much harder to let out a too-tight blazer.
Finally, think about the details. Button placement, lapel style, and pocket type are all important factors in creating the perfect Ivy League look. For a more traditional look, go for a blazer with two buttons and symmetrical pockets.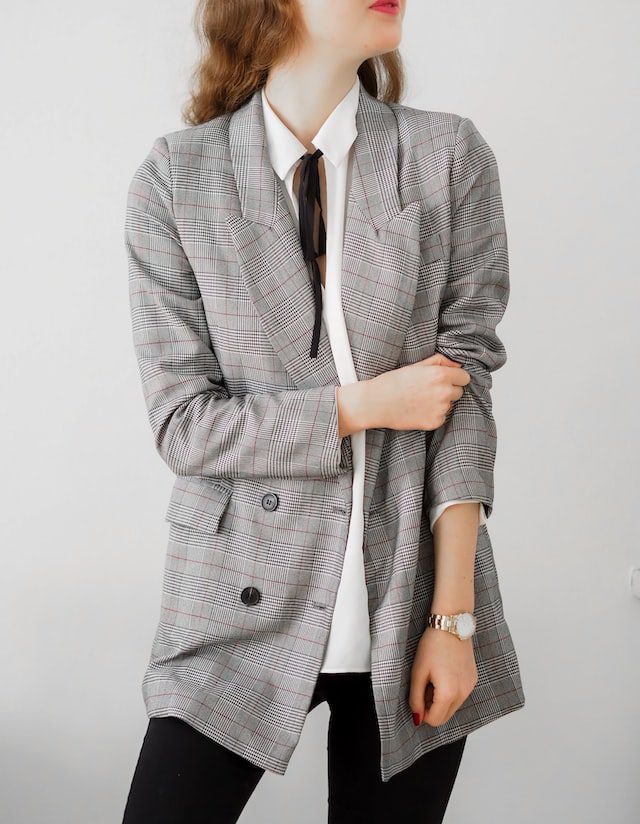 Chinos
Chinos are a great choice for an Ivy League look. They are extremely versatile. For a casual look, pair chinos with a tee shirt and sneakers. For a more polished look, try pairing them with a button-down shirt and loafers. 
If you want to really stand out, go for a brightly colored pair of chinos. Other great options include white or khaki.
Chinos are also a great choice for warm weather since they are typically made from breathable fabrics like cotton or linen. So if you're looking to stay cool and comfortable while still looking stylish, chinos are the way to go!
Loafers
Loafers are a preppy staple, and there are many different ways to wear them. You can find loafers in a variety of colors, materials, and styles. They can be dressy or casual, depending on how you style them.
One way to wear loafers is with skinny jeans and a button-down shirt. This is a classic look that can be made into a fancier outfit, depending on the shoes and accessories you choose. For a more casual look, pair loafers with cropped pants or skirts. Add a striped tee or polo for a touch of prep.
If you want to dress up your loafers, try pairing them with a tailored suit or dress. Add some statement jewelry, vintage designer bag or a scarf to really stand out. Loafers can also be worn with shorts in the summertime. Just add a cute top and some sunglasses, and you're good to go!
Layers
There are many layers to the Ivy League look, and each layer is essential to achieving the desired aesthetic. 
The basic layers include:
A button-down shirt

A sweater or cardigan

A blazer or sport coat

Slacks or khakis

A tie

A belt
Each of these pieces can be mixed and matched to create the perfect outfit for any occasion. For a more casual look, pair a button-down shirt with a cardigan and dress slacks. 
Add a belt and tie for a more polished look. For a more formal look, pair a button-down shirt with a blazer or sport coat and dress slacks. Add a tie and belt for an extra touch of class.
Pleated Skirts
Pleated skirts are another key part of the preppy, Ivy League look. They can be worn both for a casual event or a fancier event. 
When shopping for a pleated skirt, look for one that hits just above the knee. This length is flattering on most body types and can be dressed up or down as needed. Pair your pleated skirt with a button-down shirt and cardigan for a classic, put-together look.
Accessories
The Ivy League look is not complete without the right accessories. A few key accessories can really make or break your look. Below are a few must-have accessories for nailing the Ivy League style:
A classic watch: A classic watch is an essential accessory for any Ivy League outfit. Look for a timeless style that will never go out of fashion.
A cashmere scarf: A cashmere scarf is a perfect way to add a touch of luxury to your Ivy League outfit. Choose a neutral color that will go with everything.
Just because you don't go to an Ivy League school doesn't mean you can't dress as you did. With a few key pieces, anyone can achieve the preppy, classic style that is so often associated with Ivy League schools. With these tips, you'll have your own preppy wardrobe and achieve that polished look that will have everyone thinking you went to Harvard.