Summary
Few brands have as enviable a fashion history as the House of Valentino. From a salon financed by his father, Valentino's collections went down in fashion history when worn by Elizabeth Taylor, Jacqueline Kennedy and Audrey Hepburn and endorsed by Vogue editor Diana Vreeland and art icon Andy Warhol.
History
Valentino Clemente Ludovico Garavani was always interested in fashion and art. In 1949, he left home in Voghera to study art and fashion in Paris. Here, he enrolled himself at École des Beaux-Arts and Chambre Syndicale de la Couture Parisienne. When Valentino won a contest on fashion design by International Wool Secretariat – the same prize iconic fashion designers Yves Saint Laurent and Karl Lagerfeld would win later— it led to a job at House of Jean Dessès where he helped Countess Jacqueline de Ribes sketch her ideas for bespoke couture. In 1957 Guy Laroche, an illustrator at Dessès, set up his own fashion house and Valentino worked with him for two years.
In 1959 Valentino returned to Rome and, with financial backing from his father, opened his"maison de haute couture" on Via Condotti. It was magnificent and fashion models flew in from Paris for his debut show. Valentino became famous for his red evening gowns, which was forever ingrained into fashion lexicon as "Valentino red." Hollywood star Elizabeth Taylor, who was shooting for "Cleopatra" in Rome, came across his creations and placed an order for a white dress, which she wore for the world premiere of "Spartacus". There was no looking back. Valentino was on a roll. In 1960, a serendipitous meeting with architecture student Giancarlo Giametti at Cafe de Paris, led to a lasting relationship; Giammetti became his business partner and companion, and together they built the Valentino empire. Two years later, Valentino debuted his couture collection in Florence and in no time, the A-list set wore his designs including Princess Margaret of England, Audrey Hepburn, Jackie Onassis and Jacqueline Kennedy.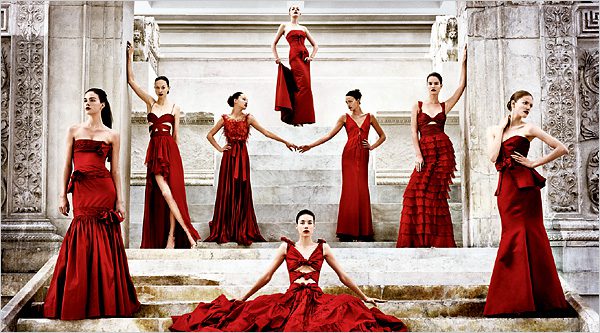 In a bold move away from his signature red, Valentino designed a white collection in 1967 for which he was honoured with The Neiman Marcus Award for Distinguished Service in the Field of Fashion. The collection debuted the V monogram. Buoyed by success, in 1969 he opened his first ready-to-wear store in Milan followed by stores in New York, Rome and Asia. It was now a global brand. Throughout the Seventies, Valentino spent time in New York, where his presence was revered by Vogue editor Diana Vreeland who expected nothing but the best from the Italian couture house; Valentino was synonymous with elegance, style and Italian craftsmanship.The Nineties marked the opening of Accademia Valentino, a cultural space for art exhibits. The following year, encouraged by Elizabeth Taylor, the duo opened L.I.F.E., an association for that supports AIDS patients.
Valentino received several awards in his journey including The Legion of Honour; Medal of the City of Paris; Golden Plate Award of American Academy of Achievement; and, the crowning glory, The Council of Fashion Designers of America Lifetime Achievement Award. In 1998, the company was sold for reportedly $300 million to Italian conglomerate HdP. In 2002, Valentino S.p.A. was sold by HdP to The Marzotto Group for reportedly $210 million.
When Valentino retired in January 2008, his farewell show was an extravagant one held at Musée Rodin, Paris and the nine hundred -strong guests, which included royals and celebrities, gave him a standing ovation. On his retirement, Alessandra Facchinetti was named Creative Director, but her two collections suffered from what the company release described as 'misaligned vision with the company'. She was replaced by Maria Grazia Chiuri and Pierpaolo Piccioli. Their aesthetic is edgy and youthful but steadfastly sticks with the femininity and elegance —the foundation of the label. However, on 7 July 2016 Maison Valentino nominated Pierpaolo Piccioli its sole Creative Director
In 2012, Qatar acquired Valentino for reportedly 700 million euros through an investment vehicle. In recent times, the Italian fashion house announced Lady Gaga as the new face of Voce Viva, a perfume envisioned by Valentino creative director Pierpaolo Piccioli. The maison also announced that it would no longer use alpaca wool harvested from live animals from the world's largest privately owned alpaca farm, Mallkini in Peru and severed ties with Mallkini.
Vision
Attention to perfection, quality and beauty.
Mission
Grace, style and fine Italian craftsmanship.
Team
CEO: Jacopo Venturini
Creative Director: Pierpaolo Piccioli
References