Summary
Founded in 1853 as a modest company, Tissot now exports more than four million watches every year.
History
Tissot was founded in 1853 by Charles-Félicien Tissot and his son Charles-Émile in their home on Crêt-Vaillant, Le Locle, Switzerland. In the first year of business the company made a pioneering one-movement pocket watch with two time zones and shortly began exporting their watches overseas. Charles Tissot, son of Charles-Émile, married a Russian lady and the country became their biggest market. The company sold extravagant pocket watches in Russia, including the court of Russian Emperor Tsar Alexander II. Another notable watch from this era was one given to Swiss politician Numa Droz. Recently, the company re-acquired this timepiece and now displays it in the Tissot museum.
Tissot set up a factory in Chemin de Tourelles, Le Locle in 1907. A few years later, the team designed their first wristwatches. During the Twenties and Thirties, the company handcrafted luxury dress watches but continued to explore new technologies. 'Tissot 1930 Antimagnetique Watch' used non-magnetic components in its movement, making it the first mass-produced anti-magnetic wristwatch. The Forties witnessed the popularity of both dress watches and the new active watches. '1944 Automatic', made of stainless steel with a leather strap, used self-winding mechanism with a forty- hour reserve and shock-resistant movement. '1951 Navigator' is a pioneering model that displayed twenty-four time zones. Tissot continued to design new automatic models such as 'Visodate' with a calendar function. In the late Fifties, the brand streamlined manufacturing of movements when Edouard-Louis Tissot instituted the single calibre principle.
The Sixties witnessed the creation of 'PR' and 'PRS 516', Tissot's iconic and enduring collections, with a design that mimics the precision engineering and speed of a racing car. Because of the threat that quartz movement technology posed to traditional Swiss mechanical watchmaking, Tissot designed several watches to pose as competition. The Astrolon movement, built from fiber glass and plastic, powered 'Idea 2001', a watch with a clear case; its hands and bezel seem to float over the clear plastic movement! 'The Sideral' also used fiber glass in its case and bracelet. During this period, watches were made with imaginative materials, a prime example being 'RockWatch' with the case carved from a single piece of Alpine granite. Similar designs followed; 'WoodWatch' with a case of briarwood and 'PearlWatch' with mother-of-pearl case. In 1999, Tissot released the world's first touchscreen- operated watch, 'T-Touch'. It used sensor similar to that in smartphones, to detect movement on the sapphire crystal. Sport-specific features are available in this model, primarily timers for racing, regattas, diving and a tide indicator for sailing or surfing. One of these newer sport lines is 'Seastar 1000', water-resistant to 300-m. This dive watch comes with either a quartz movement or a Powermatic 80 mechanical movement.
The brand has been very active in the sports arena. In 1938, Tissot inked a deal as official timekeeper in competitive sports when it timed ski races in Villars-sur-Ollon, near its home town in the Jura mountains. The brand has since been Official Timekeeper of basketball with NBA and FIBA; cycling with Tour de France and UCI World Cycling Championships; motor sports with MotoGPTM and FIM World Superbike Championship and several events in ice hockey, fencing and rugby. Its brand ambassadors over the decades include Tony Parker, Liu Yi Fei, Virat Kohli, Deepika Padukone, Huang Xiaoming, Jorge Lorenzo, Thomas Lüthi, Marc Márquez and Rana Daggubati.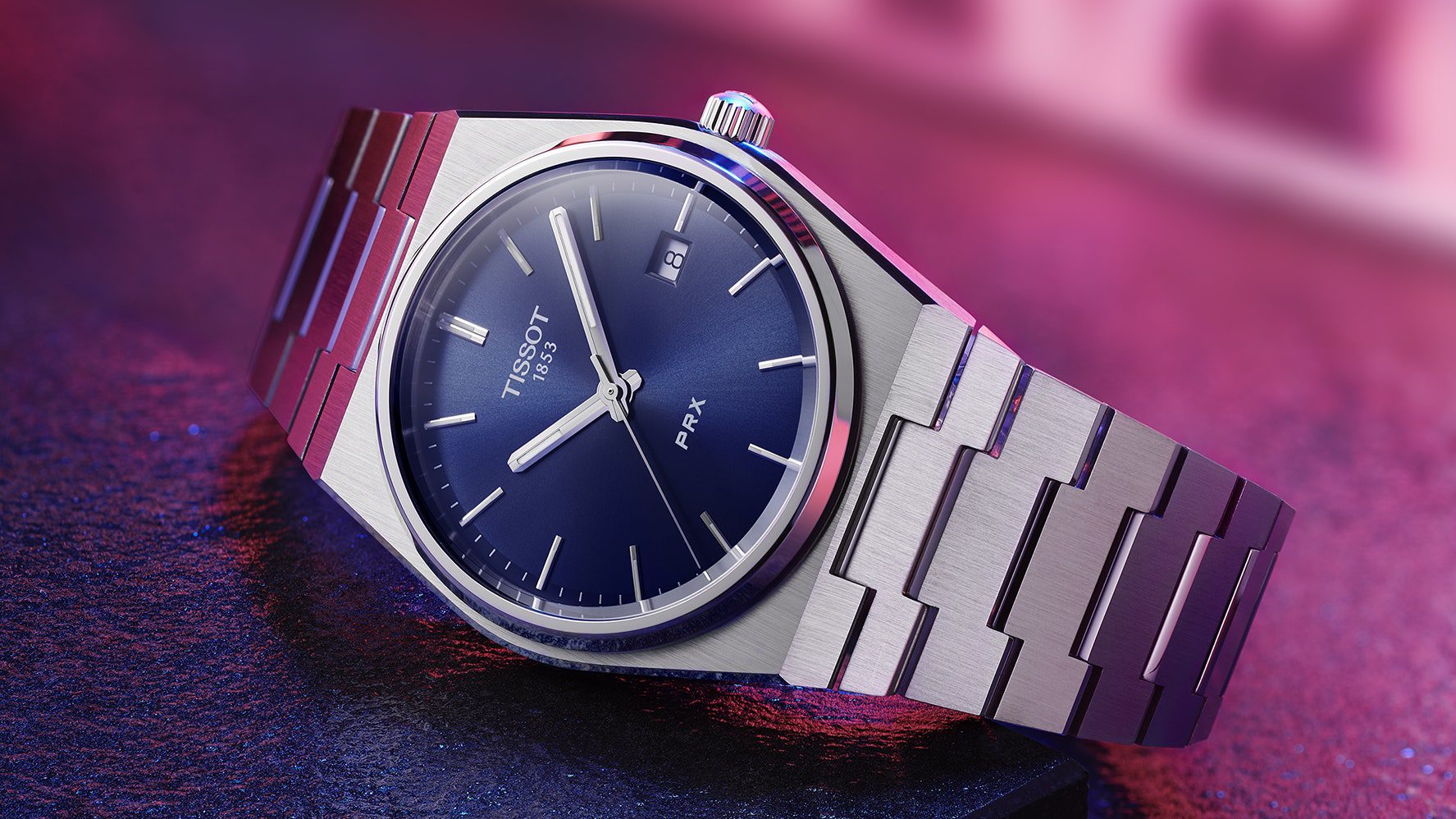 COMPANY RESTRUCTURING
In 1930, Omega and Tissot merged to form SSIH. ASUAG, founded in 1931, was the biggest Swiss watch industry group created with the help of the Swiss Government and Swiss Banks to maintain, upgrade and grow the Swiss watch industry. In the thirties, ASUAG and SSIH were flailing because of the serious economic crisis. Following frequent crises in the industry, by the Seventies ASUAG and SSIH were in financial trouble and facing tough competition from the formidable Japanese watch industry, and faced liquidation. At this point, Nicolas G. Hayek, CEO of his own management consulting firm Hayek Engineering, received an assignment to develop a plan for the survival of both companies. In 1983, The Hayek Study recommended several measures including the merger of ASUAG and SSIH. Subsequent execution of the proposal, the takeover of a majority of shares by Hayek Pool and the nomination of Nicolas G. Hayek as CEO of the holding group, made it the most valuable watchmaker worldwide.
Mission
'To make excellence accessible'.
The Team
CEO: François Thiébaud
References
https://www.gq.com/sponsored/story/tissot-new-t-touch-connect-solar-timepiece-is-an-elite-blend-of-fashion-and-function-sponsor-content
https://www.forbes.com/sites/nancyolson/2019/04/11/why-motogp-world-champion-marc-marquez-has-a-tissot-watch-named-after-him/
https://www.tissotwatches.com/en-en/t9264101629100.html
https://elle.in/article/new-timepieces-by-tissot/