The first instance of diamonds being used as an engagement gift on record happened in 1477 when Archduke Maximilian of Austria and Mary of Burgundy got engaged. The usage of diamonds as part of engagement gifts was not widespread until much later (the late 1940s) when DeBeers used the marketing slogan "A Diamond is Forever). In 1939 only about 10% of engagement rings had diamonds, but by 1990, about 80% had them.  The royal and elite began using diamonds within engagement rings as a result of this moment, but the average person still wasn't.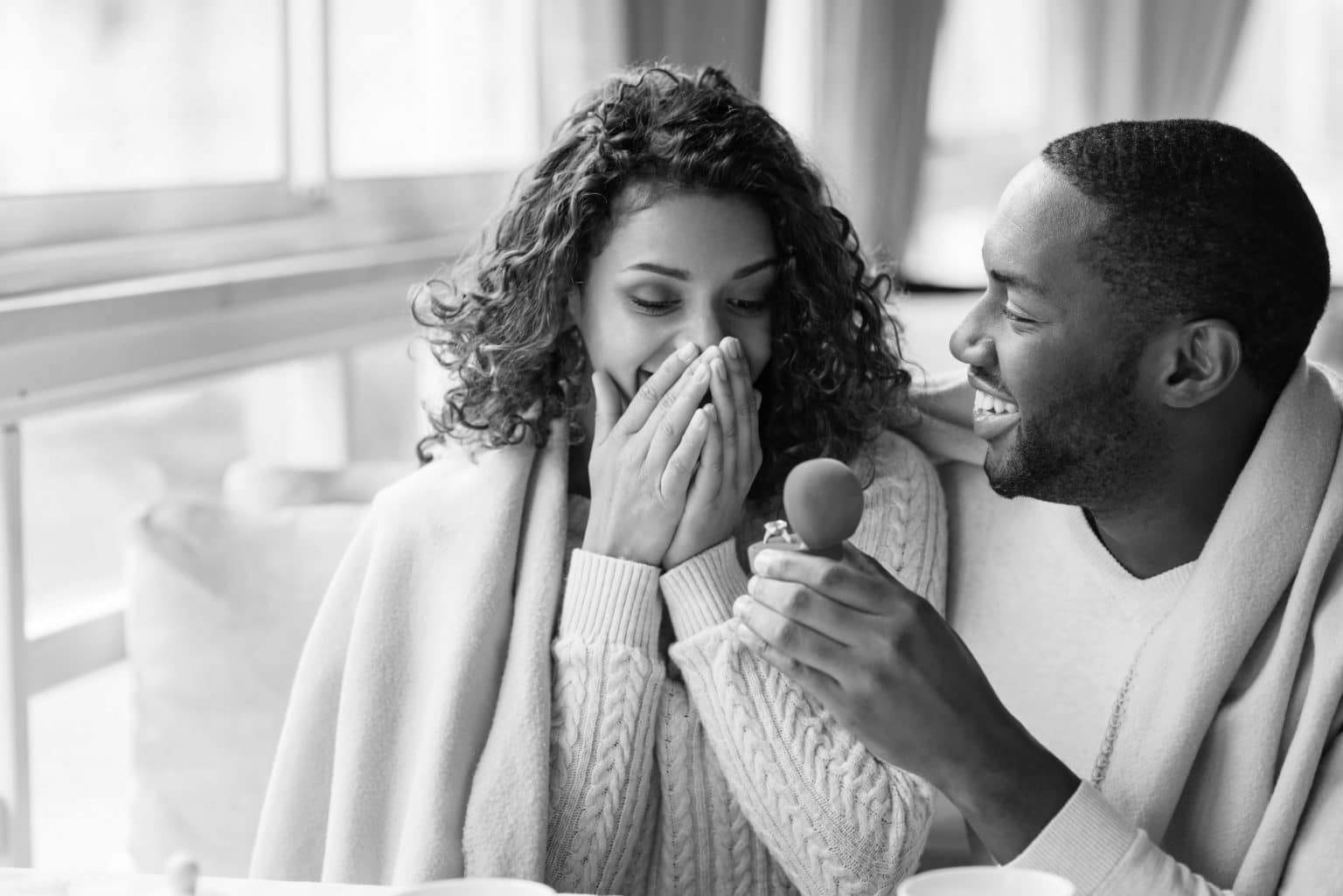 The engagement ring is a cultural practice that has existed for a long time. Meant to symbolize eternal love, the practice can be traced back to the Roman era, where the gesture of gifting a ring implied ownership. It's possible engagement rings were used even earlier than this, however, as there is a biblical story of a woman named Rebecca being given a golden nose ring and golden bracelets upon getting engaged to Issac (this story is estimated to take place around 1059 BC). Despite how long humans have been using engagement rings to symbolize the leap into marital commitment, very few people know some of the quirkier facts and statistics surrounding the practice. The following will explore several engagement ring statistics and fun facts that might surprise you. You must be thinking right now, where can I find a ring sizing near me?
Precious Stone Engagement Rings
In the Victorian era, the regards ring was a popular choice. This was a ring containing precious gems or stones whose first letters would spell out the word regard. There was lots of variety, but a common gem order was: ruby, emerald, garnet, amethyst, ruby, and diamond.
Today, rings with alternative previous stones are still popular among some buyers. Megan Fox's famously thistle ring contains an emerald (her birthstone) and a diamond (Machine Gun Kelly's birthstone). There are many sentimental reasons why someone might prefer a non-diamond stone; Prince William presented Kate Middleton with an 18-carat oval sapphire surrounded by 14 diamonds that his mother wore when she was engaged to Prince Charles.
Expensive Engagement Ring
Purchase of an engagement ring is one of the more expensive moves they'll make in adulthood. The most expensive ring on record is a 33-carat Asscher cut Krupp Diamond worth around 8.8 million dollars. This was the ring that Richard Burton gave to Elizabeth Taylor.
In the United States in 2018, the average budget for an engagement ring was $7400
The average engagement ring is estimated to cost $2500
The average cost of a luxury engagement ring is $13500
92% of engagement ring shoppers spend more than $1000
One-third of shoppers spend between $1000 and $4000 on an engagement ring
20% of couples will spend more than $10,000 on an engagement ring
The Concept of Ring Finger
The concept of the ring finger has a pagan origin (like so many elements of modernity). Many pre-Christian cultures believed that the fourth finger on the left hand connected directly to the heart.
The role of engagement rings in human cultures
There is another theory about the role of engagement rings and other valuable jewelry like gold wedding bands in human cultures. For the vast majority of the time humans have been on earth (and in many places today), life was not as safe as ideal. The prospect of having to flee one's home was very real (again, it still is in many places). Several anthropologists have suggested that valuable jewelry is a means of protecting family wealth as jewelry is easily carried on a person and can be sold or traded in a new location easily if a sudden departure is required.