Fashion knows no age limits, and one can create a youthful and stylish look at any stage of life. For women seeking to infuse their wardrobe with a touch of youthful charm, incorporating key pieces can make all the difference.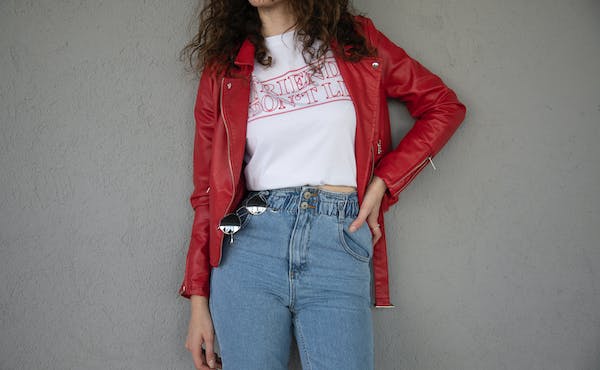 From classic essentials to trendy additions, these elements can help create a wardrobe that exudes both simplicity and style.
This guide will explore simple and stylish key pieces that can revitalize a woman's wardrobe, offering a fresh and youthful aesthetic.
1. Classic White T-Shirt
Vogue notes that from Marlon Brando to Kendall Jenner, the white T-shirt has a solid presence in both pop culture and our wardrobes. Across various eras and subcultures, this simple garment remains a universal necessity.
The classic white t-shirt is an essential wardrobe staple transcending time and trends. Its versatility knows no bounds, as it can effortlessly transition from casual to chic with the right styling.
Explore the limitless possibilities of pairing a simple white t-shirt with high-waisted jeans and sneakers for a laid-back, youthful vibe. Alternatively, dress it up with a midi skirt, statement accessories, and heels for a more sophisticated yet still youthful ensemble.
Its simplicity allows it to serve as a blank canvas, making it the perfect foundation for creating a range of age-defying and effortlessly stylish looks.
2. Trendy Graphic Tees
According to Project Social T, graphic tees are a must-have in a youthful wardrobe, offering a playful and trendy appeal that adds personality to any outfit. With an array of designs, patterns, and slogans available, they allow individuals to express their unique style.
Explore how to style a graphic tee by pairing it with high-waisted jeans for a casual and edgy look, or tucking it into a midi skirt for a chic and fashion-forward ensemble. Layering options, such as under a blazer or with a denim jacket, further enhance the versatility of graphic tees for a fashionable and age-defying aesthetic.
3. Versatile Denim Jacket
The denim jacket is a versatile and timeless piece that adds a touch of casual cool to any outfit. Its rugged yet stylish appeal makes it a go-to layering option for a youthful wardrobe. With various washes and cuts available, it can effortlessly elevate both casual and dressy looks.
Pair it with a solid tee and high-waisted jeans for an effortlessly chic ensemble, or layer it over a playful dress for a trendy and edgy twist. The denim jacket is a wardrobe staple that brings an element of relaxed sophistication and youthful energy to any outfit.
4. Flattering Jeans
Jeans, a fashion essential, are renowned for their flattering nature and their ability to craft a contemporary and youthful silhouette. Whether you opt for the sleekness of skinny jeans, the relaxed fit of straight-leg jeans, or the vintage charm of mom jeans, these styles offer a wide range of versatility in creating fashionable looks.
Reader's Digest notes that opt for a darker wash rather than a lighter shade when choosing jeans. Why? Darker washes possess a timeless quality, flatter the figure, and are suitable for any age group.
On the other hand, very light washes or excessively distressed jeans may evoke an '80s or '90s aesthetic, creating a dated appearance. Additionally, such styles could give the impression of trying too hard to appear younger.
5. Statement Sneakers
Statement sneakers are more than just comfortable footwear; they are a fashion-forward choice that can instantly inject a youthful and trendy vibe into any outfit. With their bold colors, eye-catching patterns, and unique designs, statement sneakers become the focal point of an ensemble.
Pair them with jeans, skirts, or dresses to add a playful and fashion-forward touch. Whether it's vibrant hues, metallic accents, or striking prints, statement sneakers effortlessly elevate a look and reflect individuality and confidence.
6. Playful Dresses
Playful dresses are a key element in achieving a youthful and stylish look. These dresses exude a sense of fun and flirty elegance, making them perfect for various occasions. Opt for dresses with playful details such as ruffles, vibrant prints, or feminine silhouettes.
Pair them with sandals or sneakers for a casual daytime look, or dress them up with heels and statement accessories for a night out. Playful dresses effortlessly capture the essence of youthfulness, allowing you to embrace your carefree spirit and express your style with confidence.
7. Structured Blazer
A structured blazer is a versatile and essential piece for creating a youthful and polished look. With its tailored silhouette and clean lines, a structured blazer instantly adds sophistication and a touch of professionalism to any outfit.
It can be worn over a tee and jeans for a chic casual ensemble or paired with a playful dress for a more formal occasion. The structured blazer effortlessly elevates any outfit, accentuates the waistline, and provides a flattering shape that enhances a youthful and confident appearance.
Its timeless appeal makes it a must-have wardrobe staple for women of all ages.
8. Sophisticated Midi Skirt
Midi skirts are a versatile and sophisticated addition to a youthful wardrobe. Their flowing or structured silhouettes exude elegance and can be styled in multiple ways.
InStyle notes that midi skirts gained prominence in the 1940s when Dior introduced his iconic "New Look" collection, characterized by cinched waists, A-line cuts, and rounded shoulders. Over 70 years later, midi skirts remain a timeless style that offers endless versatility.
Today, they come in various shapes, sizes, and materials, allowing for countless outfit possibilities. Midi skirts continue to captivate fashion enthusiasts with their enduring charm and adaptability, whether dressed up or down.
Pair a midi skirt with a top and sneakers for a casual yet chic look, or dress it up with a tucked-in blouse and heels for a more polished ensemble. The midi skirt's timeless appeal makes it a key piece that effortlessly adds grace and youthful charm to any outfit.
9. Edgy Leather Jacket
The leather jacket is a fashion staple that exudes a sense of edginess and youthful energy. Its timeless appeal makes it a versatile piece that can elevate any outfit, adding an instant cool factor.
Whether it's a classic biker jacket or a modern moto style, the leather jacket offers a perfect balance of sophistication and rebellion. Its sleek silhouette and durable material make it suitable for various occasions, from casual outings to evening events.
Pair it with jeans, dresses, or even graphic tees for a chic and effortlessly stylish look that transcends age and exudes confidence.
10. Bold Accessories for Impact
From statement earrings that command attention to colorful scarves that add a pop of vibrancy, bold accessories have the power to transform a look from ordinary to extraordinary. Oversized sunglasses exude an air of effortless cool, while layered necklaces create a stylish and eye-catching focal point.
When it comes to bold accessories, the key is to choose pieces that reflect your style and embrace the opportunity to experiment with different textures, colors, and proportions to make a confident and youthful statement.
Conclusion
Remember, fashion is a form of self-expression, and the key to a youthful wardrobe lies in embracing your style and infusing it with these key pieces. Mix and match, experiment, and have fun with your fashion choices. With simplicity and style as your guiding principles, you can cultivate a wardrobe that defies age and reflects your unique personality.
Take inspiration from this guide and embark on your fashion journey, armed with the knowledge of these simple and stylish wardrobe inclusions. Embrace the opportunity to express your creativity, confidence, and youthful spirit through your fashion choices. With these key pieces, you can confidently step into any occasion with a timeless and age-defying style that radiates a youthful and fashionable aura.