Last update on: 10:35 pm July 5, 2021 by fashionabc
Anyone seeking to make a splash on the red carpet will need to look no further! The Matador by Schiaparelli at Haute Couture Week, exhibited at its couture salon on Place Vendôme, showcased creative director Daniel Roseberry's extravagant audacious eccentricity… evoking the spirit of Elsa Schiaparelli herself. 
The Fall Winter 2021 collection pays tribute to Schiaparelli jackets. We loved the denim matador-inspired cropped jacket with embroidered barrel sleeves and silk tassels; the basque jacket with exaggerated arms, hand embroidered with techniques inspired by Schiaparelli's archives. And the short vintage leather coat with voluminous sleeves, a side zip and trompe l'oeil gilded brass jewel buttons.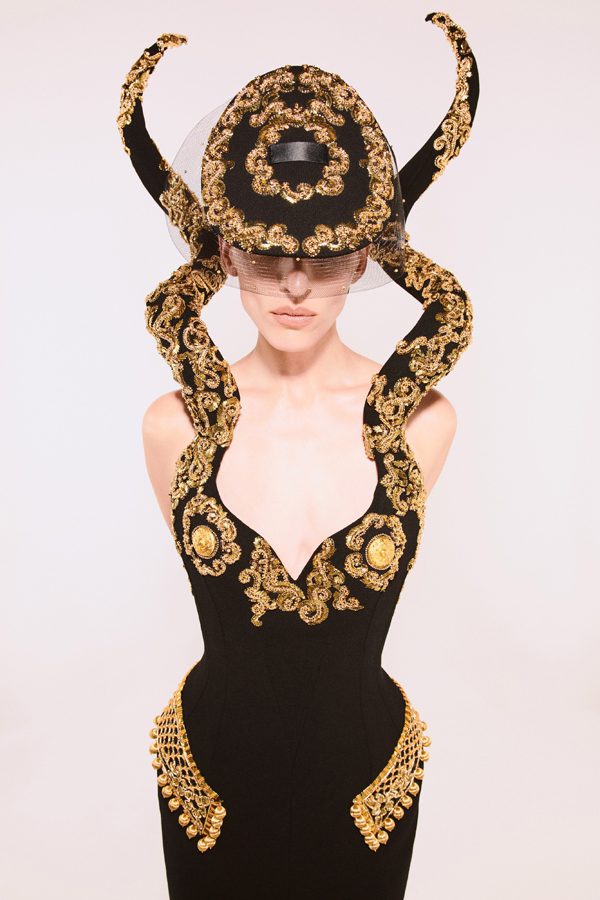 Each little black dress makes a bold statement. The one with a satin insert embroidered with pink silk roses: a homage to Jean Cocteau x Schiaparelli 1937; the one embellished with ancient gold Schiaparelli threads that legendary embroiderer Lesage had saved. The one moulded on an artisanal metal structure with fabric gazelle horns; hand embroidered with filigree lamé thread, gold pearls, gold cut beads and Swarovski rhinestones!! Or the strapless one with an orange lip-shaped bustier and fishtail train, inspired by Salvador Dalí's Mae West sofa. 
The bijoux, by itself, would look stunning with a simple black sheath. The minaudière shaped like a pair of lips, the gold corset sculpted by an eighty-year old artisan, its boning designed as the stems of the flowers. And the belt clasp with a cast hand that seems to hug the wearer across her waist are bound to be hot-sellers! 
The overall impression of the exhibit is that everything is over-the-top but that's how it was intended to be. For the fearless girl who aspires to be the belle of Cannes.  As the design team states on the official website, 'No more cookie-cutter fashion. No more pieces that look like they could have been made by anyone… I hope this collection reminds everyone who encounters it of the sheer delight that fashion can bring us in hard times, and with it, the promise of more joy when the clouds part…'