Last update on: 6:47 am March 13, 2022 by fashionabc
New Disposable Facemask N95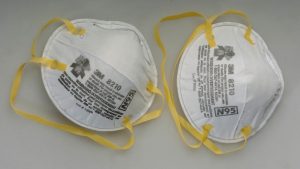 New Disposable Facemask N95 To "Highly" Protect Employers Returning To Work
The Mask Lab is a venture by Control Print Limited, India's own Coding & Marking Manufacturing Company. Founded in 1991, and listed on the NSE and BSE, it is one of India's Top 1,000 Companies by Market Capitalization with an average market capitalization of Rs 500 Crores in FY 2019-2020. With 2 factories, located at Nalagarh, HP and Guwahati, 11 branch offices, presence in 5 countries and more than 700 employees including a Field Sales and Service force of over 320 employees it is a leading player in its field and was awarded as India's Best SME in the Manufacturing Sector.
The Mask Lab is your premier source for International N95 Quality Respirators. Our brand promises to deliver the highest value of personal protection to ensure the safety of you and your employees.
The National Institute for Occupational Safety and Health (NIOSH) laid down standards to measure the performance, efficacy, and conformance of N95 Masks. In the European Union the EN 149 Standard is laid down to measure the performance of masks conforming to the FFP2 Grade. Each of our Face Masks are equivalent to both the NIOSH N95 Standard and European FFP2 Standard. They are manufactured in a clean environment and as per the guidelines of Good Manufacturing Practices to ensure proper design, monitoring, and control of the manufacturing processes and facilities.
These masks have been designed to achieve a very tight facial fit to prevent air leakage whilst breathing and are equipped with a thick layer of electrostatically charged Melt Blown material for highly efficient filtration of airborne particles. The 'N95' designation means that the filtration media is designed to capture at least 95 percent of very small (0.3 micron) particles. If properly fitted, the filtration capabilities of N95 respirators exceed those of Medical Grade Surgical face masks.
Some N95 respirators are intended for use in a health care setting. Specifically, single-use, disposable masks are worn by health care personnel, especially during aerosol generating procedures, to protect both the patient and health care personnel from the transfer of microorganisms, body fluids, and particulate material.
Besides infection these masks will provide a high level of protection from airborne particulate matter such as PM 0.3, PM 2.5, PM 10, dust, allergens, post combustion particles, germs, shavings, biologics, odours, scents, mold, mold spores, and other airborne contaminants. In addition to medical workers it's designed to protect factory and industrial workers exposed to dust and fine particulate matter. For those employed in construction related activities, mining, welding, wood & furniture, textile industries, paint, cement, stone etc where there are high levels of dust & pollutants this is a necessity for worker safety.
It also aids in preventing the spread of germs by way of talking, coughing, or sneezing. It is estimated that on an average a human touches his face atleast 23 times in an hour! The mask helps as a reminder to the wearer not to accidently touch their mouth or nose, which could otherwise transfer viruses and bacteria after having touched a contaminated surface. These masks can prevent contracting of seasonal influenza, aerosols or droplet borne infections and air-borne infections reducing absence from work or lower productivity due to illness. For industries requiring a high level of hygiene on the shop floor such as those in Pharmaceutical, Food, and Personal Care Manufacturing along with the Hospitality and Food Service Businesses it can be considered as an alternative to the Medical Grade Surgical Mask providing as an invaluable hygienic compliance tool.