The personal is political. Whether it was CDFA handing out Planned Parenthood buttons at New York Fashion Week in solidarity with the family planning clinic or Tommy Hilfiger models wearing #TiedTogether bandanas on their wrists to show acceptance of refugees or Kerby Jean- Raymond showcasing a cummerbund with the words "See Us Now" in favour of black people or Angela Missoni models at Milan Fashion Week sporting pink pussy hats in favour of women's rights… fashion has always been a catalyst for social change.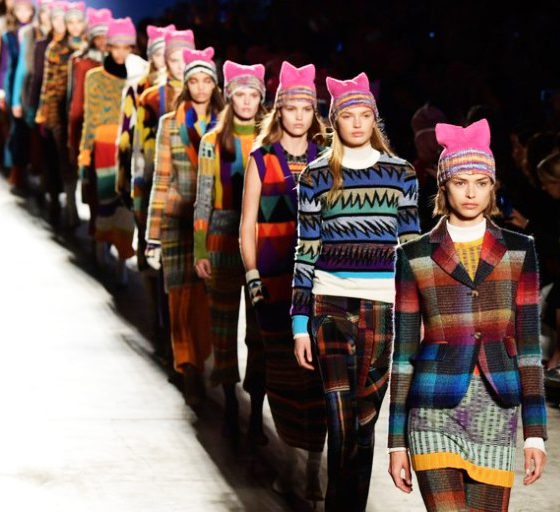 The most recent is one of two Indian designers taking a stance against hate tweets. In the wake of award-winning actress Kangana Ranaut's Twitter account suspended for 'repeated violation of Twitter rules', the most recent being a tweet on alleged post- election violence in West Bengal, India that had potential to incite violence, fashion designers Anand Bhushan and Rimzim Dadu made a public announcement that they would never work with her again and deleted all posts on their social media that featured the actor.
Anand Bhushan tweeted, "In view of certain events today, we have taken a decision to remove all collaboration images with Kangana Ranaut from our social media channels. We also pledge never to be associated with her in any capacity in the future. We as a brand do not support hate speech." Rimzim Dadu told The Hindu, "We should hold our celebrities, and the influence they have, responsible to help this country heal [at this difficult time] irrespective of which side of the political spectrum they stand on. In that light, I didn't find it right that any celebrity even remotely try to insinuate violence." Though commendable, its early to gauge if their personal stance will snowball into a movement that holds celebrities accountable for misbehaviour.
I worked with Condenast India as Digital Editor and launched Vogue India's portal. Four years later, I turned entrepreneur and launched my luxury portal www.explosivefashion.in. Perhaps it's my vision and exclusive content that's placed Explosive Fashion at the forefront of luxury: reporting from fashion weeks, collaborating with luxury brands, presenting royal families' vision, championing talent, reviewing hotels and restaurants, writing on travel, heritage. My editorial is of a storyteller, the story of the person behind the brand.