Summary
Victoria's Secret is an American specialty lingerie, clothing and beauty retailer, legendary for racy marketing and branding including a catalogue and annual lingerie show with supermodels dubbed 'Angels'. As the largest lingerie retailer in the United States, it has struggled since 2016 due to not being in alignment with shifting consumer preferences and the controversy surrounding its corporate leadership business practices.
History
Victoria's Secret was the brainchild of Roy Raymond. The history of this legendary lingerie retailer is interesting. Raymond was uncomfortable while purchasing lingerie for his wife as saleswomen made Roy Raymond feel like an intruder and pervert. He reportedly spent the next few years studying the lingerie market and invested $80,000 to establish Victoria's Secret in Stanford Shopping Center, Palo Alto, California on June 12, 1977 — a specialty store where men were comfortable buying lingerie. Named after the Victorian era, it was evocative with the elegance and respectability of the period. Victoria's Secret grossed $500,000 in its first year of business, enough to finance its growth to four stores and mail-order catalogue. In 1982, Raymond charged customers $3 for the catalog and catalog sales accounted for 55 per cent of the company's sales that year. In 1982, Victoria's Secret had evolved to five stores, forty-page catalog and was grossing reportedly $6 million each year. Raymond then sold the company to Les Wexner, creator of Limited Stores Inc of Columbus, Ohio, for reportedly $1 million.
Wexner found that women were still a sizeable portion of Victoria's Secret consumers; 70 per cent of in-store shoppers and 50 per cent of purchases in 1981, per WWD. He revamped the brand image to appeal to women and fulfilled a reachable fantasy of allure and luxury. The New York Times reported that Victoria's Secret swiftly expanded to a hundred stores by 1986 and described it as a "highly visible leader" that used "unabashedly sexy high-fashion photography for affordable underwear." In 1995, Wexner launched Victoria's Secret Fashion Show—what began as a lingerie show grew into an annual lingerie gala where supermodels dressed as "angels" and wore wings and diamond-studded bras for the fashion show!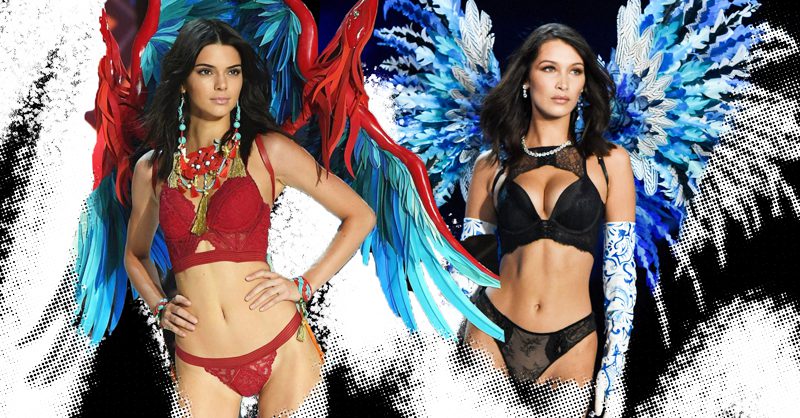 By 1998, Victoria's Secret's entered the cosmetic market and also added Body By Victoria. However it struggled to adapt to changing consumer preferences, clinging on to its hyper sexualised image. In 2016, Victoria's Secret was split into three divisions: Victoria's Secret Lingerie, Victoria's Secret Beauty and Pink — each with its CEO. In 2018, CMO Ed Razek made a controversial comment that the company doesn't cast transgender or plus-size models in its annual fashion show because "the show is a fantasy." After 40 per cent stock plunge in a single year, Victoria's Secret announced the closure of fifty-three stores in the U.S. in 2019 and Ed Razek resigned. It was also announced that Victoria's Secret would no longer hold their annual show. In January 2020, L Brands chairman and CEO Lex Wexner, mired in recent months by investigation into a culture of misogyny at the company and declining sales at Victoria's Secret, decided to step down. The company announced a sale in February 2020 to private equity firm Sycamore Partners in a deal that values the company at about $955 million.

In recent times, Victoria's Secret has changed it's image completely. Per Forbes, "The Victoria's Secret Angels, those avatars of Barbie bodies and playboy reverie, are gone… In their place are seven women famous for their achievements and not their proportions. They include Megan Rapinoe, the 35-year-old pink-haired soccer star and gender equity campaigner; Eileen Gu, a 17-year-old Chinese American freestyle skier and soon-to-be Olympian; the 29-year-old biracial model and inclusivity advocate Paloma Elsesser, who was the rare size 14 woman on the cover of Vogue; and Priyanka Chopra Jonas, a 38-year-old Indian actor and tech investor.  They will be spearheading what may be the most extreme and unabashed attempt at a brand turnaround in recent memory: an effort to redefine the version of "sexy" that Victoria's Secret represents (and sells) to the masses."
Vision
Raymond envisioned a store where men would feel not feel like an intruder and pervert when shopping for lingerie and opened a speciality lingerie store that was targeted at men. The new owner Leslie Wexner, however, changed the image to appeal to women, not men.
Mission
To offer captivating customer experiences that drive long-term loyalty and deliver sustained growth for our shareholders.
Team
CEO: Martin Waters
Creative Director: Raúl Martinez
References