Last update on: 11:15 am September 23, 2021 by fashionabc
The long-awaited return to runway shows in Milan will take place from 21 to 27 September 2021, with a jam-packed schedule including Fendi, Alberta Ferretti, Max Mara, Etro, Tod's, Prada, Versace, Salvatore Ferragamo, Giorgio Armani, Marni and Gucci. In addition to runway shows, a few other events dominate the schedule like the CNMI Sustainable Fashion Awards, which celebrates both emerging designers and big brands who have taken conscious steps towards curbing their impact on the planet.
"This edition of the Milano Fashion Week marks a moment of rebirth" stated Carlo Capasa during a media conference. "A new era aimed at the achievement of ambitious goals: to help accelerate sustainable change in the fashion supply chain, accelerate the multicultural evolution of our country with a view to diversity and inclusion, and promote the talent of the best emerging designers on the national and international scene."
CNMI Sustainable Fashion Awards
An interesting facet of Milan Fashion Week is The Green Carpet Fashion Awards Italia for sustainable fashion — by Camera Nazionale della Moda Italiana in alliance with UK-based consulting firm Eco-Age which specialises in ethics and sustainability. Eco-Age has devised an eco-responsibility certificate, Green Carpet Challenge, awarded to brands which abide by social and environmental policies. The awards is supported by Italian Ministry for Economic Development, Italian Foreign Trade agency ICE, and the Milan mayor's office. The prizes will cover a combination of emerging ecological brands and specific initiatives by established fashion labels.
"From the beginning, we wanted to give the message that sustainability is glamorous and we wanted to make sustainability appealing, in order for brands to understand that they can be both creative and sustainable together," Carlo Capasa, Chairman of Camera Nazionale della Moda Italiana told Eco-Age. "The winners represent the different challenges we have to face nowadays: inclusion and diversity, the vision of SDGs and the opportunity of creating partnerships and acting together with the global business community, social aspects of the supply chain. Fashion has a great power: the ability to influence, to change, to communicate, to have an impact on the culture we live in; in other words, fashion is a change maker itself."
Technology Innovation at Prada
Prada will unveil its spring 2022 womenswear, designed by co-creative directors Miuccia Prada and Raf Simons, with two live runway shows that will take place simultaneously in Milan and Shanghai on Sept. 24 at 3 and 9 p.m. local time, respectively. Per WWD, "The format will actually combine the physical and digital experience. In fact, the guests at both shows, which will present exactly the same collection shown on different models and in complementary sets, will be able to enjoy through video screens the simultaneous runway event happening at the same time in a different continent." The shows will be streamed at prada.com, where viewers will have access to a live edit collecting views of the two parallel shows. The shows will be streamed at prada.com, where viewers will have access to a live edit collecting views of the two parallel shows. In a media release, Prada explained it as "a celebration of the unique experience of the runway and the power of technology to transcend borders, to unite. A celebration of fashion and of community."
Black Lives Matter
Milan Fashion Week is increasingly becoming a launchpad for international designers, but the key focus of Black Lives Matter in Italian Fashion Collective — which includes designers Stella Jean, Edward Buchanan and Afro Fashion Week founder Michelle Francine Ngonmo — is to highlight how people of colour are an integral part of the Made in Italy ecosystem.
Per Vogue, "The Black Lives Matter in Italian Fashion showcase is the first of its kind on the Milan Fashion Week schedule, which has struggled to address its lack of diversity in recent years. With the exception of Jean, the schedule has been vacant of Black-owned fashion brands with few opportunities for BAME creatives to make their mark. Working with the Camera Nazionale della Moda Italiana to question not only the issue of representation but the systemic change needed has been an important first step, says Jean. This season, the designers were partnered with associates of the CNMI to realise their collections. Consider that nine months ago, we were completely invisible and now five Black talents will inaugurate Milan Fashion Week. I hope people will realise that it is a symbol of something more important than five collections."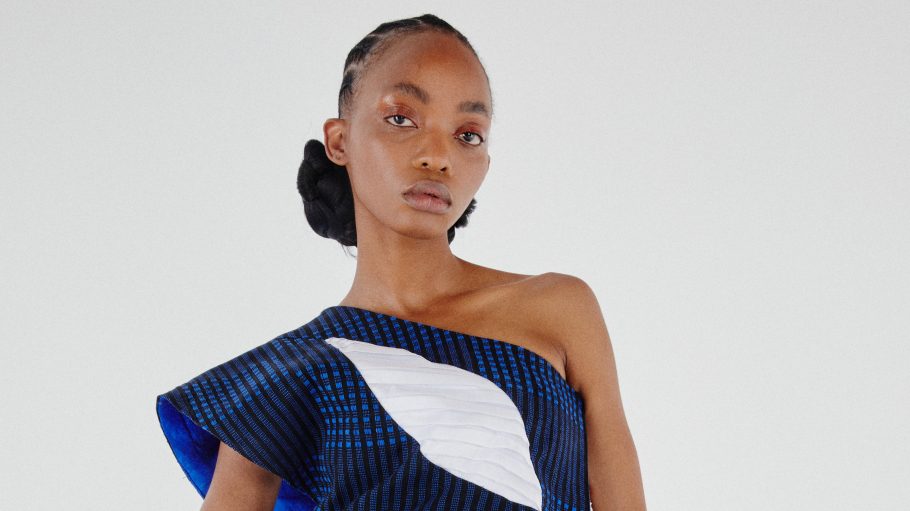 Designers For The Planet
An offshoot of Milan Fashion Week dedicated to emerging, sustainable brands, CNMI Designer for the Planet will present collections of emerging designers handpicked for their development of eco-conscious collections, innovative approaches to design and social engagement.