Last update on: 9:36 pm April 4, 2023 by fashionabc
Gucci cemented itself as an early adopter of the metaverse in 2022 with spaces on several digital platforms: 'Gucci Vault Land' on The Sandbox, a world populated with NFTs about the luxury fashion brand's history, and 'Gucci Town' on Roblox, a virtual community where people could dress in Gucci apparel and shop in Gucci stores, among other activities.  Additionally, Gucci has launched virtual events and experiences, such as a virtual art exhibit featuring contemporary artists and a virtual fashion show hosted by supermodel Naomi Campbell. Gucci has also integrated its products into popular gaming platforms, such as 'Animal Crossing' and 'Fortnite'. Now, Gucci is venturing further into the metaverse through a multi-year collaboration with blockchain technology company Yuga Labs, the parent company of the Bored Ape Yacht Club non-fungible token collection. Per BoF, 'It later acquired the rights to CryptoPunks, Meebits and 10KTF. Last March it raised $450 million at a valuation of $4 billion.'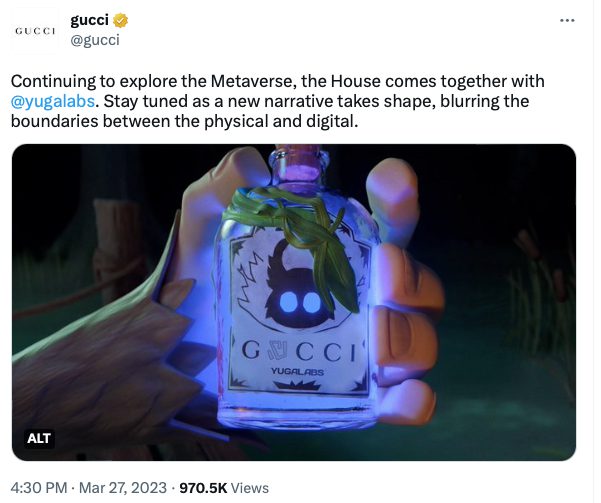 Speaking of the collaboration, it will focus on exploring the potential of fashion in the metaverse. Gucci, the Italian luxury brand of fashion and leather goods, will have an active role in two ventures from Yuga Labs, including 'Otherside', its Bored Ape-themed metaverse game; and '10KTF', its digital fashion store. A teaser on the official Twitter account of Gucci stated, 'stay tuned as a new narrative takes place, blurring the boundaries between the physical and digital.' So, what potential does this alliance hold for Gucci and Yuga Labs? With the world of NFTs and the the metaverse evolving and growing at a rapid pace, it's apparent that both brands aspire to stay at the forefront and engage with each other's communities , and of course, explore the intersection between fashion and entertainment in the metaverse. For Gucci, this could mean developing new digital fashion items that could be worn in the metaverse, allowing users to showcase their individual style and creativity in the digital space environment. For Yuga Labs, it could mean exploring new methodologies to integrate luxury goods and experiences into their NFT collections, creating an immersive, engaging experience for collectors.
"We are excited to unveil this multifaceted partnership with Yuga Labs, a leader and creative pioneer in web3," Robert Triefus, Gucci's senior executive vice president, corporate and brand strategy, and chief executive of Gucci Vault and Metaverse Ventures, explained in a statement. "This will give us an active role in Otherside and 10KTF's continuing narrative, unfolding in multiple forms."
Per Robb Report, "Business of Fashion reported that the partnership will include Gucci designing metaverse clothing for Yuga Labs's the Otherside and designing for NFT collection 10KTF, created by Beeple and purchased by Yuga Labs. Gucci previously collaborated with 10KTF on a line of custom NFTs for a project called 'Gucci Grail' last year, a design project from former creative director Alessandro Michele. Gucci's increasing presence in the metaverse is exciting news for customers who want to engage with the luxury brand and explore its collections. Initially an experiment for a niche audience, metaverse shopping has become an integral part of a top fashion brand's strategy.
Digital shopping, avatars and outfit generator apps are just some of the consumer experiences offered in metaverse shopping. It's a win-win: shopping in the metaverse with the integration of AI has the advantage of tracking every single consumer's activity, purchase history, preferences and demographic profile and use this data to offer personalised recommendations that encourage purchases. In parallel, the Metaverse creates a unified experience, enabling us to travel between different virtual spaces, allowing us to surf virtual stores, try on clothes online at a 3D fitting room and get a 360-degree view of what these clothes would look like…