Summary
The origin of Under Armour is a legendary entrepreneurial story. What began with Kevin Plank, Special Teams Captain of University of Maryland football team, inventing a sweat-wicking shirt in his grandmother's basement in 1996 is a billion- dollar business today.
History
The history of Under Armour is a legendary entrepreneurial story. It began in 1996 when Kevin Plank, Special Teams Captain of University of Maryland football team, noticed that the cotton shirt he wore at the games was always sweat-soaked and uncomfortable while the performance shorts were dry and breathable. This inspired him to invent a sweat-absorbent T-shirt in his grandmother's basement in Washington DC, using moisture-wicking synthetic fabric. After graduation, he designed his first prototype of the shirt, which he gifted to friends who were playing in the NFL. With their feedback, he designed a T-shirt from microfibers that absorbed moisture and kept athletes dry and fresh. People began to take notice of the brand when USA Today featured Oakland Raiders quarterback Jeff George wearing Under Armour mock turtleneck. The brand's first team sale happened when he supplied apparel to Georgia Tech. This opened the door to a contract with NC State, Arizona State and other football teams. The brand soon moved its headquarters to South Baltimore where it developed its now-famous apparel lines, HeatGear®, TurfGear®, ColdGear® and AllSeasonGear®.
Under Armour slowly became one of the fastest emerging brands in the apparel industry. A turning point came when Plank used almost all of company funds for an advertisement in ESPN, The Magazine. This resulted in $1 million sales the following year and the company reportedly reached $1 billion annual revenue in 2010. As everyone began taking notice of the performance brand, Warner Brothers contracted Under Armour to outfit its actors for feature films 'Any Given Sunday' and 'The Replacements'. The following year, Under Armour outfitted XFL. In 2003, Rosewood Capital invested $12 million in the brand and Under Armour focused on an aggressive expansion strategy also and launched a television commercial with a rallying cry for athletes, "Protect This House."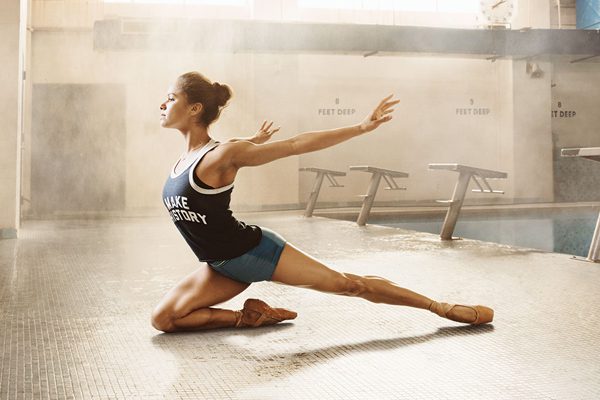 Concentrating on collaborations to grow the brand, Under Armour outfitted speed skaters in the 2014 Winter Olympics; provided uniforms to University of Notre Dame per a ten-year collaboration; became Official Match Ball Partner of North American Soccer League; contracted with UCLA for fifteen years; and signed NBA athlete Stephen Curry, PGA golfer Jordan Spieth and Philadelphia 76 Center Joel Embiid for endorsement deals. That said, it isn't just a menswear- focused brand. Following its 'I Will What I Want' campaign with ballet dancer Misty Copeland, Olympic skier Lindsey Vonn, supermodel Gisele Bundchen and others, Under Armour's commercials showed empowered female athletes. This focus, together with quality female performance wear, resulted in bigger sales in Under Armour's North American women's apparel division.
In sync with evolving consumer needs, Under Armour began pushing into the digital space to provide fitness solutions. The brand acquired MapMyFitness, MyFitnessPal and Endomondo and plans to rebuild its e-commerce site. In 2016, Belgian menswear designer Tim Coppens came on board as Creative Director of Under Armour Sportswear and designed the "Built For Life" line of stylish apparel, shoes and accessories. The company has rented a location on Fifth Avenue, New York and the store is scheduled to open in 2021.
Kevin Plank stepped down from his role as CEO in January 2020 and handed the reins of the company to Patrik Frisk. "Our multi-year transition approach has ensured purposeful leadership continuity. Patrik is the right person to serve as Under Armour's next CEO" said Plank in a company release. "As my partner during the most transformative chapter in our history, he has been exceptional in his ability to translate our brand's vision into world-class execution…'' Today, Under Armour makes the world's leading performance footwear, apparel and accessories and is a mainstay in sports arenas.
Vision
To inspire you with performance solutions you never knew you needed and can't imagine living without.
Mission
To make all athletes better through science, passion and the relentless pursuit of innovation.
The Team
CEO Patrik Frisk
Chief Product Officer Lisa K. Collier
CFO Dave Bergman
References