Summary
Inspired by pop culture and Americana heritage, Tommy Hilfiger is globally renowned as the pioneer of contemporary American style.
History
Tommy Hilfiger's career in fashion began in 1969 when, as a high school student, he began buying jeans that he remodelled and sold for a markup in his hometown of Elmira, New York. At eighteen, he co-founded a clothing and record store named People's Place. "The shop was where a kid could find bell-bottom jeans, fringed vests, and granny dresses, and they flew off the shelves", per Vogue. Using $150 he had saved from a job at a petrol station, he expanded the company into a chain of ten stores but despite being successful, disco killed hippie fashion, and People's Place filed for bankruptcy in 1977. During this time, he fell in love with Susie Carona, an employee at one of his stores, married her and moved to New York to pursue a career as a fashion designer.
The couple was hired as a design team by Jordache, but were reportedly fired within a year. Yet, Hilfiger had developed a solid image as a hard-working passionate designer and was considered for positions at Perry Ellis and Calvin Klein. What he wanted, however, was to launch his own label. In the early Eighties, he met textile magnate Mohan Murjani who aspired to launch a men's label. With his backing in 1985, Hilfiger debuted his take on the preppy look i.e. button-down shirts, chinos and other styles, backed by a prolific campaign that included a billboard in Times Square. Later, Tommy Hilfiger allied with Hong- Kong based billionaire Silas Chou for financial backing and both Lawrence Stroll and Joel Horowitz, former executives of Ralph Lauren, were hired at Tommy Hilfiger, Inc., which at that time focused on men's sportswear.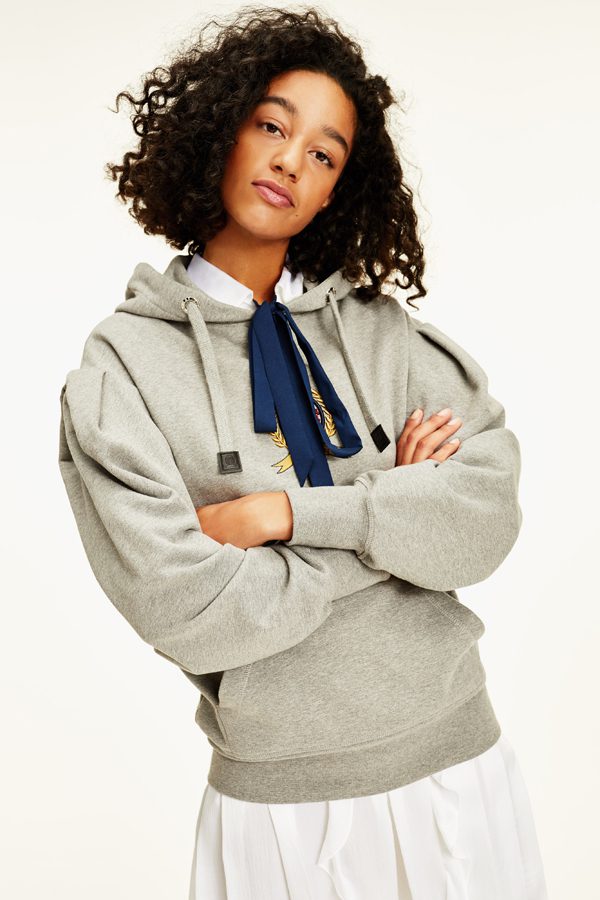 Tommy Hilfiger Corporation went public in 1992. After licensing Pepe Jeans USA in 1995, Hilfiger used his success in menswear as a springboard for womenswear. The following year, he debuted his women's collection which was a runaway success and shortly he opened stores in Beverly Hills and London. The company launched its bed and bath line in 1998. Throughout the nineties the marketing division worked in sync with the music industry, and Hilfiger was sponsor for Pete Townshend's Psychoderelict tour. During the Nineties, Hilfiger gave his collections a relaxed fit and became popular with the "preppy" scene; when Snoop Dogg wore his sweatshirt on Saturday Night Live, it sold out the next day! The company also sponsored Sheryl Crow's "If It Makes You Happy" tour in 1997, Britney Spears 'Baby One More Time' and Lenny Kravitz's 'Freedom' tours in 1999.
Women's intimate apparel was introduced in 2001. Although sales declined that year, Hilfiger's European sales rose. In 2003 Hilfiger invested in the overseas audience by re-focusing on the brand's original style, 'American cool'. He also adapted the business model to appeal to European retail culture, pursuing alliances with department stores and boutiques in fifteen countries. By 2004, Tommy Hilfiger Corporation reported revenues of $1.8 billion. In 2006, Tommy Hilfiger Inc. was sold for reported $1.6 billion to Apax Partner. In March 2010, Phillips-Van Heusen bought Tommy Hilfiger Corporation for reported $3 billion. Fred Gehring, who launched Hilfiger's European division in 1996, assumed the role of CEO. In July 2014 however he passed the torch to Daniel Grieder while he became executive chairman of Tommy Hilfiger Group and vice chairman of PVH.
In January 2015 Tommy Hilfiger debuted a digital showroom at its New York headquarters, which WGSN opined would "transform the traditional buying process." With plans to open in other cities, Hilfiger described the showroom as "an innovation of the order process with cost saving potentials along the whole value chain." Gehring stepped down as chairman in August 2015 while Tommy Hilfiger remains chief designer, overseeing the creative process. Hilfiger's achievements earned him distinguished awards including CFDA's Geoffrey Beene Lifetime Achievement Award. His life and career has been chronicled in his memoir, American Dreamer, published on November 1, 2016.
In the pandemic era, Tommy Hilfiger has taken a vow of sustainable practices. Per Forbes, "Vowing to become fully circular by 2030, the new "Make It Possible" program is driven by an underlying mission to create fashion that 'Wastes Nothing and Welcomes All.'"
Vision and Mission Statement
To be one of the leading sustainable designer lifestyle brands through how we create our product, manage our operations and connect with our community and our stakeholders.
The Team
Tommy Hilfiger: Principal Designer.
Martijn Hagman: CEO, Tommy Hilfiger Global and PVH Europe.
Avery Baker: President and Chief Brand Officer, Tommy Hilfiger Global.
Alegra O'Hare: Chief Marketing Officer, Tommy Hilfiger Global.
Tom Chu: Regional President, PVH Asia Pacific.
Awards and Recognition
Tommy Hilfiger's achievements earned him distinguished awards including CFDA Geoffrey Beene Lifetime Achievement Award.
References