Summary
Morgane Sezalory launched Sézane as France's first online brand and transformed it into a cult with sell-out collections and brick-and-mortar stores in Paris and New York.
Vision
"L'Art et la. Manière". It is an obsession: the desire to offer you the most beautiful creations, the desire to surprise you, to take care of you, and to be by your side.
Mission Statement
"Offer quality collections, thought-up and designed with love, with an obsession: make women beautiful, for the fairest price. We have had this conviction since day one, and we have never forgotten it. We have traveled across the world to find the most beautiful fabrics, the best ateliers, and best know-how."
History
After high school, Morgane Sezalory sold vintage apparel and accessories on eBay for four years, to supplement her income from her day job in Paris. Her professional journey is quite interesting; Morgane discovered an abandoned collection of vintage gems, made small adjustments to the pieces, and retailed it online under the name 'Les Composantes'. Her monthly e-rendezvous became widely anticipated in France and by 2013 Morgane supplemented her vintage finds with her own designs, and launched her label Sézane, in collaboration with business partner Corentin Petit. It was the first French brand to launch as 'e-commerce only' with a "limited drop" formula.
The vision is straightforward — chic, affordable Parisian style. Crafted in the best ateliers, continually audited by independent experts to ensure its ethics and standards are respected, the brand offers quality apparel at a fair price. Morgane chooses ateliers based on expertise, working conditions and origin of the fabrics. This responsible production model, with the absence of intermediaries, allows her to invest in quality, whilst maintaining accessible prices. "I didn't have the cost of a retailer and there was no one between me and the consumer. It was great quality and I don't think we had any competition for product at that price" she told BOF.
Sézane produces two seasonal lines a year and smaller monthly capsule collections. The product cycle generates freshness and there is no leftover stock. "Today, already three-fourth of our materials are eco-friendly, more than half of our pieces are certified, four of our lines are hundred per cent eco-friendly- including our essentials collection- and more than thirteen thousand pieces have been recycled… As well as the question of "made in", I am just as interested in the question of "made how" — in every country where our pieces are made. In Italy or Poland, in China, France, Portugal, India, Tunisia or Peru: expertise is at the center of our approach and responsibility to do things well everywhere," explains Morgane Sézalory on her website.
The brand tapped collaborations as a means of sales and exposure in new markets. This includes collections with Madewell, Parisian department store Le Bon Marché, and e-commerce store Holiday by Atelier Franck Durand. Sézane's first US retail partner, Nordstrom carried the label in Seattle, Chicago, Costa Mesa, San Francisco and Austin, and on its e-site. In 2015, Morgane opened "L'Appartement," a three thousand-square foot boutique in Paris where customers can try on apparel and order it online — enabling her to avoid the inventory that comes with a traditional store. However, a selection of stationery and homeware is available to buy in-store. This was followed by a concession space at Le Bon Marché in 2016. That year, the brand debuted its International outpost, with a two thousand-square foot space in New York, pop-ups in Los Angeles and London, and signed a lease for a store in Notting Hill in 2018. However, The brand had to reschedule its store openings in Madrid and Austin due to the pandemic but Sézalory feels buoyed by the label's growing social media community.
Morgane Sezalory believes in giving back. The brand made a commitment to children by creating the Demain 7 solidarity program, born from a desire to support concrete actions in favour of fair access to education, to culture and to equal opportunities. On the 21st of each month, ten per cent of all sales across the website and stores is donated to the charity. There is a line of T-shirts, where hundred per cent of the profit goes to Demain.  So it comes as no surprise that the program has reportedly raised four million euros to support thousands of children, teenagers and adults through three partner charities: La Voix de l'Enfant, Sport dans la Ville and Démos.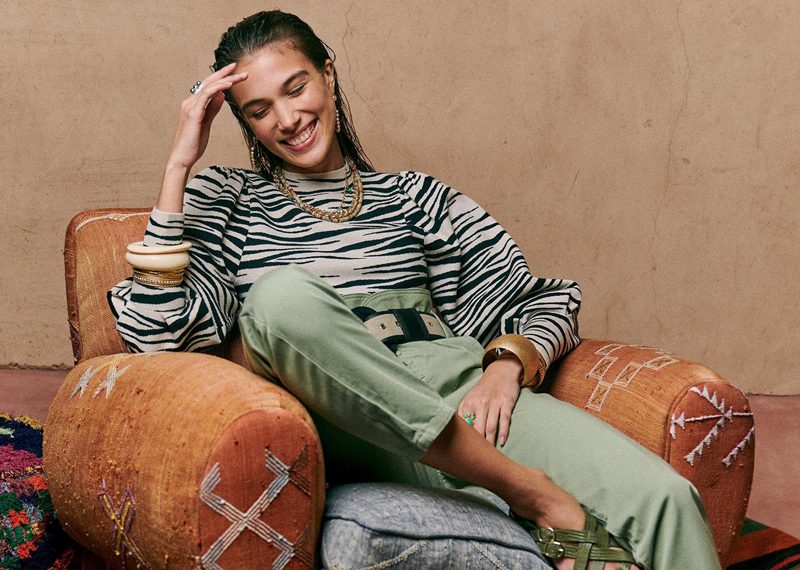 References
https://fr.wikipedia.org/wiki/Sezane
https://www.businessoffashion.com/community/people/morgane-sezalory
https://www.vogue.co.uk/article/sezane-french-fashion-brand-opening-london