Summary
Moncler transformed from competitive outerwear with French origins into a global luxury brand that specialises in puffer jackets and high-end sportswear that can just as easily be worn in the slopes as in the city — after Remo Ruffini acquired it and transformed the brand identity.
History
Founded in 1952 by René Ramillon and Andrè Vincent in Monestier-de-Clermont, an Alpine town in France, Moncler produced outdoor equipment like tents and sleeping bags and a line of quilted down jackets to protect workers from the cold. The first to realize its potential was legendary mountaineer Lionel Terray and the result was capsule collection, "Moncler pour Lionel Terray".
In 1954, Moncler was selected in the French expedition to K2, where by Achille Compagnoni and Lino Lacedelli conquered the earth's second highest summit. It was also worn in the French expedition that reached the summit of Makalu in 1955. In 1964, it was official supplier for expeditions in Alaska and at Grenoble Winter Olympics in 1968, Moncler was the official supplier of the French national downhill skiing team. As Alpine holidays grew popular, the brand was associated with ski glamour.
In 2003, Moncler was nearing bankruptcy and was acquired by Italian entrepreneur Remo Ruffini. The Chairman and CEO positioned Moncler as a unique product made entirely in Italy; each part, be it smooth-running zips or shiny nylons, were made specifically for the brand. Since he spent most of his life sailing or in the mountains, focus was on lightweight zip-front high-neck quilted down jackets that maintained the same standard of warmth and comfort since its origin.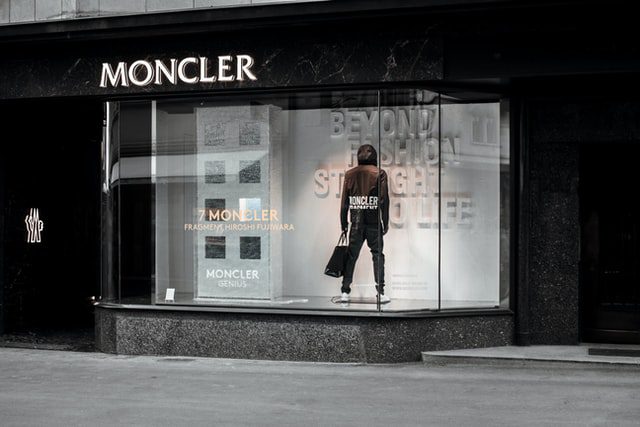 The most remarkable is lightweight collection 'Longue Saison' that transformed quilted down jackets into a cold-weather style statement worn by Jackie Kennedy, Madonna and Cate Blanchett. "I think what keeps attracting customers is the quality and the perfect combination of style and performance" he said, per The Standard. Next, Ruffini used hi-tech, man-made fabrics to revive the duck-down puffer jacket that was gathering dust in the archives.
Moncler expanded overseas in partnership with Carlyle Group and the quilted down jacket migrated from ski slopes to the city. "It was absolutely unique and rare to find a brand with deep roots in tradition. Our aim was to roll out down jackets all over the world and to make it as popular in towns and cities as they were in ski resorts… to turn them into a classic must-have that could be worn by anyone, anywhere in the world" he explained, per The Standard. In 2015, the Group turnover exceeded one billion euros.
2018 witnessed project Moncler Genius: One House Different Voices. Chosen by Moncler CEO Remo Ruffini, designers Pierpaolo Piccioli, Simone Rocha, Craig Green, Kei Ninomiya, Hiroshi Fujiwara and Francesco Ragazzi of Palm Angels were given free reign to create capsule collections in the down jacket context and current designer Sandro Mandrino at Moncler Grenoble, the brand's technical skiwear. Rolled out through the year, the capsules have little in common stylistically though they all reinterpret the essence of the brand.
Why did he create this disruption? A company press release throws some light: "Moncler Genius strives for invention and innovation that customers will fully use and enjoy under the byline: one house, different voices, speaking of uniqueness to our clients…" In other words, to be flexible and relevant while being steadfast to the brand heritage. That year, Remo Ruffini was named "Knight of Labour", the highest recognition by the President of the Italian Republic. Till date, Moncler Group continues to rethink its values and purpose.
Vision
Creating lightweight quilted, high performance down jackets that remain steadfast to the brand heritage and is as relevant on the ski slopes as in city life.
Mission
To combined style with constant technological research aided by mountaineering experts.
References
https://en.wikipedia.org/wiki/Moncler
https://www.wmagazine.com/story/how-did-remo-ruffini-turn-the-humble-down-jacket-into-a-multibillion-dollar-empire/
https://www.businessoffashion.com/community/people/remo-ruffini
https://www.nytimes.com/2018/02/21/style/moncler-pierpaolo-piccioli-milan.html
https://wwd.com/runway/fall-ready-to-wear-2020/milan/moncler-genius/review/
https://www.gq.com/story/moncler-genius-milan-puffy-jackets
https://en.wikipedia.org/wiki/Monestier-de-Clermont
https://en.wikipedia.org/wiki/Lionel_Terray
https://en.wikipedia.org/wiki/K2
https://en.wikipedia.org/wiki/Makalu
https://en.wikipedia.org/wiki/Winter_Olympic_Games
https://en.wikipedia.org/wiki/Remo_Ruffini_(businessman)
https://www.gq-magazine.co.uk/gallery/bc/monclers-new-collection-is-genius-literally