Summary
London-based French designer Faustine Steinmetz is acclaimed for her haute couture hand-crafted repurposed denim. The young designer uses handloom production processes that have a low environmental impact, be it spinning, dyeing or weaving fabrics in her studio in East London.
Mission Statement
To establish the brand as a pastiche of a typical denim label.
History
London-based French designer Faustine Steinmetz graduated in Fashion Design from Atelier Chardon Savard, Paris, Masters in Fashion Design at Central Saint Martins London, cut her teeth with Jeremy Scott and Henrik Vibskov and launched her fashion brand in 2013. A hybrid of French chic and British quirkiness, the young designer taught herself hand-making textile techniques from YouTube and craft books. She uses handloom production processes that have a low environmental impact, be it spinning, dyeing or weaving fabrics in her studio in East London. "We reproduce iconic pieces, the kind everyone has or has had in their wardrobe at one stage, except we make them all by hand. Each fabric is solely handwoven by one person using one of our traditional handlooms", she explained when she was shortlisted for Young Fashion Designer at LVMH Prize, 2015.
Retailing at Browns, Dover Street Market and Selfridges, Steinmetz shows at London Fashion Week. Her debut made headlines as she re-cast denim with powerhouse craftsmanship. Per Vogue, "Faustine Steinmetz turned the idea of denim inside out with her first collection, and the intricate hand-loomed pieces she created from recycled thrift-store jeans were anything but basic… Micro-pleated denim is among the new fabric developments in her repertoire… Her couture-like weaving expertise showed up in the hand of a striped polo shirt, which, like the pieces of her first collection, took a week to make. In an age when supply and demand often takes precedence in the fashion food chain, it's encouraging to see a young designer picking up the thread of time-honored production values in a modern wardrobe…"
In addition to her artisanal collections, Steinmetz debuted a range of competitively priced basics on her e-commerce site. Here star continued rising and the young designer was named winner of two prolific awards in 2017 — PETA Designer to Watch and Swarovski Collective Award where she received 25,000 euros as prize money. Per WWD, "Steinmetz said winning the award made her feel validated as a designer. 'It gives you opportunities to do things as a young designer — with, obviously, the money as well. That's so important… At the moment, we are working on setting up production in different countries that have fair trade. We are looking for places where we can trust people and make sure that things are done the right way. For us, that's the most important thing.'" Steinmetz has also received sponsorships from British Fashion Councils NewGen Initiative, Cotton USA and Centre for Fashion Enterprise.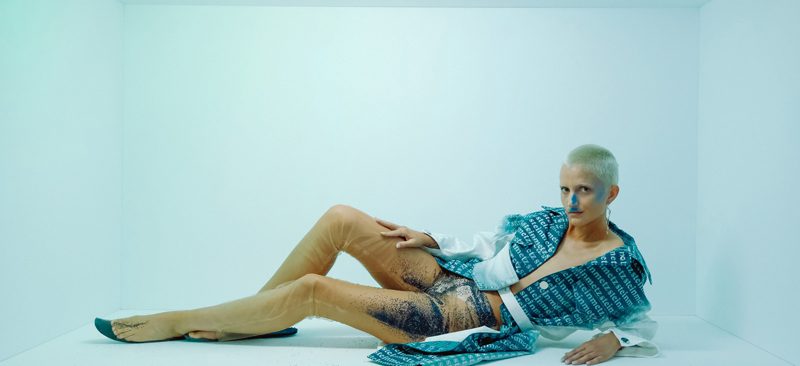 References
https://www.vogue.com/fashion-shows/designer/faustine-steinmetz
https://www.forbes.com/sites/jimdobson/2017/11/09/travel-in-style-with-petas-cruelty-free-sustainable-2017-fashion-winners/