Summary
Everlane is an American clothing retailer that sells primarily online with the aim of practicing transparent pricing. The organization is headquartered in San Francisco, California and also has a store in New York City. The company was founded with the mission of selling clothing  with transparent pricing. They focus in minimal, modern aesthetic clothing. The brand aims to counteract fast-fashion by offering quality basics while being transparent in its sourcing and pricing models. Tread by Everlane comes in seven colours: black, grey, off-white, caramel, navy, light blue and soft pink.
Mission
Everlane mission is to foster transparency in the fashion sector. This is achieved by a deep research of finding the best factories around the world—the very same ones that produce our favorite designer labels—and then building strong personal relationships with factory owners to ensure their factory's integrity and to maintain ethical production practices at every step of the process. They share with customers the production costs of the item they are buying and where these were made by narrating the stories behind each piece of clothing.

History
Everlane was founded in 2010 by Michael Preysman and Jesse Farmer as an online menswear retailer.  Michael Presyman was before an associate for Elevation Management LLC and received an undergraduate degree from Carnegie Mellon University.By 2015, the company had received $1.1 million in seed funding. Everlane started with a referral invite list that gained 60,000 subscribers in 5 days, although the company only had 1,500 T-shirts in inventory. In 2012, Everlane opened a pop-up shop in New York for two weeks during the holidays.
In 2014, Everlane began a partnership with delivery company Postmates to provide same-day delivery to consumers in San Francisco and New York. In 2015, Everlane launched a mobile app, which featured weather updates and suggestions on what to wear for that particular weather.
The company opened permanent stores in SoHo in New York City in 2017 and in San Francisco in 2018. Everlane has factories in China, Vietnam, Sri Lanka, Italy, Spain, Peru and the United States.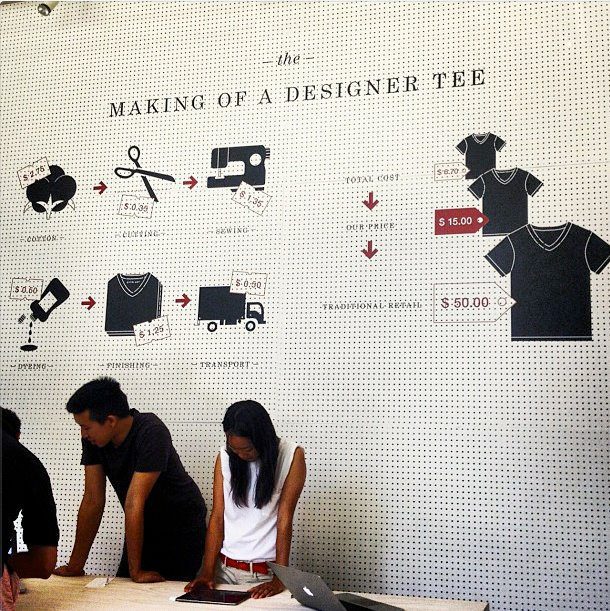 Products and sales
Everlane uses its website and social media to educate customers on its supply chain, factories, employees, and the price breakdown of each product.
The brand expanded into denim in 2017, after the management delayed the launch until the company finally found a factory that met the business' sustainability standards. Head of product, Kim Smith, eventually discovered one in Vietnam, that supposedly recycles 98% of the water used in denim manufacturing and turns any chemicals used in the process into bricks for constructing affordable houses.
In 2018, the company committed itself to stop using virgin plastic by 2021, including in packaging and in clothing made of synthetic fibers. On October 24, 2018, Everlane launched ReNew, a line of outerwear crafted from materials that were created out of 3 million recycled plastic bottles. The company plans to accomplish their goal by redeveloping the fabrics, yarns, and all raw materials that contain synthetic fibres into recycled components by 2021.
In May 2019, Everlane released the DayGlove ReKnit, a shoe made entirely of recycled plastic bottles.  In 2019, Everlane also announced its ReNew commitment — to eliminate virgin plastic from its supply chain by 2021 from products, warehouses, offices and stores.
Everlane holds "Choose What You Pay" sales, which allow shoppers to select one of three prices for a piece of merchandise. The lowest price covers production and shipping cost, while the higher prices cover additional costs such as overhead. The website states that it is transparent about what the cost of the item would cover.
Awards and honours
In 2015, founder Michael Preysman was included in Forbes' 30 Under 30 for his work on the firm in "reinventing retail and E-Commerce." Preysman has also been included in the BoF 500, an index of the people shaping the contemporary fashion industry
Resources
https://www.dezeen.com/2019/05/22/tread-by-everlane-sneaker-design/
https://en.wikipedia.org/wiki/Everlane
https://www.businessoffashion.com/community/people/michael-preysman