Summary
Claire McCardell was one of the most influential women's sportswear designers of the twentieth century. Inspired by the active lifestyle of American women, she designed sportswear, shirtwaist dresses, wool jersey sheaths for working women astride 'play clothes' i.e. practical leisure clothing and swimwear.
Mission Statement
To design timeless, stylish and functional womenswear that were just as appropriate at work as at cocktails.
History
Claire McCardell moved from Maryland to New York at eighteen to study costume design at Parsons School of Design. In 1927, she continued her studies at Place des Vosges, Paris, which was affiliated to Parsons. Per Washington Post, "…they entered the city at the height of the Jazz Age… McCardell preferred the Grecian, draped elegance of French designer Madeleine Vionnet. [Her friend] Orrick and McCardell pooled their money and bought haute couture from Vionnet during sample sales. McCardell disassembled the pieces, stitch by stitch, to learn how they were made before putting them back together again…" Post- graduation, McCardell met designer Robert Turk and became his assistant designer. Shortly, Turk moved to Townley Frocks and took her with him. In 1932, Turk died by drowning and McCardell was requested to complete his Fall line.
As chief designer, Townley Frocks, she traveled to Paris and searched for inspiration in art and street fashion… The list of McCardell firsts is invaluable to The American Look. She was the first to design a modern version of the dirndl skirt; the first to use pockets and pleats in womenswear; the first to design the "riveted look," using workwear grippers for fasteners and ornamentation; the first to introduce the "diaper" bathing suit. She also introduced the "Monastic Dress", a shapeless bias-cut dress. Belted, however, it looked fabulous! Best and Co. exclusively retailed it which sold out in a day. Per Washington Post, "The Monastic offered American women something they'd never had: independence in the form of a washable, ready-to-wear dress capable of fitting any body size." Fighting all the copies that popped up, Townley Frocks lost a lot of money and closed down.
Hattie Carnegie hired McCardell but the designs were not successful with her clients, who wanted something more elaborate. They parted ways amicably. Townley Frocks reopened in 1940 with a new management and McCardell returned. Her collections were a hit. Per Time, Diana Vreeland of Harper's Bazaar said, "She gave the American woman a look of her own, and she did it without outside pressures." In 1941, McCardell produced a line of separates that made nine outfits from five pieces. Per Time, "After lugging a trunk and five suitcases around Europe, she decided to save space by making dresses in parts, switching the pieces around for variety—a bare top and covered-up top, for example, to be worn alternately with shorts, slacks or short or long skirts. That was one of the fashion world's first important experiments with "separates," now a mainstay of American sportswear design…"
That year, she showed "Kitchen Dinner Dress". Made of cotton, it had a full skirt with an attached apron. In 1942, McCardell designed "Popover Dress" as a response to Harper's Bazaar challenge to create something fashionable one could wear to clean the house and then, to cocktails. The simple grey dress came with a matching potholder that fit into the dress pocket — and reportedly sold for $6.95. More than 75,000 dresses were sold in the first season itself. McCardell received a citation from American Fashion Critics Association and in 1943, won a Coty Award. World War II cut American designers off from Europe and limited the availability of fabrics. McCardell flourished under the restrictions and worked with denim, calico and wool jersey. She also introduced the ballet flat; responding to the shortage of leather, she commissioned Capezio to make ballet flats to accessorise her designs. When the government announced a surplus of weather balloon cotton materials in 1944, McCardell used them to design apparel that patriotic women wore with pride.
In 1945, McCardell was featured as an "American Look" designer by Lord and Taylor's, the following year, she won Best Sportswear Designer Award and in 1948 won the Neiman-Marcus Award.
As McCardell's fame grew, her influence within Townley also rose. In 1952, she became a partner. Post-war, McCardell worked as a volunteer critic in the fashion design department at Parsons. In 1950, President Harry S. Truman, Bess Truman and Margaret Truman presented her with Woman of the Year Award from the Women's National Press Club. In April 1953, Frank Perls Gallery in Beverly Hills launched a retrospective exhibition of twenty years of McCardell. In his introduction to the exhibit, retailer Stanley Marcus wrote, "…she is one of the truly creative designers this country has produced… She is to America what Vionnet was to France."
Above all, the designs are functional, stylish and timeless. McCardell's legacy is the pillar of American fashion: sporty, streamlined and functional. In 1954, she worked on an advisory panel formed by Time Inc. to create a new magazine that would become Sports Illustrated and published a book. That year, McCardell's life was cut short by a diagnosis of terminal colon cancer. With the help long-time friend, Mildred, McCardell completed her last collection from her hospital bed. After her death on March 22, 1958, McCardell's family closed the label. Closed, but not forgotten. Life named Claire McCardell one of the hundred most important Americans of the twentieth century and she was inducted into Maryland Women's Hall of Fame. Forty years after her passing, retrospectives of her body of work were showcased at Metropolitan Museum of Art, F.I.T. and Maryland Historical Society. Baltimore. Of McCardell's work Anna Sui said, "What I truly appreciate was her fabric sensibility, even with more constructed fabrics like denim. She made them all look so soft and drapy. The halters she did were so modern. The thing is, you look at some of the things she did, and you can't believe it was the 40s."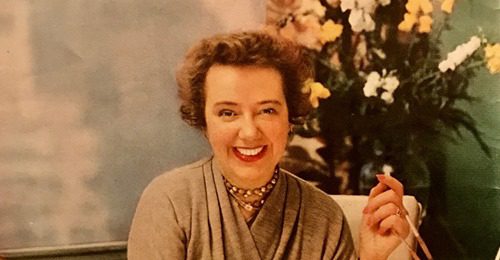 References
https://en.wikipedia.org/wiki/Claire_McCardell
https://cfda.com/news/fashion-flashback-claire-mccardell
https://www.washingtonpost.com/news/magazine/wp/2018/12/12/feature/the-designer-who-radically-suggested-that-women-should-wear-whats-comfortable/