Summary
Founded in 1884 by silversmith Sotirio Bulgari as a single jewellery shop in Rome, and managed by three generations of his family, luxury brand Bulgari is today an LVMH maison acclaimed for its artisanal craft and Roman heritage.
History
Founded in 1884 by silversmith Sotirio Bulgari as a modest jewellery shop, Bulgari has, over the decades, become a luxury brand with a reputation for the finest craftsmanship. Sotirio hailed from Epirus Village, Paramythia—a center of silversmithing in the Balkans. In 1881, he fled to Rome because of the clashes between Turkish and Greek armies, and three years later, opened a store.
In 1888, he got married to Eleni Basio and they had six children. In 1905, he unveiled another store that would become the flagship and go-to destination for the rich and famous. In its early years, Bulgari was popular for silver jewellery using Greek elements instead of French. Paris was the apex of fashion and influenced Sotirio's designs: jewellery of the early twenties were characterised by platinum Art Deco settings while those in the thirties had geometric diamond motifs—set in combination with coloured gemstones. The first logo made its debut in the early Twenties when brass letters graced the doorway of the flagship. In reference to ancient Rome, the trademark is written BVLGARI in the classical Latin alphabet.
When he passed away in 1932, he left the business to his sons, Giorgio and Costantino. In the Forties, Bulgari introduced Serpenti bracelet-watches which was a rage among the jet set including Elizabeth Taylor. The post-WWII boom saw a return to precious material and Bulgari introduced structured, symmetrical shapes in yellow gold set with gemstones. These pieces were a departure from Parisian design. After Giorgio's death in 1966, his son Gianni led the company as Chairman and CEO. During the Seventies, Bulgari opened stores in New York, Geneva, Monte Carlo and Paris. This era marks the beginning of the brand's overseas expansion where the jewellery was popular for its angular forms, brilliant colours, chains and yellow gold. In 1977, Bulgari entered the horlogerie industry and Bulgari Time opened in Switzerland.

In 1984, Paolo Bulgari Giorgio's sons Nicola Bulgari became Chairman and Vice-Chairman while their nephew,  became CEO. He is credited with transforming Bulgari into one of the most successful luxury brands. In 1995, Trapani diversified Bulgari with Bulgari Parfums in Switzerland to oversee creation and production of perfumes. This was followed by its debut accessories collection of silk scarves, leather accessories and eyewear produced through a licensing agreement with Luxottica. In 2000, Bulgari acquired watchmaking brands Daniel Roth and Gérald Genta, jewellery brand Crova and firms that specialised in leather goods.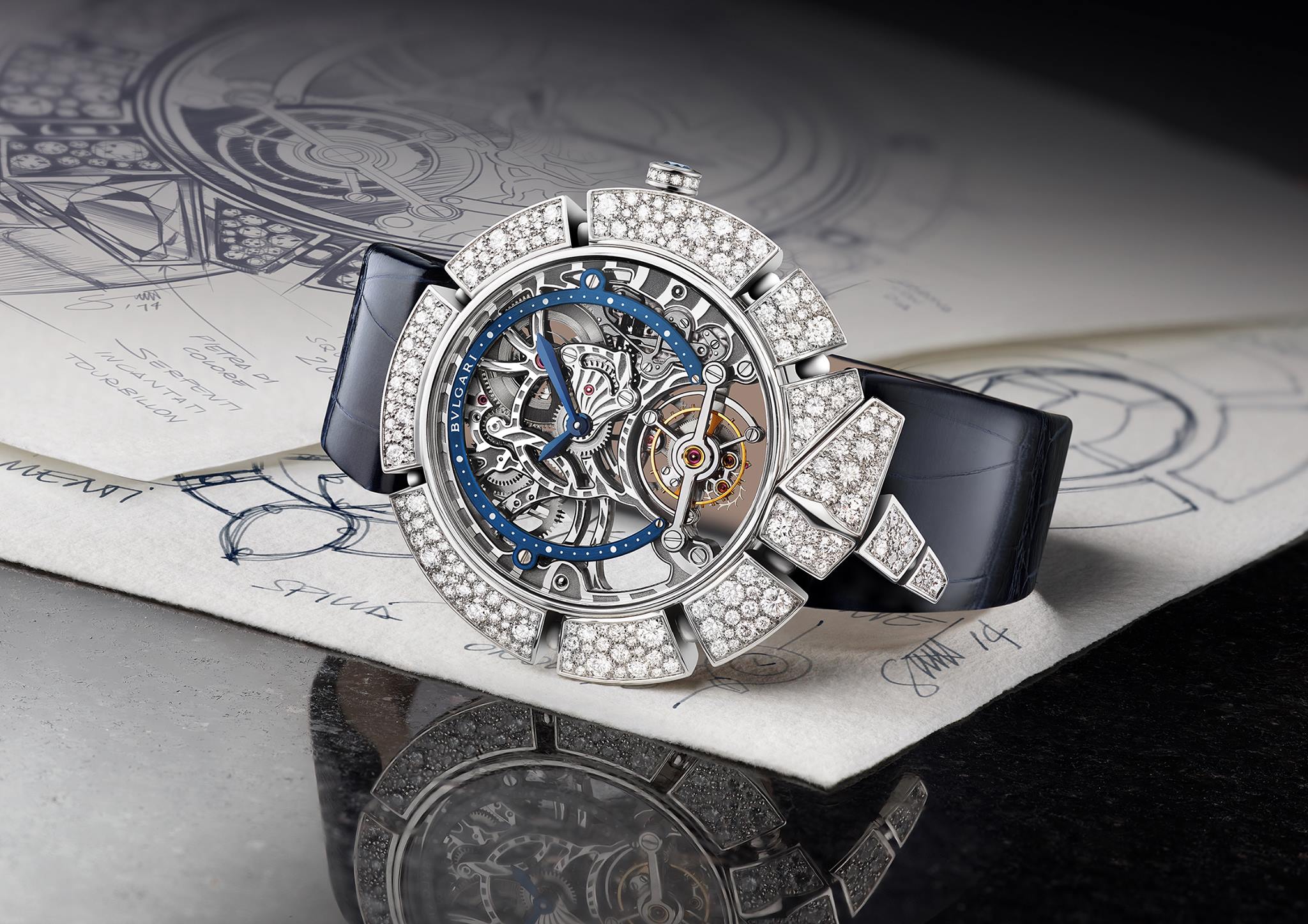 In 2001, Bulgari formed a joint venture with The Ritz-Carlton — owned by Marriott International — to launch Bulgari Hotels and Resorts in Milan, Bali, London, Beijing, Dubai and Shanghai with plans to open in Paris, Moscow and Tokyo. In 2001, Trapani oversaw the sales and integration of Bulgari within LVMH, which acquired the brand for reportedly €3.7 billion. Per BBC, "Bulgari has agreed to the takeover "in order to reinforce, in accordance with its history, values, craftsmanship and identity, the long-term development of the Bulgari Group", it said. As part of the deal, the Bulgari family will become the second-biggest family shareholder in LVMH."
In 2017 Bulgari opened a jewellery manufacturing headquarters in Valenza, an academy to train watchmakers and Bulgari Jewellery Academy where professional goldsmiths and jewellers train new talent. Today, jewellery is the core business and focus is also on its high-end boutique hotel chain.
Vision
Bvlgari honours its rich Italian past within modern designs, upholding a legacy of timeless glamour and elegance. It is acclaimed for its longstanding tradition of superior craftsmanship and painstaking attention to detail.
Mission
The team believe that by challenging competitors every day, on every product, in each store and in all activities, it will become the market leader.
Team
CEO: Jean-Christophe Babin
Chairman: Paolo Bulgari​
References