Summary
Inspired by Italian culture with a progressive global outlook, Bottega Veneta uses the finest material to create artisanal leather goods, ready-to-wear, fragrance, fine jewellery, furniture and home collections.
History
Taking its name from "Venetian Shop" in Italian, Bottega Veneta was launched in 1966 in Vicenza, Italy by businessmen Michele Taddei and Renzo Zengiaro. The company produced artisanal leather goods and developed a distinctive leather weave design, intrecciato, that was used on the exterior of many of its products, and became widely associated with Bottega Veneta. It made homage to artisans who weave together strands of delicate leather and craft beautiful pieces.
In the Seventies, the company advertised with the tag line "When your own initials are enough" and by the early Eighties, Bottega Veneta was the go-to brand for the celebrity set, including Jacqueline Kennedy, Nicole Kidman, Cameron Diaz and Rihanna.
In the Eighties, Bottega Veneta's revenues began declining. In a wrong calculation, the company tried to change its identity by emblazoning a prominent BV logo on its products. Zengiaro and Taddei retired from the company in the Nineties. In February 2001, the company was acquired by Gucci Group for $156 million and Tom Ford, Gucci Group's Creative Director, appointed Tomas Maier as Bottega Veneta's Creative Director. After receiving creative control of product, store design and advertising, Maier focused on restoring the original image of the brand by removing the logos, highlighting the intrecciato weave and repurposing focus on artisanal production. Bottega Veneta presented its first women's ready-to-wear runway show in 2005 and its first men's runway show the following year. In 2006, the company diversified into a jewellery line, eyewear, fragrance, interiors and furniture.
In 2013, Bottega Veneta inaugurated an atelier in Montebello Vicentino overseen by Maier who was of the mind that keeping operations in Vicenza was important to maintain the brand values and traditions — it showcases a;l the products made by Bottega Veneta including its leather goods, ready-to-wear, shoes, jewellery, eyewear, fragrance, luggage, furniture and home collections. The atelier is also home to La Scuola dei Maestri Pellettieri di Bottega Veneta — its school for leather artisans to preserve artisanal craftsmanship. In September 2016, Bottega Veneta turned fifty and also celebrated Tomas Maier's fifteenth year as creative director of the brand.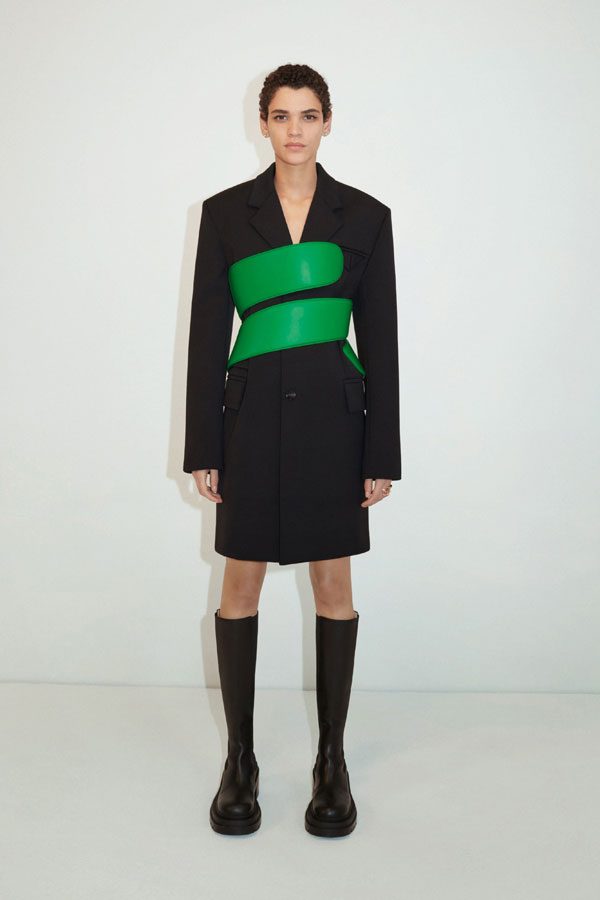 Of all the products, Bottega Veneta is legendary for Cabat and Knot. While Cabat tote is liked for its discreet no-logo look, Knot is the redesigned version of the brand's rounded box clutch. Their 2021 runway collection too made quite a splash. Per Vogue, "There's nothing conservative about Bottega Veneta essentials. For Lee and his team, clothing is performance. That's clear from a look that's feathered in aqua blue plumes from its high neckline to its pants hem, from an intricately beaded knit BV-green evening dress, and from a giant leather belt that twists around the torso like a helix. But it also goes for straight-world-passing tailoring. The tweed suits are boardroom safe, but they're definitely not boring."
Vision
Bottega Veneta pays homage to artisanal production and quality of craftsmanship.
Mission
Bottega Veneta aspires to preserve artisanal leather craftsmanship and in alignment with this mission, opened Scuola della Pelletteria, a school that trains and supports leather artisans.
The Team
CEO: Bartolomeo Rongone
Creative Director: Daniel Lee
References