Summary
From selling his car for seed money to open an office to sole shareholder of luxury conglomerate Giorgio Armani S.p.A, which encompasses fashion, realty, hospitality and interiors, it is a deeply inspiring entrepreneurial story.
History
Giorgio Armani left medical school to fulfil his military service during WWII and then got a job as a buyer and window dresser for La Rinascente, Milan until he was hired by Nino Cerruti in1965. He eventually launched his own brand Armani S.p.A in july 1975 in collaboration with his life partner, Sergio Galeotti. Few know it was Galeotti who persuaded Armani to sell his Volkswagen Beetle for start-up money to secure office space in Milan… an office with two employees. Galeotti running the business, Armani heading the creative. It was a calculated risk.
Described as 'timeless values with global appeal', business surged after he designed actor Richard Gere's wardrobe with classic tailored suits for blockbuster film, 'American Gigolo'. His power suits made appearances in television series, 'Miami Vice' and in no time there was a surge in demand. The Italian fashion brand transformed the style of working women with pantsuits in elegant colours and softened menswear with relaxed suits. Armani described his design aesthetic as, 'I was the first to soften the image of men and harden the image of women. I dressed men in women's fabrics and stole from men what women wanted and needed—the power suit.'
Sadly, he suffered personal loss after the passing of his partner. The industry speculated how he would survive but Armani opened over two hundred stores worldwide retailing sub-brands designed to cater to specific needs of different market segments: Armani Prive, Emporio Armani, Armani Exchange, Armani Jeans, Armani Exchange A/X and Armani Collezioni. Made-to-Measure is another feather in his cap before he continued to aggressively diversify the conglomerate with make-up; fragrance; watches; home line; accessories; jewellery; eyewear. In 2004, he inked a deal with Dubai-based Emaar Properties PJSC to build Armani branded hotels and resorts and continued diversifying into interiors, confectioneries, floral arrangements and residential properties. "I always had a burning ambition to realize my potential. [Forty years ago] fashion had only arrived at a certain point. I saw that I could express my vision in full. That I could be bigger than a designer. I could be more like a director—of taste, of lifestyle", per GQ.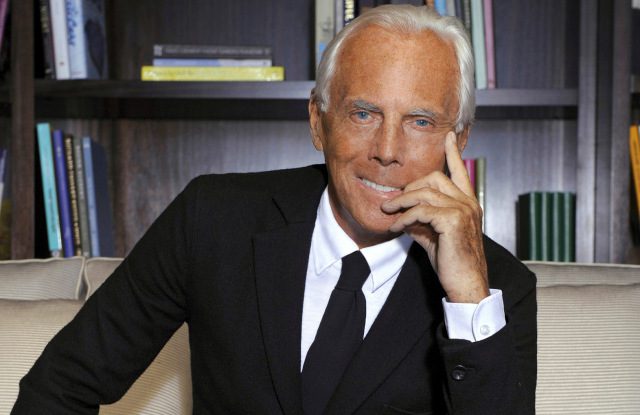 In 2006, his biography 'Being Armani', written by Renata Molho., was released. That year, he designed uniforms for the Italian flag-bearers in the 2006 Winter Olympics Opening Ceremony as well as those of athletic teams including England's Chelsea Football Club and Australia's Rabbitohs. In 2007, Armani collaborated with Samsung to design a luxury television and cellular phone. Armani Privé SS2007 was broadcast worldwide on MSN Web and Cingular cellular phones, making him the first designer to broadcast a couture show live on the Internet. Subsequently Armani opened a museum, Armani Silos, in Milan to showcase forty years of his career.
Armani is sole shareholder of Giorgio Armani S.p.A, making it one of the rare luxury brands independent of investment vehicles. The Italian designer has been honoured with several accolades including CFDA Lifetime Achievement Award. He also received commendations from the Italian and French governments including  'Order of Merit of the Italian Republic' and 'French Legion Of Honor'. "We are required to churn out ideas and collections with enormous speed, but invention and quality take time. My solution is continuity: I evolve at my own pace, because the women and men I dress expect this from me, not just ideas that are only good for the catwalk. Fashion once again needs to find a more human and real rhythm", Armani told GQ.
In a recent development, Armani inked a deal with online retailer Richemont-owned Yoox Net-a-Porter to further integrate the luxury group's e-commerce site with its network of physical stores. The new partnership, which is valued till until 2025, offers customers access to all Armani products on online and offline channels, and a complete integration is expected in 2022. The pandemic, however, brought all industries to a halt. Per Forbes, "On March 26, the Armani Group converted all production at its Italian factories to manufacture single-use medical overalls. Armani has donated about $2.2 million (2 million euros) to hospitals in Milan, Rome, Bergamo, Piacenza and Versilia and to the Italian civil protection agency. 'The health and wellbeing of my employees have always been and continue to be my priority. We have been following, and often anticipating, the measures being adopted in all countries."
Mission Statement
To continually create clothes and accessories that aspire to a kind of perfection that transcends fashion.
Vision
For the future of the brand, the foundation will "ensure the respect of values and principles: the management of activities in an ethic way with moral integrity and correctness, the priority of the continuous development at a global level of the Armani name, careful strategy of diversification of the company and its brands, maintaining consistency in the design of products, image and communication."
Key Team
CEO: Giorgio Armani
Creative Director: Patrick Robinson
Awards and recognition
The Italian designer has been honoured with several accolades including CFDA Lifetime Achievement Award. He also received commendations from the Italian and French governments including  'Order of Merit of the Italian Republic' and 'French Legion Of Honor'.
References