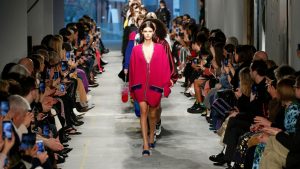 Making it's return in April, the British Fashion Council (BFC) has announced that its half yearly London Fashion Week would become a digital-only, gender-neutral event for the first time in its 40-year history.
The decision to move to a virtual showcase was made in light of the coronavirus crisis and marks the industry's first attempt to adhere to social distancing guidelines and listen to calls from designers for a slower pace of fashion.
"It is essential to look at the future and the opportunity to change, collaborate and innovate," said Caroline Rush, chief executive of the BFC.
"The current pandemic is leading us all to reflect more poignantly on the society we live in and how we want to live our lives and build businesses when we get through this. The other side of this crisis, we hope will be about sustainability, creativity and product that you value, respect, cherish.
"By creating a cultural fashion week platform, we are adapting digital innovation to best fit our needs today and something to build on as a global showcase for the future."
Since the announcement, the fashion world has been wondering what form the new London Fashion Week might take, as editors, critics, buyers and influencers around the world are expected to spectate from the comfort of their sofas.
From what this season's schedule will look like to how you can watch the event live, here's everything you need to know.
When is London Fashion Week happening?
Previously called London Fashion Week Men's, June's showcase is scheduled to take place between Friday 12 June and Sunday 14 June 2020.
Who is invited?
Unlike previous seasons, the digital-only event is access all areas.
You do not need to request tickets to any of the digital offerings as each event is available globally for everyone to watch, including the general public.
The virtual event will take place through the London Fashion Week website and you can sign up here to be the first to be notified when the platform officially launches.
What will the event look like?
In the absence of physical shows, this season London Fashion Week will be jam-packed with virtual content such as short films, interviews, podcasts, digital showrooms and after parties.
The event is also going to be gender neutral meaning that both menswear and womenswear designers will have the opportunity to share their experiences from the last few months and discuss other important issues currently facing the industry.
Is there a schedule?
Yes. London Fashion Week has already unveiled the schedule for its first ever digital showcase.
Each day has been divided into three sessions with specific time slots for each event. On Friday 12 June, highlights include a live interview with Chalayan and the launch of the BFC's "Fashion Forum" podcast,which kicks off with a conversation between Tinie Tempah and GQ's editor-in-chief Dylan Jones.
On Saturday, viewers can expect to see a series of films from designers such as Teatum Jones and Xander Zhou, followed by a live Charles Jeffrey LOVERBOY event.
The final day of events includes films from fashion week stalwarts Preen by Thornton Bregazzi and Roksanda as well as a panel discussion with Palmer Harding.
Will the usual brands still be taking part?
More than 100 designers are taking part in London Fashion Week, 34 of which are part of the official schedule, while a number of others will feature on the "Explore" section.
The digital event features a host of big names fashion fans have become accustomed to seeing on the London Fashion Week schedule, including Rixo, Roksanda, Mulberry and Stephen Jones, who will all be contributing to the platform in some way.
However, not every designer has embraced the new format with established names such as Burberry and Victoria Beckham missing from the official schedule.
For the first time ever, London Fashion Week is calling on the public to get involved on the catwalk.
John Lewis & Partners and the BFC have teamed up to celebrate the power of self-expression by asking the nation to dress up in their most stylish ensembles and share videos of their very own runway moments on social media using the hashtag #LFWCatwalkChallenge and @johnlewisandpartners tag.
The best clips will be made into a short film that's broadcast as part of Sunday's line-up and John Lewis has also vowed to donate £5 to the BFC's Foundation Fashion Fund for the Covid Crisis for every video submitted.