Augmented Reality in the fashion industry
Over the past few years, we have seen the rise of Augmented Reality(AR). This movement – Augmented Reality in the fashion industry – is an interactive experience that enhances real-world objects with computer-generated sensory encounters. As a result, it enables consumers to maintain a constant connection with the brands from which they purchase goods in a way that has never been done before. Therefore, one may question, is the future of fashion technological? Are NFTs, only the beginning of the fashion industry's digitalization?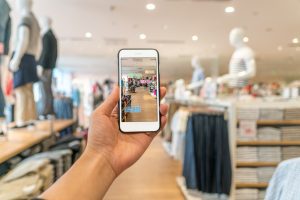 Augmented Reality in the fashion industry
What Augmented Reality Techniques are being utilized?
Augmented Reality helps customers maintain their attention throughout the whole purchasing experience. Customers may use this technique to do digital try-ons, discover the nearest shop, identify appropriate clothing, make a purchase, use humorous filters, and even communicate with an Artificial Intelligence bot.
This strategy has also had an influence on the fashion industry by allowing companies to integrate real-time surroundings with animated design into their company, a move that allows consumers to connect smoothly with the brand in a way that was not before possible- a true win-win situation.
According to Vertebrae, just 20% of American consumers have had AR-powered retail experiences; nevertheless, three-quarters of customers in the US prefer using an augmented reality experience over video content for buying, gaming, and entertainment. Their research also indicated that the vast majority of customers would like to employ AR technology to assist them in making purchase decisions.
Which brands have already adopted Augmented Reality?
As of 2021, just a few fashion firms have tested the waters with Augmented Reality. Companies that were 'foundational pillars' include GAP Inc. This company has entered this digitalization field with Dressing Room, a Google Tango-enabled gadget that gives users the ability to use the app to customize an avatar depending on their body type. The technology used also enabled GAP consumers to view how different items of apparel appeared on them from various angles before selecting whether or not to buy the clothing, which they could do straight from the app. The experience gave GAP a smooth shopping experience for its clients while increasing income.
GAP was not the only company that experimented with this technology; LVMH also used similar AR techniques. They debuted 'Virtual Artist' in collaboration with ModiFace. This particular software, which was allegedly downloaded over 10 million times, permits buyers to put on different cosmetic hues and combinations using their mobile's front-facing camera. The app's success as one of the first AR applications to go outside of the clothes fashion area and into the beauty market was not only innovative but also helped improve the company's income.
Smaller businesses like Wanna Kicks and Tenth Street Hats have also invested in this technology. They employed augmented reality to allow their consumers to preview how accessories will appear before purchasing them. The firms' conversion rates improved by one-third after investing in these features, highlighting the potential that AR solutions may provide to both small and major enterprises in the fashion industry.
The future of Augmented Reality
NexTech AR Solutions Inc. just released a Try-It-On AR experience, which might be critical when it comes to Plug-and-Play for the Masses. In order to solve an issue, they employed their copyright protection web-enabled AR e-commerce platform, which allows fashion businesses to give customers a realistic experience. To summarise, NexTech's AR was created to assist consumers who are purchasing above-the-shoulder items such as glasses, headgear, and jewelry in seeing how the product would appear on them.
Currently targeting small businesses that don't have the budget or know-how, NexTech CEO Evan Gappelberg said: "One of the most important pain points that persist in online shopping for a consumer is the inability to try anything on before they buy it." "This frequently leads to dissatisfaction, the ordering of improperly fitted products, and needless returns that are costly to the retailer," he continues. NexTech's new Try-It-On AR technology solves the problem by allowing businesses to provide their customers with a virtual fitting room".
One of the benefits of NexTech's AR is that it is a web-based solution that can be integrated into a current e-commerce website with just a few lines of embedded code. Because of its simplicity, companies do not need to invest in costly app-only solutions or create in-house technology. Instead, for a modest monthly membership price, customers may utilize this to gain access to a competitive plug-and-play solution.
Ultimately, it appears that this technology will be critical for the future of fashion. Given that client expectations reveal that this new digitalized pleasant buying experience is crammed with positive feedback, both from large companies and small, might one argue that Augmented Reality is a natural choice for the fashion industry? With blockchain advancements in the fashion business and ongoing technical breakthroughs such as NFTs coming at a rapid rate, I do not believe we will have to wait long to see.