Last update on: 9:17 am October 27, 2022 by fashionabc
Louise Gray fashion designer
Ravensbourne University London is thrilled to welcome Louise Gray fashion designer as Course Leader for the BA (Hons) Fashion Accessory and Textile Futures course. Louise will share her incredible experience with the university's Fashion students.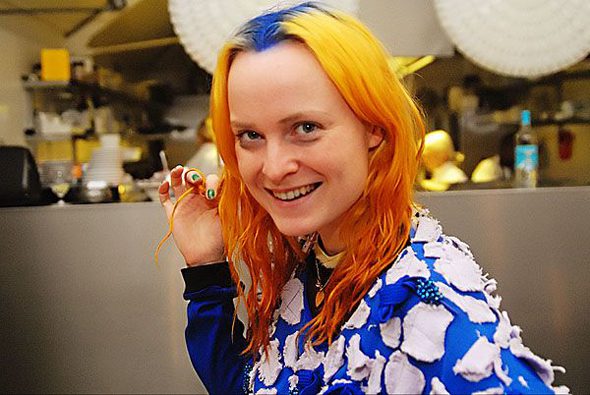 Fashion Designer Louise Gray Joins Ravensbourne University London
Louise Gray is a multi-disciplinary designer, creative director and educator. Louise has collaborated with a number of impressive brands including Self Portrait, Marques'Almeida, Lanvin-Paris and Diane von Frustenburg to name a few.  As well as her impressive Fashion career, Louise has taught in a number of renowned institutions including Central Saint Martins in London and the Academy of Arts, Architecture and Design in Prague.
Louise is highly regarded and recommended by experts in the industry. Her eponymous brand, Louise Gray, is celebrated for its signature expressive collections and vibrant designs. Sarah Mower, the British Fashion Council emerging talent ambassador, once commented that, 'Louise Gray's uniquely colourful wit has lit up the London runway in a way that brings an irrepressible sense of fun to British fashion.' Vogue journalist Scarlett Kilcooley-O'Halloran also commented, 'Gray's slot on the London Fashion Week schedule never fails to brighten up the week's proceedings. She always injects an unapologetic sense of fun into every look, and isn't that what fashion's supposed to be about after all?' The appointment of Louise is fantastic news for Ravensbourne students, who will be able to utilise her experience and expertise in the beginning of their careers. In a world of essay writing services, she might be TopEssayWriting with excellent quality of her work, great results and creativity.
Programme Director of Fashion, Lee Lapthorne, commented on the appointment, "We're incredibly excited to have Louise join our Fashion department. With her designs regularly featured in Vogue and on the runways at London Fashion Week, our students can feel confident that they're being taught by the very best in the business. Students consistently choose Ravensbourne because of our direct relationship with industry, and we hope this further demonstrates the excellent teaching Fashion students can expect."
Louise joined Ravensbourne in August and has led the Fashion Accessory and Textile Futures course since September 2020. Ravensbourne wish Louise a very warm welcome and look forward to seeing how her appointment will enrich students' experience.