Last update on: 10:51 am July 14, 2022 by fashionabc
Twice a year, designers part of the prestigious Chambre Syndicale de la Haute Couture supplement their ready-to-wear collections with a show dedicated to couture: one-of-a-kind ensembles that can fetch for up to $100,000 a piece. After showing a collection for the Spring and Summer seasons at the end of February, designers produce a new spree of unique items for Autumn and Winter, shown at the end of June. 
Though traditionally set in Paris, this year, couturiers embraced post pandemic liberties and staged their shows in a multitude of locations, from equestrian stadiums on the outskirts of the French capital to more classic salons or outdoor landmarks across Italy. The quality of the collections varied almost as much as the locations did, from wild hits to glaring mistakes. Below, we've rounded up the highlights.
Hits
Schiaparelli
Staying true to the surrealist designs of the maison's founder, Elsa Schiaparelli, creative director Daniel Roseberry turned out a romantic couture collection replete with boater hats and flowers in full bloom.
The show was an ode to artisanship, with Roseberry's atelier known to be a diverse and collaborative space. When describing the process for his previous couture showing in Paris in February, Roseberry explained that his team bypassed the classic sketching and fabric sourcing steps, choosing instead to combine design and creation into a single movement, experimenting directly onto ensembles in flux.
After his triumphant debut, there was much speculation about what he would do next. Though there were nods to the golden, gilded aesthetic of February's show, this collection also introduced new Roseberry-isms: notably, white doves adorning hats or shoulders, a poignant plea for peace.
Once again, Schiaparelli jewellery outranked all others at fashion week, blending seamlessly into the dresses. "We wanted the rigour and starkness of the past season but with more joy, fun and femininity," Roseberry explained. He added, "So many of the embroideries [in the collection] were references or imitations of what [Schiaparelli] was doing at the time," though there were also many allusions to French couturier Christian Lacroix. For Roseberry, archives and codes are not a hindrance, but rather a springboard for his own fantasy. And what a beautiful fantasy that is.
View this post on Instagram
Fendi
Kim Jones' couture collection this season was sleek, timeless, and impossibly elegant: an antithesis to the bombastic approach adopted by most contemporary designers. Vogue's Sarah Mower described the collection as "a show of uncomplicated, minimal dressing realised in the most subtly eye-wateringly expensive of materials"; a paean to the aphorism coined by former Fendi frontman, Karl Lagerfeld: "Luxury is the ease of a t-shirt in a very expensive dress."
Jones' collection was a breath of fresh air in a complex and chaotic world where the cultural and aesthetic value of simplicity is often underrated. Trouser suits, turtleneck sweater dresses and beaded deco-style pyjamas made their way down the catwalk in stunning shades of beige, brown, pink, green, yellow and blue, with house signatures like calf leather and tailoring all ticked off the checklist. It was a masterclass in understatement, couture at its purest, and Fendi at its best.
View this post on Instagram
Armani Privé
Though Giorgio Armani is best known for producing sleek cuts in tones of grey and beige, this particular couture collection turned up the blue and pink palettes and splashed them across trousers, capes, and jackets. It was poppier and more romantic than classic Armani. And it worked.
Dark, sinuous tailoring and diaphanously-layered evening pieces were sent down a runway with cabaret touches like banquettes and little table lights. As such, the set harked back to Armani's golden age in the 1980s; specifically, the Armani Headquarters at the Via Borgonuovo headquarters in Milan were the couturier would show his work.
Flexing his unique talent for beaded jackets, Armani presented a host of alterations on the classic ensemble, ranging from bugle-beaded trompe l'oeil black and white patterns to midnight blue flower-sprigged paillettes. Meanwhile, a range of black velvet jacket and skirt suits rekindled Armani's legacy as the costumier of the modern working woman. Finally, the designer's fascination with art and textiles from Asian cultures also cropped up in silk jacquards nodding to Chinese lacquer cabinets and screens. 
The collection was sparkling and assertive – a true testimony to Armani's staying power as a sublimator of the female form. 
View this post on Instagram
Dior
Maria Grazia Chiuri's couture outing for Dior this year was a triumph. Like Phoebe Philo, Chiuri is one of few contemporary designers actually keeping her eyes open to the desires of the public, creating clothes as wearable as they are intelligent. What her ensembles may lack in originality, they more than make up for in timelessness. Though the words 'practical' and 'couture' seem like an oxymoronic pairing, Grazia has shown us that this is possible. 
From pale white dresses to tartan-inspired printwork, the shapes were unanimously flattering. The patterns, for their part, were classic Chiuri: intricate damask touches to spruce up boho chic clothes with strong rural roots. The result was an uncluttered, romantic and elegant look with medieval and folkloric touches, articulated through chiffon, embroideries and lace, tied together by a diverse cast of models. The use of capes, meanwhile, seemed reminiscent of designer Kim Jones' couture collection for Fendi in 2021. With Jones now designing menswear for the house of Dior, the exchange of influence between him and Chiuri seems more obvious – and rewarding – every season.
The soundtrack was something out of the Hans Zimmer playbook, opening with an orchestral rendition of Beethoven's Moonlight Sonata before transitioning towards more urgent, string-heavy movements. As Chiuri took her bow at the end of the collection, the glow on her face said it all. This collection is a hit. And she knows it. 
View this post on Instagram
Margiela
John Galliano may never again rise to the top of the fashion ladder – a status he held while creative director at Dior from 1996 to 2010. But his couture outing this season for Maison Margiela, where he has been creative director since 2014, was nothing short of magical. 
The designer staged an ambitious performance that blended drama and special effects in a live-streamed film called 'Cinema Inferno', adapted by British theatre company Imitating the Dog. It tied together elements from American classics like Kill Bill, The Wizard of Oz, A Streetcar Named Desire and Suddenly, Last Summer, as well as a host of lesser known movies from Westerns to horror flicks. 
But why should Galliano, of mixed Spanish and Gibraltarian heritage, and working for a Parisian fashion house, resort to an amalgamation of American narratives to tell a story that feels, on every level, deeply personal? Those who remember the designer's antisemitic outburst at La Perle in Paris in 2010 – which prompted his dismissal from the House of Dior – may also remember that, during his period of exile, he underwent rehab in Arizona in 2011. Though named after a classic Italian film, 'Cinema Inferno' is notionally set in the Copper State. After facing his demons and staging his comeback, this interdisciplinary show is Galliano's magnum opus.
Elements of the performance, however, harked back further than Galliano's journey towards mental recovery. Indeed, since his debut in the late 1980s, allusions to characters and tropes from the 20s to the 50s have populated his collections: clichés which he has sought to debunk and deconstruct with his uniquely romantic and extravagant flair. Martin Margiela too was a deconstructionist: a key figure of the 90s movement that sought to pick apart clothes at their seams and interrogate how and why we dress a certain way. Galliano's designs may be more nostalgic than Margiela's more modern creations were, but they share a uniquely deft understanding of what fashion is, and what it can be.
This collection saw Galliano close the gap between himself and Margiela even more, as he explored the darker tones oft favoured by the founder. The Spaniard's haunting palette was brilliantly complemented by the trauma and violence of the events depicted on stage. The deliberately fragmented clothes thus functioned not only as a nod to the deconstructionist heritage of Maison Margiela, but as a full-on metaphor for dismemberment. 
The dramatic dimension of Galliano's presentation also revisited the notion of costume as a metonym for character, from the nurse's coats in the mint-greens of hospital scrubs, to the watermelon pouffes of the evil mother's gown, through the diaphanous trapeze dresses and abstracted prom dresses constructed from several gowns sewn together. 
Beyond the film references, there were clear nods to designers who are, or once were, Galliano's contemporaries: Martine Sitbon (look 51), Jean Paul Gaultier (look 56) and Marc Jacobs (look 48). Ultimately, this was a show about memory: of fashion and film as intertwined cultural lexicons, but also of Galliano's own life. The show closed with a smashed black mirror dress, "a symbolic reflection of the psychological impossibility of fully escaping memory – even in 'recovery' – if ever there was one," writes Vogue's Sarah Mower. As Galliano said himself: "As you see in the show, our protagonists keep falling into […] dreams. The whole thing is based on a loop. An endless loop."
Of all the collections this year, this has to be the best.
View this post on Instagram
Mixed
Giambattista Valli
Italian couturier Giambattista Valli drew inspiration from two very different images for his Autumn-Winter couture collection. The first was a picture of New Yorkers eagerly jostling to get into Studio 54 in the 70s. The second was a picture of rambling roses in an English garden. This juxtaposition of direction and indirection – or convergence and divergence – was captivating to Valli, whose collection revolved around this dual dynamic, favouring idiosyncratic fabrics like tulle and feather to convey his elaborate vision.
Opera coats, tiny dresses, swags of crystal necklaces and silver and paillette embroidery were punctuated by crunched, 3-D flowers in ways that felt occasionally romantic, but mostly excessive. Though couture tends to offer designers more licence for creativity than ready-to-wear, Valli takes his carte blanche to bold extremes. The result is an inconsistent collection with no coherent theme or framework. But as far as individual outfits go, many stand out for the better.
View this post on Instagram
Valentino
The Valentino couture show will be remembered not for its groundbreaking ensembles, but rather for its breathtaking location – Rome's Spanish Steps – and the subsequent lawsuit filed by Dior S.A. alleging that Valentino blocked entry to its nearby store, depriving them of €100,000 worth of sales in a single afternoon.
Though Dior has since discarded the lawsuit, it would not have resorted to such pettiness in the first place had the Valentino show not been such a roaring success. The collection drew a crowd of A-listers like no other event at fashion week and advanced Pierpaolo Piccioli not only as a creative director, but as an atelier frontman, as he invited his seamstresses and dressmakers to take a bow at the end of the show.
Piccioli's longtime muses, Kristen McMenamy and Mariacarla Boscono, walked alongside younger models in vivid hues and romantic designs. Entitled 'The Beginning', the collection sought to redraw the boundaries of the couture canon and renew with the roots of the Roman luxury house by drawing on disparate, often peripheral elements, glamourising imperfection in one of the eternal city's most emblematic landmarks. 
With faux-pas central to the framework of the couture collection, it seemed almost inevitable that some would land and others wouldn't. While the Valentino brand has built an empire out of refashioning traditionally marginalised items, like the fishnet stocking, Garavani's knack for making these chic (see SS 1992) far outranks Piccioli's attempts to do the same.
While Piccioli's colour combinations were inspired, the collection as a whole felt a little too disparate. For all the sartorial flair shown in past collections (including the previous couture showing in February), Piccioli is not immune to the odd mistake. Still, as dusk settled in a cloudless sky, the creative director's multicoloured ensembles blended into the warm, reddish tones of the surrounding buildings. All things considered, the show could not have gone better. Dior had every reason to be livid. 
View this post on Instagram
Jean Paul Gaultier
Since his retirement in 2020, Jean Paul Gaultier, fashion's original enfant terrible, has sought out young designers from other houses to guest design his own maison's couture collections. This year, he turned to Balmain's Olivier Rousteing. Classic Gaultier tropes adorned every outfit, from the Berber inspired motifs of the SS 1994 collection to the iconic cone bra famously worn by Gaultier's muse, Madonna, on her revolutionary Blonde Ambition Tour.
Rousteing spent four months researching and creating each piece. "I picked the chapter that I think resonated the most [with] me," he said of the archival references he chose to riff on, mostly from the early 90s. Informed by his own Ethiopian descent, Rousteing has always appreciated Gaultier's penchant for world chic. Designing in a period before cultural appropriation became taboo, Gaultier felt free to explore cultural avenues and symbols beyond his native France and created looks that felt, truly, diverse in scope. This struck a chord with Rousteing, whose tribute to the enfant terrible was bombastic, unsubtle and kitsch in a way only he (and Gaultier) could pull off. 
The quality of the craftsmanship, however, left much to be desired – despite a statement that many pieces took between 400 and 600 hours to complete. Rousteing's millennial approach to couture recognises the merchandising power of blatant allusion (which gets the crowd and social media going) over more subtle, interwoven referencing. Rousteing's Gaultier drag show lacked the artisanal expertise of Jean Paul's own collections. And for those looking closely enough, it shows. 
View this post on Instagram

Dolce and Gabbana
Dolce and Gabbana have long played around with transparency, and this collection was no different. Hosiery was visible under pleated chiffon skirts when the models walked, but opaque when they stood still. Meanwhile, lace embroidered gowns exposed flashes of skin through transparent material. 
'This Alta Moda collection is very very very very Dolce e Gabbana,' said Domenico Dolce at the Ortea Palace Hotel in Sicily, a few hours before the show. What does 'very very very very Dolce e Gabbana' mean? Bold and loud. But with Helen Mirren and Mariah Carey among the big names in the front row at the Piazza Duomo in Siracusa, Sicily, the show might be better remembered for its cadre than for any groundbreaking designs. 
That said, the rose of Siracusa-inspired finale look received a standing ovation. And considering the demise of the D&G brand in recent years – due to cancellation over alleged racist statements and subsequent sartorial irrelevance – this particular outing has shown the dynamic duo still have a few cards up their sleeves. 
View this post on Instagram
Misses
Chanel
Described by the unyieldingly tenacious Suzy Menkes as both "stolid" and "dull", Chanel's Couture collection from head designer and former Lagerfeld right-hand Virginie Viard was an inarguable disappointment. The setting – the sandy outdoor stadium of an equestrian centre in the Bois de Boulogne – marks Chanel's second consecutive attempt to cosplay as its horsegirl sister, Hermès (in the couture show this February, Princess of Monaco Charlotte Casiraghi opened the show on a stallion). Though the cadre was supposed to boast the landscaping talents of hired artist Xavier Veilhan, the result was a confusing mix of bullseye targets and cubes of bubblegum pink recycled plastics. 
The clothes were not uninspired per se. Sharing her creative process with fashion journalist Hamish Bowles, Viard revealed an eclectic mix of sources: Chanel muse Inès de la Fressange; a shot of Fred Astaire dancing, the tails of his white tie evening coat caught flaring out in mid-dance move; a 19th century shot of Annie Oakley; and archival Chanel looks like slouchy 20s day suits, slithery 30s gowns, or prim 60s tailoring. 
These references serve as starting points for outfits which, per Bowles, "evolve with the input of the textile designers and makers who weave those extraordinary painterly tweeds, and the dressmakers who understand how to make perfect pleats". Pleats that, per guest of honour Sigourney Weaver, "move beautifully" and "are just so elegant". 
Elegant they may be. But elegance alone does not guarantee a good collection. Over the Lagerfeld years, Chanel built a clientele and fanbase that enjoyed the Kaiser's knack for capturing the zeitgeist; for clothes that were bold and obviously allusive. Viard's references, sadly, are too often lost in sartorial translation.
The presentation served as a showcase for the technical artistry of the ateliers more so than the fantastical imagination of a designer still visibly crippled by the shadow of her legendary predecessors. Despite what appeared to be progress for Chanel's 2023 Cruise collection, shown in Monaco this April, Viard's latest show only confirms what critics have said all along: that her productions are a pale and bathetic redeployment of house codes without the quality that made Lagerfeld's tenure at the house so special: irreverence.
More disappointing still is the fact that Viard knows exactly what she's doing, and there is no one more qualified for the job than her. It is, really, a testament to the late Lagerfeld, who was able to take up the mighty mantle of Creative Director at the world's most famous fashion house and reinvent it.
View this post on Instagram
Balenciaga
For his second couture outing for the house of Balenciaga, creative director Demna Gvasalia juxtaposed some of the world's most famous faces – Kim Kardashian, Nicole Kidman, Dua Lipa and Naomi Campbell – against fully masked models. Poking fun at our own culture's obsession with celebrity, the designer explored ideas of anonymity, performance, and fabric. But as ever with Gvasalia, his hypothetical genius failed to yield convincing sartorial results. 
Though the show confirmed Balenciaga's knack for producing clickbait content, the clothes themselves were surprisingly unoriginal. While references to the work of founder Cristobal Balenciaga were visible on certain key outfits (notably, the green puffed gown worn by Bella Hadid), the outfits intended to make a more obvious artistic statement fell remarkably flat, from Kidman's dress wrapped in tinfoil to Campbell's Elizabethan-inspired gown made with black bin bags. 
The finale look, a wedding dress too big to go through the corridor and prompting the model to pause and restart several times, is a neat illustration of the discrepancy between Gvasalia's vision and his execution. He is brave enough to think he's breaking new ground; but, sadly, not wise enough to know he isn't.
View this post on Instagram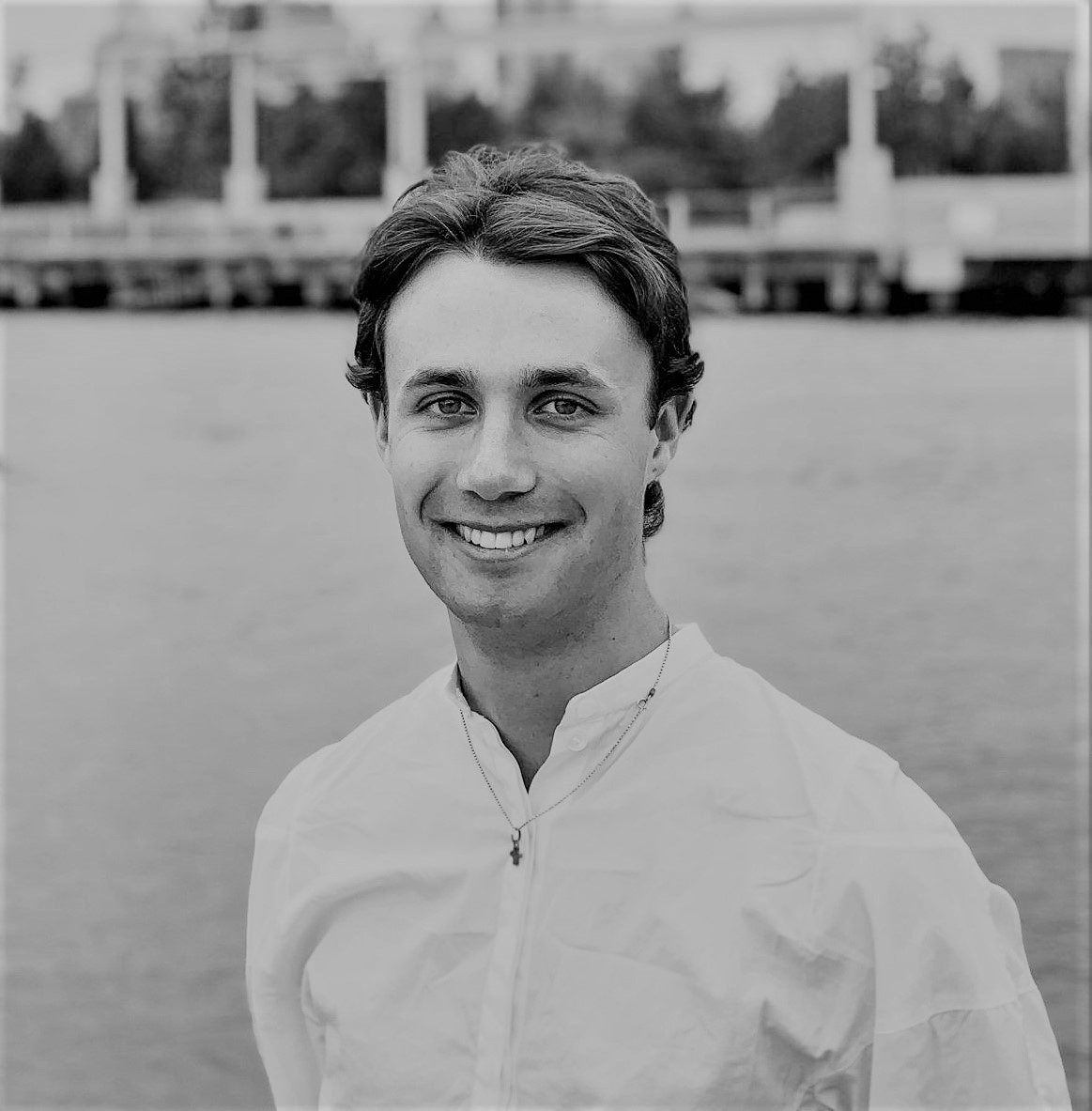 William Hosie is a writer and editor with a keen interest in fashion, design and art, earning a Double First from Magdalen College, Oxford in 2020.