5 Sustainable Brands Making The World A Better Place
We tend to believe that fashion brands are mostly interested in the bottom line. But many do want to make the world a better place, and they are happy to put their profits and influence to work, in order to do so. The following brands are working to make the world a better place.
Stella McCartney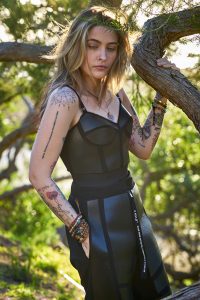 Stella McCartney made herself a promise at the beginning of her career that she would never kill any animals in the name of fashion — and has not compromised on the vision for her brand. Per Elle, she explains, "It was important to me to stay informed and make conscious and responsible decisions for both animals and our planet. From the beginning, I never worked with leather, feathers, or furs… I am proud of being able to show that you can create luxury fashion and desirable accessories in a way that is better for the planet and better for the animals without sacrificing style for sustainability." She also no longer incorporates PVC in her designs after Adidas informed her of the chemicals that can be cancerous for workers handling the material. She continues to stay true to her sustainable course till date. McCartney worked with Bolt to develop vegan leather, from a plant-based textile innovation, Mylo, grown the underground root of a mushroom. Last season, she formed a consortium with Kering, Adidas and Lululemon to invest in the development of mylo and her efforts paid off as she unveiled the first-ever Mylo garments: a black leather-lookalike bustier and pants. Next, sustainable viscose. Per Elle,"Our sustainable viscose ensures that no deforestation occurs. We are able to map the journey of our ready to wear collections viscose back to its roots in sustainable managed certified forests in Sweden. As part of the autumn 2020 collection, we started using KOBA, which is a new fur-free fur that is made from plant pulp and recycled polyester and uses around thirty per cent less energy and sixty three per cent less carbon emissions. These are just a few of the things we've done that I am most proud of which define the modernity of the brand and continue to challenge me…"
Vivienne Westwood
While Vivienne Westwood brought punk into mainstream fashion and made headlines for her rebellious, radical styles,  her company is run sustainably, avoiding the use of plastics, polyester and acrylic and focusing on materials that can be recycled. Recently, she collaborated with not-for-profit organisation Canopy in an initiative to combat deforestation. Westwood released a video that celebrates nature while pointing out the impact the fashion industry has on the environment. And, in keeping with her brand values, Westwood uses leather sustainably sourced from Maasai tribe in Kenya. Having supported projects in East Africa for over a decade, her 'Handmade with Love' bags helped support thousands of craftspeople who were living in abject poverty in Kibera, Nairobi. Working in collaboration with United Nations and World Trade Organisation, her production in Nairobi inspired the growth of ethical businesses and encouraged locals to learn artisan skills subsequently helping them with a stable income. Her current collection has stylish leather shoppers handmade from sustainable Maasai-sourced leather, with punk illustrations. We wouldn't expect anything less from her!
Bibi Russell
Bibi Russell. Top model who has walked for Yves Saint Laurent, Karl Lagerfeld and Giorgio Armani; London College of Fashion alumnus and "one of twenty people to watch in the millennium in Asia," per Asiaweek; founder of "Fashion For Development". Having returned to Bangladesh in 1994, she opened her fashion house Bibi Productions and employed underprivileged weavers and craftspeople. Russell also participated in Commonwealth Fashion Exchange in 2018, with an exhibit at Buckingham Palace with the support of the Queen and the Duchess of Cambridge.For her efforts to give back to Fashion, she was awarded Honorary Fellowship of The London Institute, Designer For Development and Artist for Peace by UNESCO. She tells us, "Through art and design, it is my intention to demonstrate the immense skills and expertise of local artisans. Bibi Productions is a self-funded project and hundreds of underprivileged craftspeople and weavers depend on me for their livelihood. My belief is that if I help showcase their craft, it will encourage designers worldwide to consider using it in their collections, leading to development of rural communities through Fashion… The restoration of the historical glory of our weavers and craftspeople, help advancing their economic life and creativity, is my vision."
Maggie Marilyn
Graduating in Fashion and Sustainability from Whitecliffe College of Arts and Design, the aspiring designer penned on her website that she had 'pulled back the glamorous curtain of fashion and saw an industry that needed fixing.' She envisioned building a brand that champions transparency, empowers people and ensures that people and planet were at the forefront of each decision.
Rooted in these pillars, she launched her "liveable luxury" brand Maggie Marilyn in 2016 with raw silk dresses, ruffled skirts, denim jackets and cocooning coats handmade with organic cottons, ethically produced silks and recycled metal. Per Vogue, 'she visits New Zealand sheep farms to confirm the wool is sheared from happy, non-mulesed sheep; she ships her clothes in dissolvable bags made of cassava root; she holds her manufacturing partners to strict labor codes…' In line with United Nations' Sustainable Development Goals, the brand is working towards having a regenerative impact from controlling water usage to making as much locally as possible.
Tentree
In 2011, tree planter Kalen Emsley reached out to old friend David Luba to launch fashion brand Tentree that would give back to the earth. Next, they brought on board Kalen's brother Derrick, as CEO. The initial support from Emsleys' hometown of Regina, Saskatchewan was overwhelming and offered them a launch pad to get Tentree off the ground as the community was excited about the idea of trees being planted for each item purchased. Subsequently, the team introduced a tree registry program, which allowed customers to track where their trees were planted and the impact they had on the environment. In May 2016, Tentree became a certified B Corporation and in 2020, launched its Climate+ program. What does the future look like? Tentree has an ambitious goal of planting one billion trees by 2030, one tree at a time.
I worked with Condenast India as Digital Editor and launched Vogue India's portal. Four years later, I turned entrepreneur and launched my luxury portal www.explosivefashion.in. Perhaps it's my vision and exclusive content that's placed Explosive Fashion at the forefront of luxury: reporting from fashion weeks, collaborating with luxury brands, presenting royal families' vision, championing talent, reviewing hotels and restaurants, writing on travel, heritage. My editorial is of a storyteller, the story of the person behind the brand.